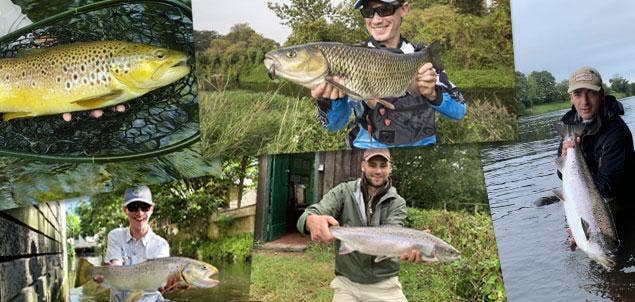 Farlows Fish of the Year - 2020 Highlights
2020 didn't exactly pan out as any of us expected but the Farlows team was at least able to get out and enjoy some marvellous fishing, here are some of their highlights.
Fortunately the first lockdown didn't affect my early season trout fishing plans, all it meant was that I had to cycle the nine miles to the river rather than getting the train.
In recent years I have been dedicating the first couple of months of the trout season to fishing my local urban streams before they open up to coarse fishers in June. This year, my colleague, Ashton, and I were not able to continue our tradition of fishing opening day of the season on the
Wandle
as the country was still in full lockdown. However, on the first day that fishing was permitted we were there at first light to start chasing our spotty brown pals.
After several successful trips to the usual stretches, catching fish up to two pounds, we decided to explore some spots that we had not fished before and it was on Sunday 31st May that we had what can only be described as a red-letter day.
Early in the morning, exploring a tiny arm of the river, we found a naturally fast-flowing weir that had carved out a relatively deep pool below it. 'If there's anything here, it'll be in that pool' I said to Ashton, as I unhooked my fly and pondered my approach. The 'fly' in question was one I had been using with great success exploring the deeper pools and margins of the main river – a two-inch tungsten-headed black leech streamer of my own design; not the most traditional pattern, but incredibly effective at winkling out the bigger, fussier fish.
On the far side of the pool, there was a floating island of debris holding in the current's back-eddy, so I figured it would make sense to try to get the leech to drift underneath and tempt anything that might be lurking there.
The first cast was a strange one for me because it went exactly where I wanted it! As the fly sank and drifted under the flotsam towards the middle of the pool, I felt a distinct pull and immediately lifted the rod tip. 'Fish!' I called to Ashton and he grabbed the net and positioned himself at the water's edge. We saw the flash of golden brown as the fish rolled in the pool (and it looked like a good one), at which point it shook its head and the fly came free. I am no stranger to losing fish and moving on to another pool, but I have also discovered that, when fishing these meatier offerings, the fish will often hit it twice – something about the bigger trout that gives them that tenacious predatory nature seen in other species.
Disheartened but not dissuaded, I replicated the first cast and tracked the line as the fly swung into the middle of the pool again. At this point, all hell broke loose as the line was ripped from my hand and my rod bent double. 'BIGGER ONE!' I yelled to Ashton as he took up position on the bank once again. I lifted the rod tip to control the biggest brown trout I had ever hooked in this river, realising that I would have to bring it away from the island of sticks and debris or I would risk losing it. As I locked the drag on my trusty Abel Super 2 and started to apply more pressure to the fish, Ashton jumped into the pool and somehow managed to slide the net under it.
The result was 24–inches of wild urban chalk stream brown trout – somewhere between four and a half and five pounds and in perfect condition. Neither of us could believe what had just happened, so after a quick photo I released it back into the pool and we took a moment to reflect on the experience. We decided to call it a day – nothing was likely to top that…or so we thought…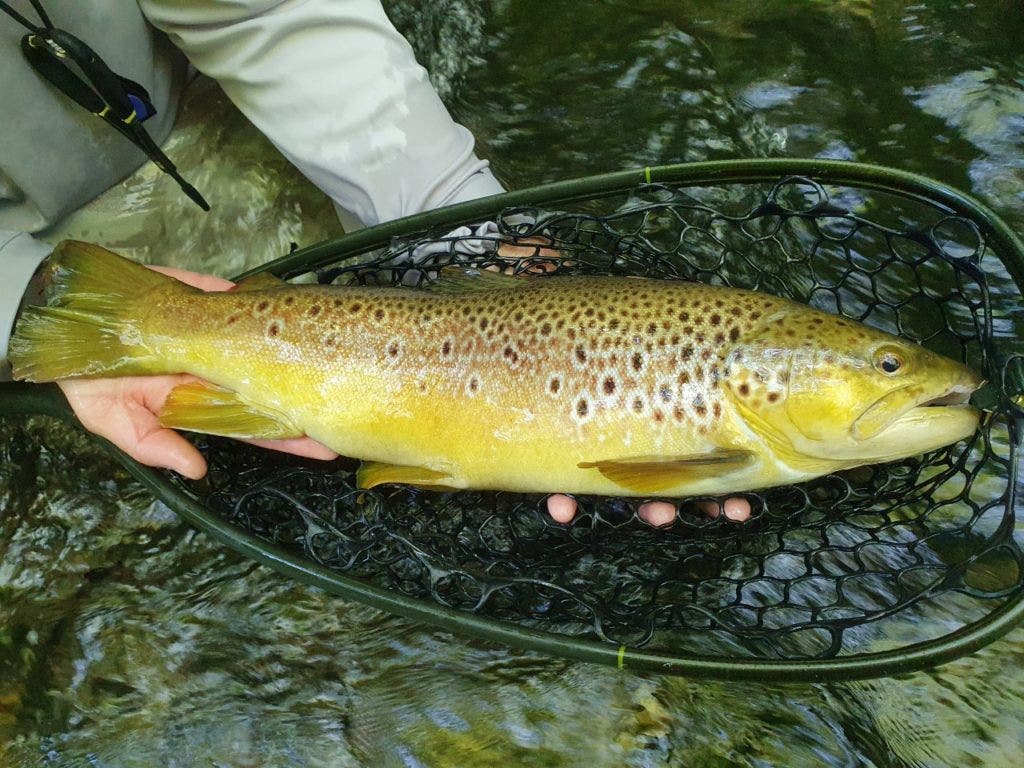 Having watched Tom catch his 24-inch fish earlier in the day, it was clear that this was one for the books and, after a few smaller fish here and there, we decided to call it a day.
We started heading back home and stopped for a beer on the river bank to see the day out. It was then that we spotted another absolute beast of a brown trout, its tail just visible from behind a patch of weed. Quickly setting up a rod again I put my first cast in with a nymph, but the fish didn't seem interested, why would it be in such a small serving? I decided my next move would be to tie on Tom's big old streamer, the same fly he'd taken his fish on earlier, and the larger offering did the job as I watched the fish instantly smash the streamer as if it was nothing. After a good fight and a well–executed netting by Tom, the fish was in, and it became obvious that this was much bigger than expected - 27 inches of big, urban trout, my facial expression says it all!
What a day!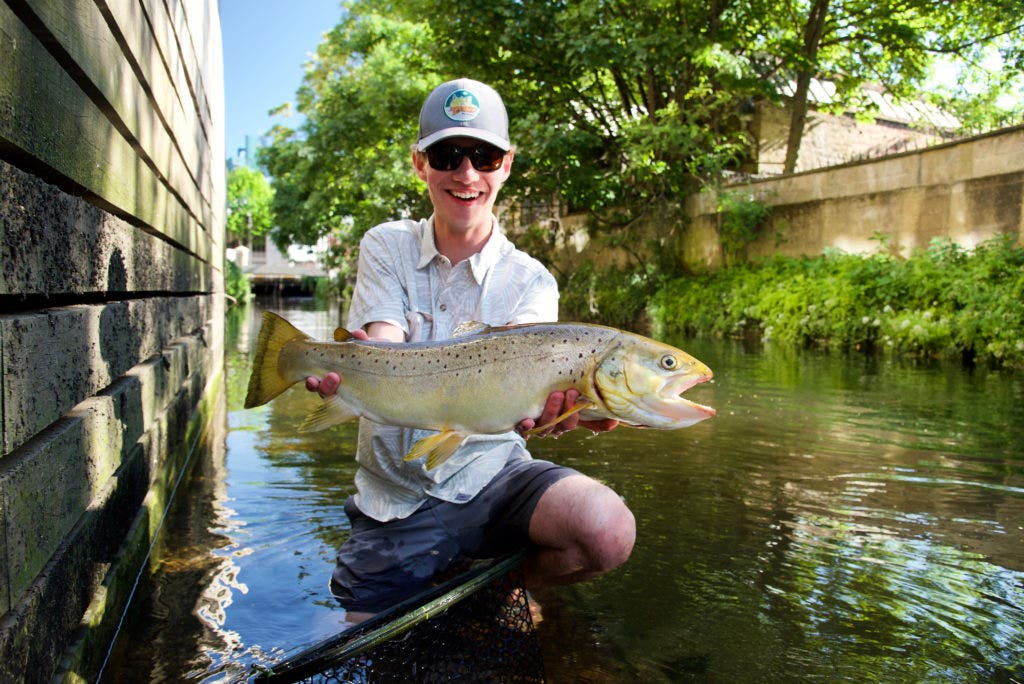 Throughout the summer and early autumn, I had great fun exploring small to medium–sized rivers, sight fishing for chub with lures and early one September morning my dad and I decided to try for some of the big, but wary, chub we had spotted earlier in the summer.
I made a good start and had caught a nice chub before I spotted three much larger fish shoaled together on a bend. Creeping up very slowly, I made a cast to a small slack area on the far side of the river, so that when I started to retrieve in the main current, it would swing my crankbait right in front of their noses. Two of them drifted back downstream, but the biggest fish remained interested, and chased the lure for five metres or so before slamming into it in the margins! The follow and take were exciting enough, but the chub also turned out to be a new personal best weighing in at 6lb 5oz and measuring 60cm!
We went on to catch another six chub, plus a couple of perch and pike, in what turned out to be an action packed day!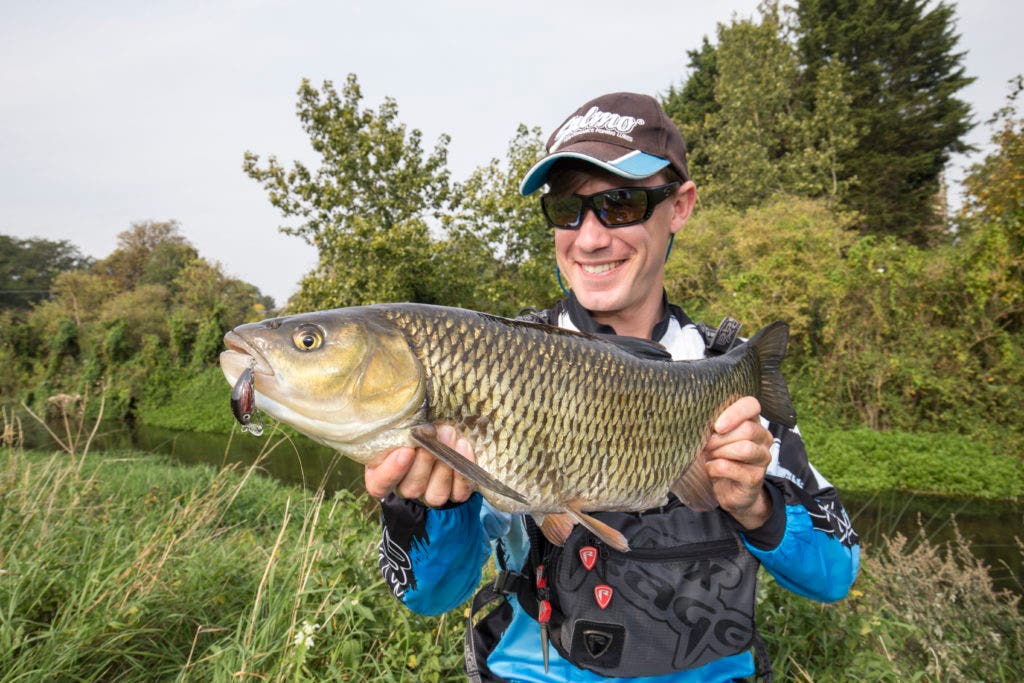 2020 was a challenging year to say the least but I was lucky enough to get down to my syndicate rod, on one of Hampshire's chalkstreams, a fair few times once the initial few weeks of lockdown had passed.
I started the year with the aim of catching my first salmon, I had put in a lot of hours in 2019 but although I wasn't able to entice one of our silver tourists I spent valuable time on the river, learning to read the water better and understand exactly where the fish lie and how they react. Being new to salmon fishing, this was the hardest part for me.
The day wasn't shaping up to be too successful. It was early July and I got down to the river for roughly 6.30am but as I started to prepare my kit and set up my
Sage X rod
and
Abel Super 7 reel
, I found that I had left my bag of leaders and tippets at home, some 50 miles away! It was a long wait until my father and two friends joined me at 9am. When they finally arrived I was able to scrounge a length of
Seaguar
from one of them and make a start.
Not long after tackling up, I peered over a small bridge and spotted a grilse slowly making its way upstream. This is not an uncommon sight when fishing these gin clear chalk streams, however it never ceases to get my blood pumping. As it was heading in the right direction, I had an inkling as to where it might be heading, to a deep pool on the opposite bank of the river.
I made my way over trying not to disturb anything. Using a heavy
Fulling Mill Black JW Nymph
cast out on my
RIO Single Handed Spey line
, I slowly retrieved the fly up from the riverbed and, to my disbelief, I could see the outline of this silver torpedo coming vertically up from the depths and before I knew it, I had my first ever salmon on the end of my line. The fish went on a couple of short runs before my father was able to slip my net under her, what a relief when I knew she was safely netted.
It was a lovely fresh hen fish of around 7lb. Mission complete. Out she came for a very quick snap, before I put her back to continue her journey. It really was a day to remember, now to find one of her bigger siblings!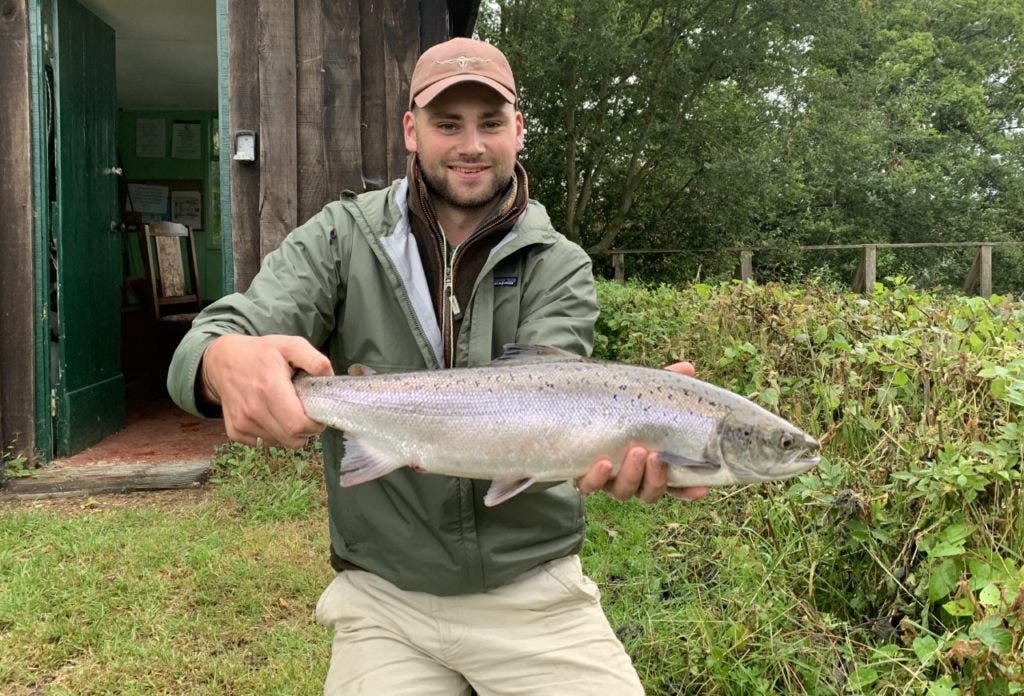 With travel restrictions putting a halt to my planned adventures with
Farlows Travel
groups in Norway and Russia in 2020, the season brought about an opportunity to spend far more time on my home river - Scotland's River Tay (a benefit of remote working!).
Restrictions in Scotland prevented me from getting out on the water until May and, having missed out on what seemed like a good spring run, I was determined to make the most of the rest of the year. I had been walking the banks of the river during March and April, and the signs of a strong run of fish were apparent -  there were certainly more fish about than in the previous few years.
Fishing mostly on the beats around Stanley: Catholes, Pitlochrie, Benchil, and Luncarty, I was racking up a steady number of salmon and sea trout. By the end of July I was having a great season but a really big salmon, something in the 15lb + class, had not graced my net!
That was until an early morning session in August, making the most of the cooler temperatures and lower light levels found during that time of the day. The water level was low, so tactics were a full floating line and short tip - my
RIO Scandi Shooting Head
and a 5ft intermediate
Airflo Polyleader
just to get the fly a few inches under the surface.
I had fished through the 'hotspots' at the neck of the pool with no success but continued down into the main body, casting a long line to cover as much of the stream as I could. As the fly swung through the mid-stream a fish took with that classic 'zzz zzz zzzzzzz' slow draw - surely one of the most satisfying sensations in fly fishing.
After a classic, stubborn 'big fish' fight, I had her in the net after several minutes - an 18lb bar of silver, weighed in my
McLean Catch and Release Net
before a healthy release. My fish of the year, and I was home with wet sleeves for breakfast by 8am!