Choosing Which Tweed Jacket or Coat
Tweed is commonly known as 'the original performance fabric' and its use in jackets and coats often forms the most important part of a shooting outfit - invariably the garment which is exposed to the worst of the weather. Its woven woollen yarns provide warmth and the natural oils from the wool help increase its weatherproofing qualities.
Nowadays, the tweed that comes out of mills such as Lovat Mill (one of, if not the, best and most well-known traditional tweed mill in the world) can be finished with a Teflon coating - one of the ways in which the fabric has evolved. Here at Farlows we work closely with Lovat Mill to design the tweed fabrics that go into our jackets and coats each season, and all of our garments designed for use in the field are Teflon-coated to provide outstanding performance.
Tweed Shooting Jackets
A tweed jacket designed for shooting is one of the more formal garment styles and cut with a tailored look, our shooting jackets blend both style and functionality - an essential combination to look for.
Our Norfolk Tweed Shooting Jacket for instance, whilst looking smart and elegant, also features large cartridge pockets with button flap retainers, fleece-lined handwarmer pockets and working button cuffs to aid with movement when swinging a gun.
Choosing to wear a tweed jacket rather than a coat for your shooting is a lovely way to acknowledge the heritage of game shooting as, historically, a jacket was the traditional attire. To ensure our tweed jackets won't let you down in the heat of the action, ours have been extensively tried and tested in the field so you can be sure to look and feel great from the first drive to the last and at lunch in between.
If you think a tweed jacket is the garment you'd like to go for, be sure to look out for key design features to aid movement, such as making sure there's a little loose fabric in the underarms, around the shoulders and across the back. Our tweed jackets feature what's known as an 'action back', a built-in pleat to allow a degree of stretch when extending your arms, it is perfect for comfort and practicality of your gun swing.
Tweed Shooting Coats
Nowadays a tweed coat is the most popular option for the main outwear of a shooting outfit. Longer in length and with a less tailored appearance than a jacket, a good tweed coat is the ideal companion for a range of temperatures and weather conditions. This longer length helps keep you warm and dry, especially when combined with a technical waterproof/breathable liner or membrane, as indeed our coats are.
Pocket layout and capacity are important considerations when selecting a coat too and a coat allows you to transport items more comfortably than in a jacket. Our tweed coats feature bellows pockets with button-up retainer straps to hold plenty of cartridges for busy drives and you'll also find a number of features designed to keep you comfy in wet, cold and windy weather including handwarmer pockets, high collars and lined cuffs.
Shooting coats, unlike more formal jackets, must also be zipped up and a sturdy two-way zipper is a great way of allowing the wearer to customise the fit according to the range of movement required. All Farlows coats are made with rubberised popper snaps as well, ensuring beautiful gun stocks don't get scratched when held close to the body.
About Farlows Tweed fabrics
At Farlows we carry a wide selection of tweeds for both men's jackets and women's jackets, comprising different weave styles, colours, and grades of woollen yarn depending on the garment we're looking to produce. One of our best-loved fabrics is the Green Herringbone men's tweed which has been in our collection for a number of seasons, produced exclusively for us in the Scottish Borders by Lovat Mill. This is an elegant, classic 'house tweed' in a subtle herringbone setting, a construction which makes the fabric both hard-wearing and versatile. You'll find our Green Herringbone tweed in our legendary Litchfield Tweed Fieldcoat, as well as our Norfolk Tweed Shooting Jacket and other items too. We have, however, recently developed two new tweeds for the AW21 collection and are certain these will become country classics too.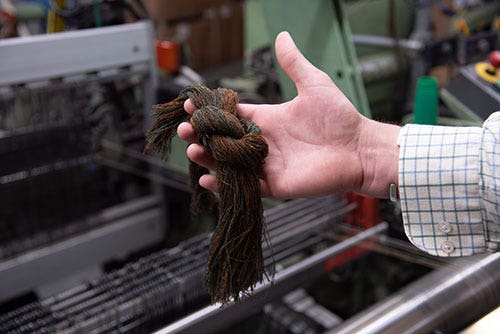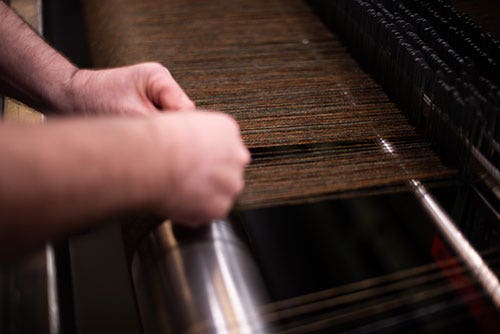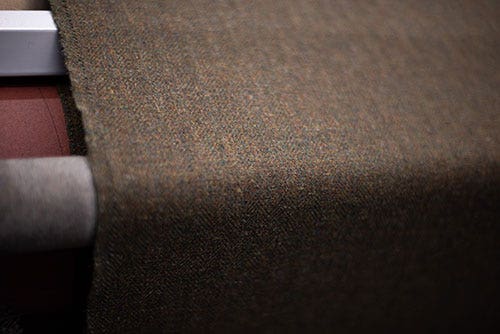 In our ladies' range we have introduced a Bronze Herringbone tweed, also produced exclusively for us by Lovat Mill. This is similar to our Green Herringbone, but with strong bronze and golden tones which give it a simple yet elegant look from afar, but with a gorgeous depth of colour and detail when viewed close up.
Our new men's tweed for AW21, the Saxony Claret Check, is also produced exclusively for us by Lovat Mill. This is a lovely hard-working tweed with a rich ground colour of olive, bronze and gold, complemented with a bold but elegant double over-check consisting of navy, claret and mustard tones. Woven to an 18oz cloth (weight per square metre of fabric) with a hard-pressed finish, this tweed is sturdy and hard-wearing for regular use in the field.
Waterproof Tweed Jackets
The rigorous demands of the field throughout a typical British shooting season require garments to be as water-resistant as possible, so we have embraced the technological evolution of the fabric and all our Farlows Fieldwear tweed is Teflon-coated. This provides a naturally weather–proof fabric with enhanced waterproofing such that water droplets run straight off. Alongside this technology on the outside of the garment, all our fieldcoats also feature internal waterproof membranes in the form of drop liners to ensure both our men's and ladies' fieldcoats are 100% waterproof – tried and tested in the foulest weather!
Country Tweed Jackets
A quality tweed jacket or coat isn't just useful for shooting, although it may have been designed primarily with that application in mind. Their natural weather-proofing qualities make them highly suited to a whole range of outdoor situations, from walking the dog to watching the rugby on a cold, frosty morning. Whilst our tweed jackets and coats are designed above anything else for the serious game shooter, we hope that our customers get plenty of enjoyment from them around the town and countryside too.
Casual Tweed Jackets
There's no arguing that the tweed jacket is a style icon and will always be a great addition to any wardrobe. The wonderful thing about tweed jackets for casual wear is that they can be worn in so many ways. Match one with a shirt and tie for a smart/casual office look, or wear on top of a plain woolly jumper for a more relaxed style. In the summertime, a tweed jacket worn on top of a polo shirt can bring a real touch of rural elegance to casual outdoor events. They can even be a great choice for weddings when worn with a tailord shirt. Bear in mind that lighter tones of tweed fabric lend themselves best to casual summer wear, whilst darker tones tend to be more suited to layering with knitwear.