ORGANIC COTTON

The choice of going organic for their cotton was a no-brainer. Organic cotton is the more self-sufficient sibling of conventional cotton, requiring significantly less pesticides, insecticides and water to grow.
Millican use organic cotton for the following bags - Millican Dave Rucksack, Millican Stewart Courier Bag, Millican Mark Field Bag, Millican Harry Gladstone Bag, Millican Peter Doctors Wash Bag, Millican Les Cooler Bag and the Millican Derek Drinks Cooler.
RECYCLED POLYESTER
Recycled polyester is used where the material needs to be waterproof and easy to clean. Recycled polyester is widely used all over the world in food packaging. It saves energy by 50%, 20% on water and reduces air pollution by 60%. Millican use it for their Dave, Peter, Les and Derek bags.
VEGETABLE TANNED LEATHER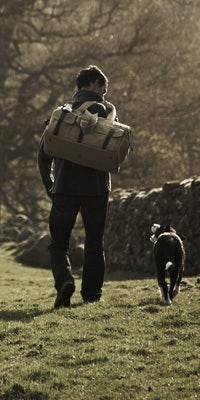 The difference between regular leather and vegetable tanned leather is a lot of nasty chemicals. In ancient times, vegetable tanning was all that was available, hides were steeped in a bath of vegetable-based extracts like leaves, bark, nuts etc, which release tannins. Millican were lucky enough to find a high quality tannery literally 20 minutes away from their bag producers in Southern China. Although they're developing a 100% vegetable tanned product at the moment, available today is 70% vegetable tanned. This means that the hides arrive in the tannery as so-called wet-blue leather, already partly preserved with a chemical treatment. The remainder of the tanning process for our hides is vegetable based, overtaking the chemicals in the process and ultimately winning 70-30.
The result is the leather they've used as trim their bags, straps, handles, logo patches etc. Where the leather will be under the most pressure, they've reinforced it with recycled polyester to make it even stronger. The Millican Matthew Daypack uses this vegetable tanned leather.
LAKELAND WOOL
Herdwick sheep wool from the Lake District is used between fine cotton muslin for the insulation of the Millican Les Cooler Bag and the Millican Derek Drinks Cooler.
STAINLESS STEEL
The Andy Bottels are made from Stainless Steel, which has a low nickel content and is 100% recyclable.