Saltwater fly fishing is the fastest growing part of the sport here in the UK and, with thousands of miles of coastline to explore, it's no wonder that more and more anglers are taking a fly rod with them in search of bass, mullet, pollock and more. Dipping your toe into the salt also opens up a whole world of tropcial fly fishing possibilities from the coral flats of the Caribbean to bluewater fishing in the Indian and Pacific oceans. If you're a saltwater rookie or an experienced angler looking to expand your knowledge, read our in-depth guide to saltwater fly fishing.
The History of Saltwater Fly Fishing
According to the American Museum of Fly Fishing, the earliest recorded instance of saltwater fly fishing dates as far back as 1764. The 1800s saw more reports of anglers fly fishing for jacks, tarpon and redfish, before some of the very earliest saltwater pioneers became better known in the twentieth century. Homer Rhode is probably the modern-day founding father of saltwater fly fishing, having spent much of his life fishing Biscayne Bay and the Everglades of Florida catching permit, snook, tarpon and bonefish: the key species that make up the inshore Super Grand Slam (catching all 4 on fly in one day).
He developed fly patterns to target specific species, many of which are still used today or at least have modern day counterparts that are largely based on his original tyings. Other notable names include Lefty Kreh, the inventor of the Deceiver - a legendary casting instructor and angler who was great friends with another well-known angler, Bob Clouser, who invented arguably the most successful saltwater fly pattern of all time - the Clouser Minnow.
This pattern has likely accounted for more fish than any other pattern created and is a must have in any saltwater angler's fly box, whether fishing in tropical or temperate climes. It is a simple baitfish profile which can be tied in a multitude of sizes and colours to allow for any weather or water conditions.
The multitude of species targeted on the fly in saltwater is almost endless and continues to grow each year, with anglers challenging themselves to catch the seemingly previously 'uncatchable' species such as milkfish, parrotfish and triggerfish. Other notable names that raised the profile and techniques in the salt include Chico Fernandez, Del Brown, Jack Samson, Cam Sigler and Trey Combs. These anglers travelled the world exploring uncharted waters catching some of the most incredible creatures on the planet and developing specialised tackle with which to do it.
---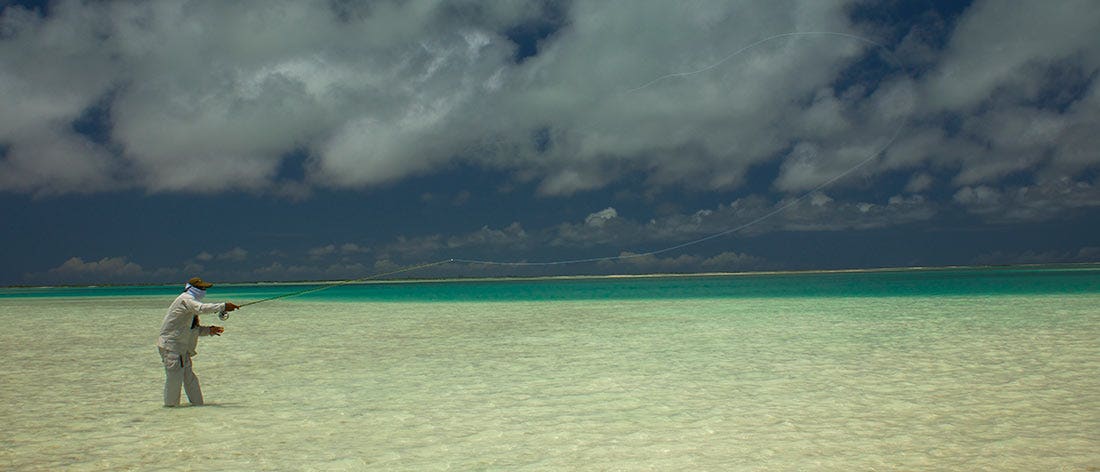 ---
Tropical saltwater fly fishing, once reserved to the shallow 'flats' of the world's tropical seas and oceans, has now expanded to include 'blue water' fly fishing with powerful fish such as tuna, wahoo, sailfish and marlin all now able to be targeted on the fly. With top speeds that can reach in excess of 60mph, these fish will test even the toughest of fishing equipment to the limits.
In the UK the known history of saltwater fly fishing is a little patchier. It certainly isn't 'new', with some fly anglers taking to the saltwater back in the 70s or earlier, but it has seen a big rise in popularity with anglers in the last 10-15 years. Bass has been top of the list for most, but more and more have started to specialise in catching mullet which is often known as the 'British bonefish' for it is fighting prowess and long, fast runs when hooked.
One of the most well-known names in mullet fishing is Colin Macleod, who recently released a book on the subject (book - Mullet on the fly). This has really helped many to decipher the complexities of the species which many have found almost impossible to catch.
Saltwater fly fishing is now one of the fastest growing areas of the sport in the UK, particularly as we happen to be an island nation which is surrounded by sea. It is freely accessible from almost anywhere, with the UK being a relatively small land mass and most locales are within easy reach of a coast. Furthermore, no licenses or permits are currently required to fish in the sea which also makes it a highly affordable way to go fly fishing.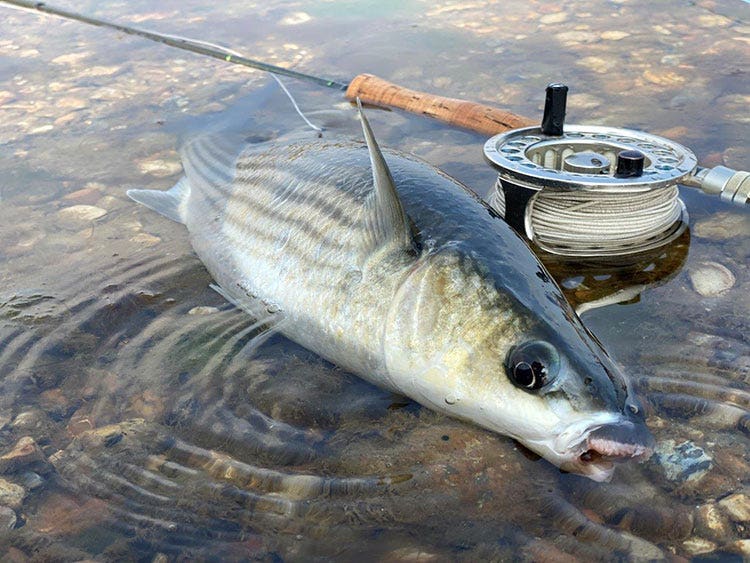 There is a wide range of species that can be targeted in saltwater here in the UK, and many others that can and will be caught without being targeted. The most common species for the domestic shore-based saltwater fly fisher to target are bass, pollock, mackerel and mullet, but going afloat has allowed other deep water species to be targeted with innovative fishing approaches.
UK Saltwater Fly Fishing
With almost 8000 miles of coastline, the UK is spoiled for choice when it comes to saltwater fly fishing opportunities. With modern tools such as Google Earth, the possibilities for finding fishing locations are endless. Finding likely locations on a computer is one thing, but finding the fish can be a little more difficult. Productive marks can be a well-guarded secret, so scouting possible locations can a little tricky at first.
After looking at the tidal charts for a given area, it is wise to do some reconnaissance at low tide. This gives you a great idea of the features and rock formations that can affect an area. Tidal currents, and how these interact with features, will inform you of where fish are likely to be to intercept food as the movement of the tide brings in baitfish, sandeels and other prey items for hungry fish. Also look for birds working on the surface as a clear indication of a food source.
UK Bass Fishing
Bass, the most popular species targeted by UK saltwater fly fishers, will often crash on the surface when attacking prey. Smaller mackerel, crabs and sandeels are key items in the diet of a bass, and baitfish fly patterns stripped back on an intermediate line such as the RIO Coastal Quickshooter or the RIO Outbound Short intermediate are a great place to get started. In the summer months, floating fly lines and surface flies such as poppers and gurglers can give some exciting visual sport, but most action comes subsurface on sinking lines. Leaders needn't be too delicate, with a simple 8' of fluorocarbon in 15-19lb breaking strain usually more than ample to throw most flies. If you are struggling to turn over a heavy Clouser Minnow, you might also want to try a knotless tapered leader.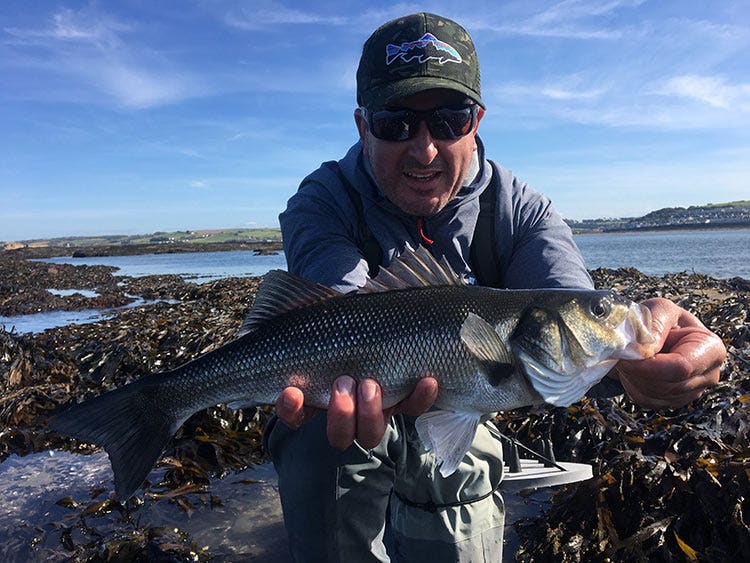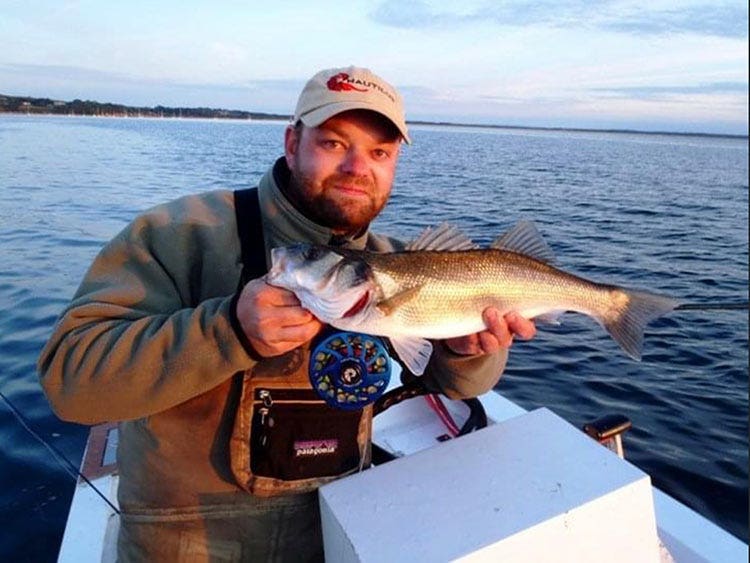 UK Mullet Fishing
Mullet fishing is a huge challenge for the fly fisher and the species was, for many, viewed as near-impossible to catch and target with a fly. Over the last 20 years, pieces of the puzzle have been slowly put together by avid mullet hunters, particularly on the south coast of England. Hundreds of hours of hard work and persistence have started to pay off and the pioneers of fly fishing for mullet have found techniques that now regularly result in hook-ups.
As hard to catch as the permit and with a fight like a bonefish, it is little wonder that the mullet has become such a prized trophy in UK saltwater fly fishing circles. Numerous shrimp-style patterns have been developed and are often fished as part of a team of flies. The tackle approach calls for 6-7 weight rods with enough power to be able to punch a cast into a wind, but delicate enough in presentation so as not to spook mullet as they feed. Floating lines are ideal, as often the water mullet feed in will be relatively shallow. Knowledge of tides is crucial and taking all necessary safety precautions is essential to make sure that you don't get caught out.
UK Boat Fishing
Getting out on a boat certainly opens up even more avenues for fly fishing, enabling you to access water that you simply couldn't reach from the shore. Deep water can often hold much bigger fish and, with modern day electronics having marks for wrecks and the topography of the seabed, locating and fishing these fantastic fish holding areas is easier than ever before. Super-fast sinking fly lines have allowed for techniques like deep water dredging to be used to target species like cod, pollock and bream.
This involves using heavily weighted fly patterns, short leaders and the fastest sinking lines you can find, such as the RIO Leviathan range. This method works by positioning your boat up-tide of a wreck or feature and drifting over it. Casting up-tide will give the line long enough to get down to the feature you are targeting. Once the line has made it down to the required depth, it is then stripped back up at speed in a similar way to traditional vertical jigging with conventional tackle.
Fly anglers can therefore now feasibly fish in water depths of up to 30 meters, a depth that previously would have not even considered. This is a technique that has been widely used in the Indian Ocean waters around the Seychelles to target Giant Trevally. Fishing like this can be hugely exciting and the fact you never know what's going to take your fly only adds to the thrill.
Tropical Saltwater Fly Fishing
For many this is the pinnacle of fly fishing. The idea of wading pristine white sand flats in knee-deep, crystal-clear warm water is the ultimate in visual hunting with a fly. The visual aspect just can't be ignored and provides such a thrill - it is addictive to say the least! Stronger, faster, more aggressive and often with a big set of razor-sharp teeth, warm water species will certainly give you a fight like none you will have ever seen before in freshwater.
Bonefish and Permit Fishing
The sheer variety of species is unending, but the 'Grand Slam' species are more often than not where a tropical saltwater anglers will cut their teeth. Bonefish, permit, tarpon and snook inhabit flats, mangroves and lagoons all over the Caribbean from the Florida Keys to Venezuela. Feeding in the shallow flats on a rising tide hunting out crabs, shrimps and other similar foods, the bonefish is a speed machine. Feeding in shallow water makes them very susceptible to aerial predators like ospreys, so speed to evade predation with speed makes them such an exciting quarry.
Bonefish and permit are mainly bottom feeding fish that will dig their heads down into the sand to dislodge any morsels that could constitute a meal. Using weighted flies that will sink down to the level of feeding fish is essential, although a mixture of both weighted and unweighted flies should always be in your box, especially if you are fishing over turtle grass. Sighting the fish will allow for a cast to be put in the right place and followed by a series of strips to mimic the movement of a shrimp or crab. Once a bonefish has spotted your fly they will approach and hopefully eat it!
Once the fish has taken the fly a strip-strike should be performed. This involves keeping the rod tip low and pulling the line with a meaning full strike so if the fly doesn't hook up it will stay in the vicinity of the fish. A conventional 'trout set' would pull the fly too far away from the fish if a hook up wasn't achieved and out of the hunting area of the fish. Bonefish and permit will often eat a fly more than once if a solid hook up isn't achieved on the first attempt.
Despite their reputation, bonefish are on the whole a very obliging species and freely take a fly, being far less difficult to catch than some would have you believe. Floating lines are all that's required for bonefish, teamed up with knotless tapered leaders between 14 and 20lb and some fluorocarbon tippet. This will give you great presentation, but try to make your leaders as long as you can manage in the conditions you are fishing.
Bonefish can be targeted on rods in weights from 6-9 depending on the weather conditions and the size and weight of fly that you will be using. Bonefish can grow to over 20lbs in weight but most caught are under 10lbs. A double-figure bonefish will be approximately 10 years old and would be classed by many anglers as a real specimen.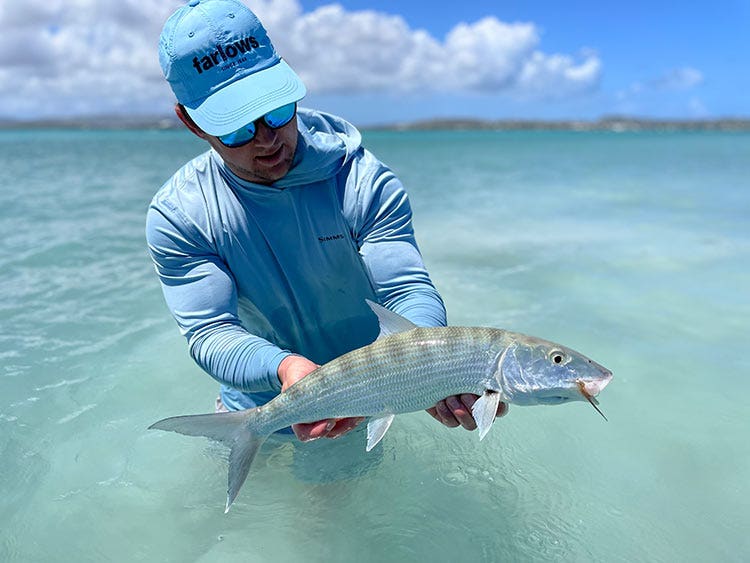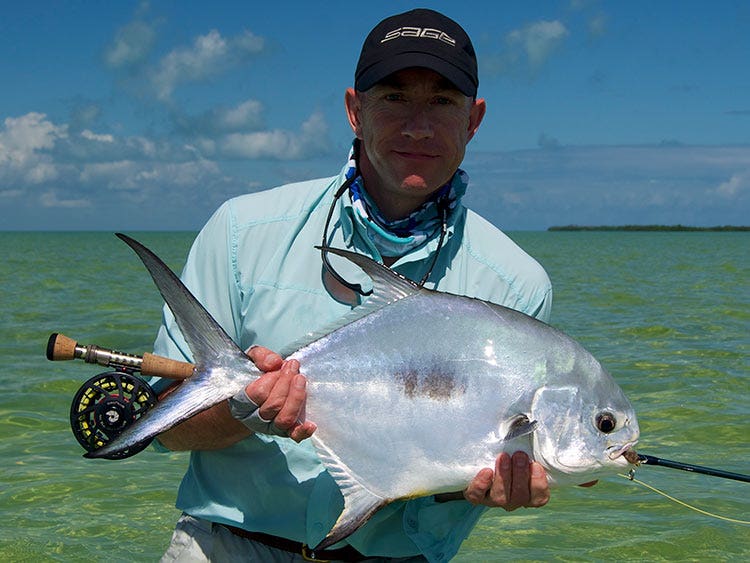 Catching a permit is, to many, one of the ultimate achievements in saltwater fly fishing. Notoriously finicky and easily spooked, just getting a fly in front of a permit can be a challenge in itself. However with time and practice you can learn how a permit behaves. It is often just a game of numbers - the more shots you take at permit, the more likely you are to find one that is hungry and willing to eat your fly.
Once hooked, they fight fast and tenaciously with fights sometimes lasting over an hour in some cases. There are two species of permit which are targeted by anglers: the Atlantic Permit and their smaller cousin, the Indo Pacific Permit. Floating lines are usually all that's required, and specialist flats lines have been developed in recent years. Leaders between 16 and 20lb with fluorocarbon tippet are ideal. Fly rod weights between 8 and 10 are most popular, with anglers using the heavier rods usually throwing larger, heavier flies like weighted crab patterns.
Permit have been known to grow in excess of 60lbs with even larger fish reported by anglers, but when it comes to permit… any permit is a good permit regardless of it is size! Each fish is a real achievement.
---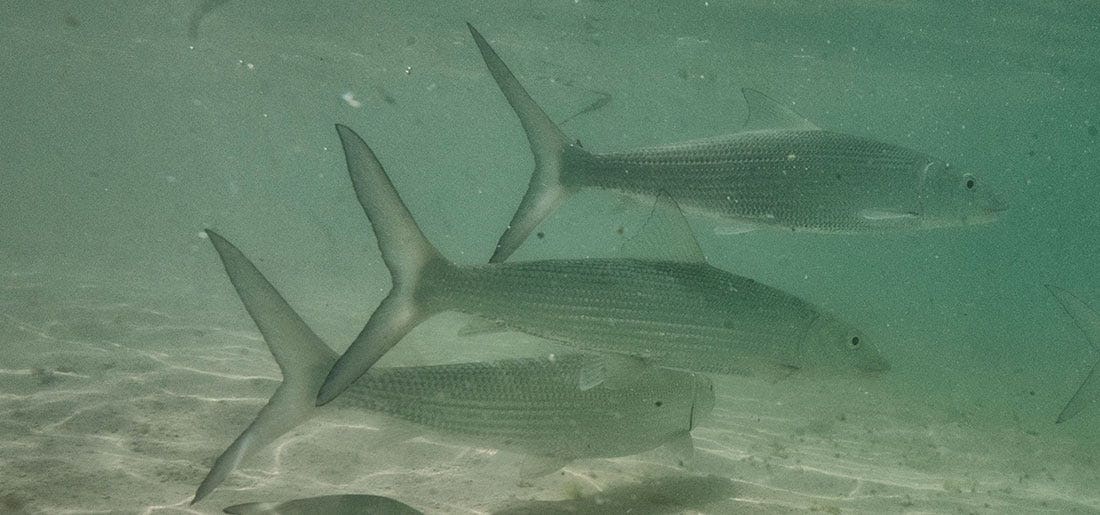 ---
Tarpon and Snook
Smaller tarpon and snook are often to be found in mangroves, lagoons and along beaches hunting for anything that looks like a meal. Neither species has teeth but they both have very rough and abrasive mouths that require a shock leader to avoid light tippets being worn through during the fight. Both species will make a series of jumps once hooked in an effort to throw the hook.
Tarpon in particular are well known for their aerial acrobatics. When a tarpon takes to the air anglers are advised to drop the rod down to the fish - this is often referred to as 'bowing to the King'. This reduces the tension on the line and the chance of the hook being thrown. More experienced anglers will often make their own leaders but several manufacturers have made off-the-shelf tarpon leaders which are ideal for when you are just getting started.
Floating lines or sink tips suffice for most situations (insert link to Rio Tarpon quickshooter) but occasionally fishing in deep channels with fast sinking lines can yield some big migratory tarpon which can top out at over 200lbs in weight - a huge size on a fly rod in anyone's books.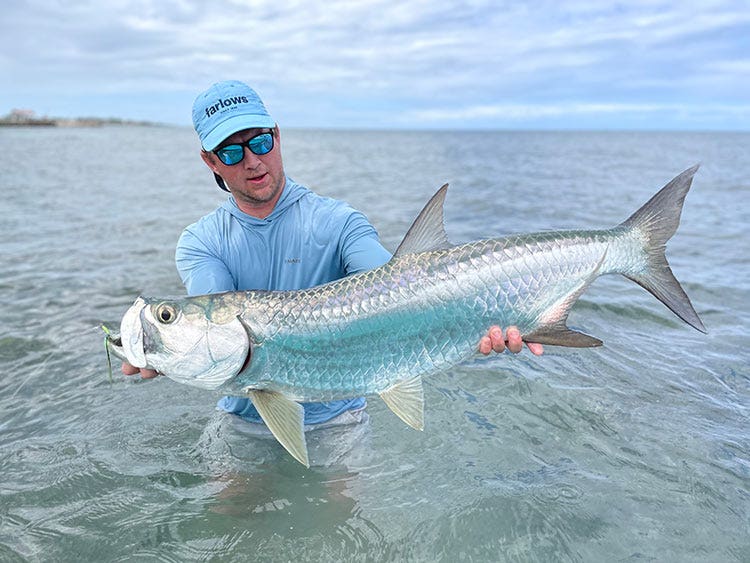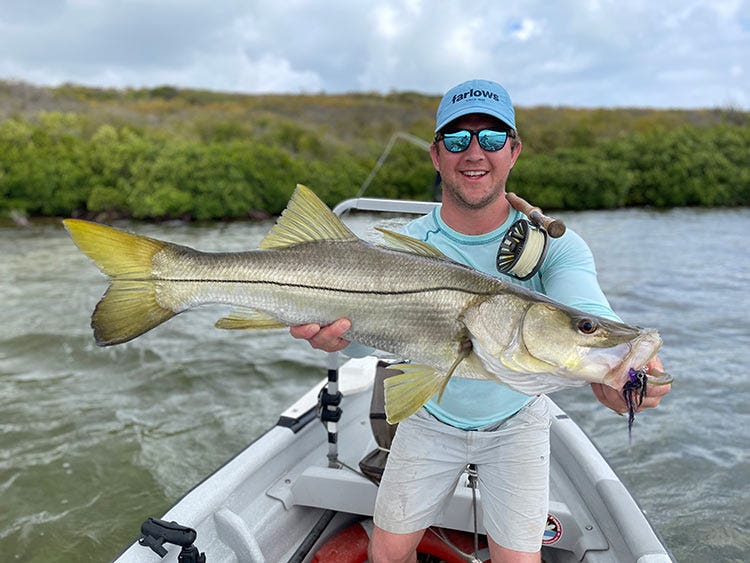 Giant Trevally (GT)
Giant Trevally or 'GTs' as they are more commonly known, are one of the toughest fighting fish on the planet. Their sheer speed, bulk and bad attitude makes them the bully boys of the Pacific and Indian oceans.
Often found on the flats in schools of the same year class as other GTs, they can hunt in numbers hoovering up any unsuspecting baitfish. Baitfish patterns like brush flies and Clouser Minnows are popular, but surface poppers can be irresistible for a GT. Patterns like the NYAP ('Not Your Average Popper') cause such a commotion on the surface that they draw fish in through curiosity and can lead to some incredible takes.
Once hooked GTs like nothing more than heading for cover, whatever is closest to them, in a bid to throw the hook or cut your line. You have to show a GT who's boss! If you don't, they won't hesitate to cause maximum mayhem and, through not fighting them hard enough, many a fish has been lost and terminal tackle ruined.
Floating lines with a heavy core such as the RIO GT line are perfect for turning over large flies and give you a certain amount of extra protection against coral and rock. Leaders for GTs should be extremely tough and are usually a level piece of hard mono or fluorocarbon ranging between 80 and 130lb, and up to 8' in length.
Smaller GTs can be targeted on 9 and 10 weight rods but for larger specimens of over 1m, 11 and 12 weight rods are the norm. GTs can grow to close to 200lbs in weight but for most fly anglers a 1m GT is the target they want to achieve.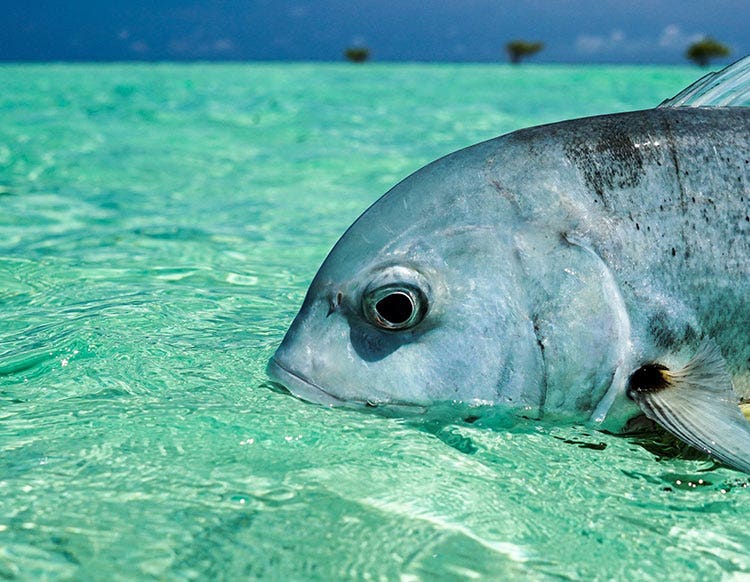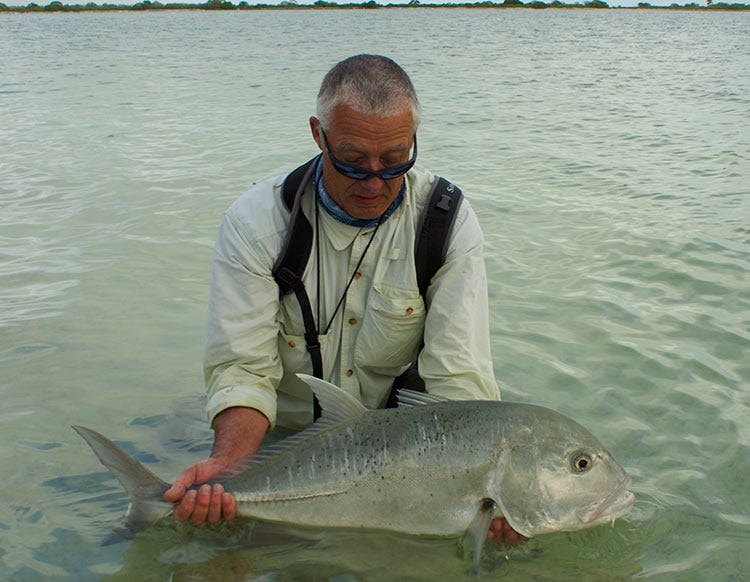 Bluewater Fly Fishing
Tropical saltwater fly fishing doesn't end on the flats. Many anglers have moved on to even bigger and harder challenges, catching bluewater pelagic species on the fly. In the past, these huge fish were solely in the realms of conventional angling, but fly fishers have taken them on now as well. Tuna, wahoo, dorado (mahi mahi), sailfish and marlin are just some of the species that are now regularly targeted with a fly.
Many of these fish swim at great speeds in excess of 60mph, which is almost impossible to imagine until you are attached to the end of one! Large baitfish patterns are the most common flies used and often fish are trolled for with hookless teasers to bring fish up to the surface. Once a fish has attacked the hookless teasers the angler will get into position to cast. The hookless teasers will be yanked out of the water and replaced by the fly cast by the fisher. The fish, now searching for the teasers sees the fly that replaced it and hopefully a take happens, followed by a heavy strip strike from the angler.
Once hooked these fish can fight long and hard and, even when using rods as heavy as a 16 weight or more, fights can last for hours. The other technique that us used regularly is to scan for birds that are working on bait balls. The predators below will push shoals of fish to the surface, picking off fish on the outside of the school. The birds seeing this will dive bomb from above, easily giving away the location of the predatory fish below.
Once a bait ball is found anglers can cast their fly in amongst the bait, in some instances particularly when schools of marlin are around, sight casting to such fish is possible. Typically, a range of fly line densities is required from floating down to extra fast sinking together with a strong core and plenty of backing of your reel. Rods for bluewater fly fishing vary from 12-16 weight although some heavier custom rods are available up to around a 20 weight.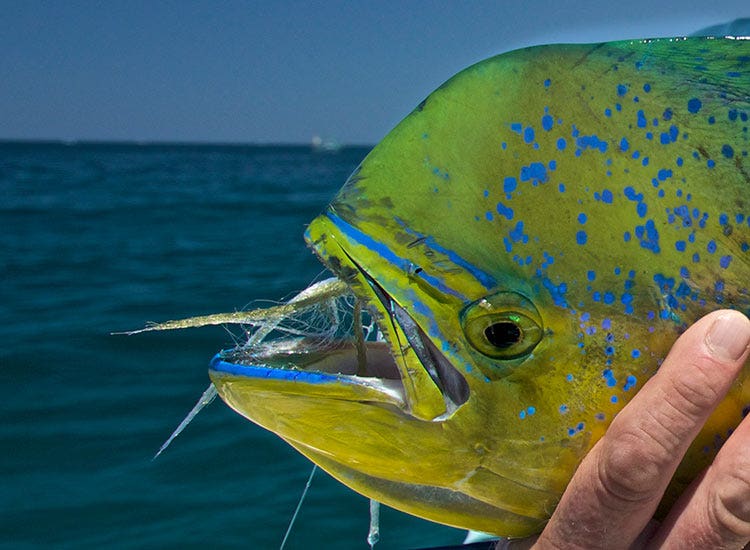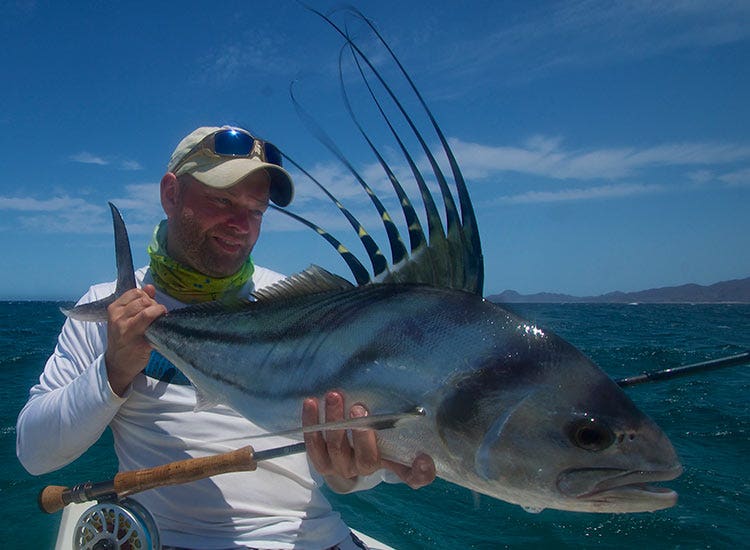 Popular Tropical Saltwater Fly Fishing Destinations
Bonefish/permit/tarpon/snook
Cuba – Las Selinas, Jardines de la Reina, Cayo Largo, Cayo Cruz, Cayo Romano, Isla de la Juventud
Mexico (Ascension Bay/Espiritu Santo Bay) – Casa Blanca, Playa Blanca, Casa Viejo Chac, Grand Slam Club, Punta Allen Fishing Club
Venezuela – Los Roques
Belize – Belize River Lodge, El Pescador Lodge, Sea Dreams, Turneffe Island Lodge, Turneffe Flats Lodge, Placentia, Dangriga
Florida Keys – Numerous fly fishing guides available
Bahamas – Bair's Lodge, Delphi Club, Tiamo resort, Mangrove Caye Lodge, Abaco Lodge, Andros South Lodge, Crooked & Aklins Trophy Lodge, Swain's Caye Lodge
Honduras – Mango Creek Lodge, Guanaja Lodge
Bonefish/Indo Pacific permit/GTs/triggerfish/milkfish
Seychelles – Alphonse Island, Astove Island, Cosmoledo Atoll, Desroches Island, Farquar Atoll, Providence Atoll
Christmas Island – The Villages, Captain Cooks, Ikari House
Oman - Arabian Fly Sport Fishing
Australia – Exmouth Fly Fishing, Ningaloo fly fishing, Coral Sea
Maldives – Ayada, Atmosphere Kanifushi
Tahiti – The Brando Resort, Anaa Atoll, Tetiaroa
Cook Islands – Aitutaki
Bluewater
Mexico – Cabo San Lucas, La Paz, Los Barriles, Magdalena Bay
Costa Rica – Arenas Del Mar, Crocodile Bay resort, Zancudo Lodge
Guatemala – Blue Bayou Lodge, Casa Viejo Lodge, Pacific Fins Resort
Mozambique – Benguerra Lodge, Anantara Bazaruto Lodge, Mavungana Fly Fishing
Kenya – Manda Bay, Hemingway's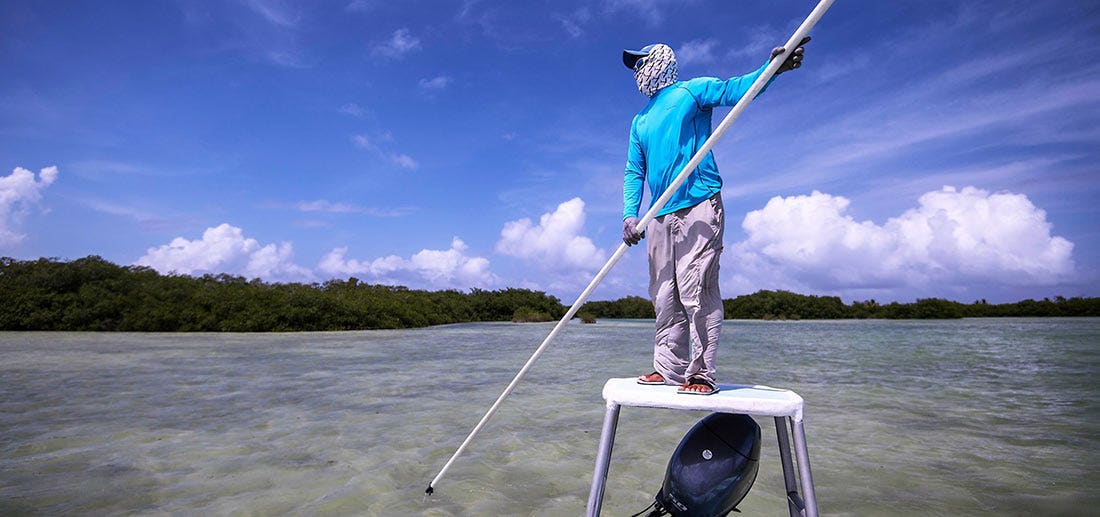 Saltwater Fly Fishing Tackle
Fly fishing in the salt pushes your tackle to the limits and many manufacturers have made ranges of rods that are built specifically for these challenging conditions. Features include anodised reel fittings and rod fixtures that minimise the corrosion that occurs when exposed to saltwater.
Despite the best efforts of the manufacturers, these items should still be looked after in an appropriate way and cleaned thoroughly in fresh water after use and dried before being put away. Almost all saltwater rods come in 9' or shorter in length (the heavier rods are more commonly 8' 6'' or even 8' in length) and will be in a 4-piece construction to allow for easy transport both abroad and domestically. Medium fast and super-fast actions allows them to cope with windy conditions, heavier lines, weighted flies and powerful fish.
Here's a brief guide to what you'll need for each popular species:
Mackerel/mullet
9' 6-8wt rod, preferably with saltwater specific fittings. Floating and intermediate lines to match and leaders from 8-14lb breaking strain,
Bass/pollock/wrasse
9' 7-9wt rod, preferably with saltwater specific fittings. Floating, intermediate and in some instances fast sinking lines to match. Leaders from 12-25lb breaking strain.
Bonefish
9' 6-9wt rod with saltwater specific fittings. Floating lines to match are all that is required for shallow water fishing. Leaders from 12-20lb breaking strain.
Permit
9' 8-10wt rod with saltwater specific fittings. Floating lines to match are all that is required for shallow water fishing, Leaders from 16-30lb breaking strain.
Tarpon/snook
9' 9-12wt rod with saltwater specific fittings. Floating, intermediate and in some instances fast sinking lines to match. Leaders from 16-30lb class breaking strain with shock leaders between 40 -100lb depending on the size of fish. Baby tarpon up to 50lb can be targeted on the lighter rod weights, with migratory tarpon being targeted on 11wt and 12wt rods with heavier shock tippets for added protection during longer fights.
GTs
9' 9-12wt rod with saltwater specific fittings. Floating, intermediate and in some instances fast sinking lines to match. Leaders from 50lb-130lb depending on the size of the fish being targeted. Larger GTs require a 12wt rod and leader of 80lb+ as a minimum.
Smaller pelagic fish
9' 9-11wt rod with saltwater specific fittings. Floating, intermediate and in some instances fast sinking lines to match. Leaders from 30lb-80lb depending on the size of the fish being targeted. These outfits in the right hands are still capable of landing fish up to 50-80lbs, including species such as dorado (mahi mahi), smaller tunas, wahoo and roosterfish.
Large Bluewater pelagic species
9' 12-16+wt rod with saltwater specific fittings. Floating, intermediate and in some instances fast sinking lines to match. Leaders from 30lb-130lb. These outfits are capable of landing fish up to 200lbs or more, and target species include large tunas (dogtooth, yellowfin and even bluefin) wahoo, sailfish and marlin (striped is the most common species caught on fly).
---
Discover some of our latest saltwater fly fishing tackle and gear

---
Saltwater Fly Reels
There are no harsher environments for fishing tackle to operate in than in the saltwater. Not only are fish bigger, stronger and fight harder; but the damaging effects that saltwater can have on the workings of reels is nothing short of incredible. If there is the slightest chink in the armoury, saltwater fish will find it and, if they don't, the saltwater certainly will. This is one of the most important areas on which to invest your money.
Reels should be strong and reliable with huge capacity for backing line. For UK saltwater fly fishing, there are two frames of mind when it comes to reels, given that we do not have the extremely powerful tropical fish species in our waters. Either buy low cost reels and live with the fact that the salt will ruin them eventually, taking the view of your reel being a consumable product, or buy the best you can afford and look after it for life. The second approach is the one we prefer to recommend to our customers.
The best saltwater reels will have one of two types of drag system. The first is a cork-based drag system that works by applying pressure to the back of the spool as the drag is tightened up. These reels can command a hefty price, being fully machined, highly anodised and with some very powerful stopping power but they still require a level of maintenance to keep them performing at their best. Regular cleaning, greasing and cork conditioning will keep these reels working for many years. Household names like Abel and Tibor have a proven track record and hold hundreds of world records for some of the largest fish ever caught on a fly.
More modern advances in drag technology have seen many manufacturers more towards fully sealed, maintenance-free enclosed drag systems. These don't require the same level of care to keep them at the top of their game and have become more and more popular. As time has gone on, these reels have been designed with ever-increasing levels of drag that have become a game-changer with the largest and most powerful species. Some reels can put upwards of 20lbs of stopping power on a fish, and some top out at close to 30lbs. Manufacturers such as Nautilus, Hardy and Lamson have pushed the boundaries and produced some incredible reels that not only perform amazingly well but are beautiful pieces of engineering too.
Saltwater Fly Lines
There have been many developments in fly line technology in recent years for the saltwater angler. Coldwater coatings and cores have meant that the castability and durability have been greatly improved. Line tapers have also been designed to allow for strong winds and large flies to be cast with relative ease.
Tropical conditions and high temperatures bring in other issues that the cold doesn't. Stiffer cores and coatings that seem almost un-castable in cold conditions soften and come to life in warm water locations. Stronger cores and a huge variety of tapers cater for almost all scenarios from wading flats, skiff fishing, bluewater and everything in between. Most lines have followed suit from trout lines, and weight-forwards are now dual or even tri-tone to show you the best loading areas when casting, helping you to aerialise the right amount of line.
Saltwater Flies
Saltwater flies are always developing and evolving as new synthetic materials become available to the fly tyer. Materials have allowed for larger profiles to be created that give a far more lifelike shape and movement than natural materials, without making them impossible to cast. Most patterns are based on either baitfish, crabs or shrimps, with a general silhouette and shape to imitate the desired prey that is hunted by your target species.
Saltwater hooks made from stainless steel make flies far more durable, hold their sharpness for longer and penetrate better when setting the hook. Patterns that were previously unavailable on a commercial basis are now widely available in more specialised patterns that have been created on the waters of the Seychelles and the most remote atolls like Christmas Island. Specialist patterns designed for specific species now make life easier than ever. Mullet, bass, bonefish, milkfish and more all have patterns designed for them specifically.

Flats Boots/Waders
Sadly, the colder waters around the UK don't often allow for wet wading and most anglers will opt to use their existing waders and wading boots when targeting coastal species. These will be absolutely fine but, like all things that you take into the salt, will need a thorough wash down with clean freshwater after each use. Areas to take particular care of are lace holders or any metal parts on your boots. Slippery rocks can be combatted with studs or aluminium bars, compatible with either rubber or felt soled boots.
The tropical flats offer other challenges that require more specialised footwear. White sand between your toes looks and sounds idyllic, but often hidden beneath can be perils that should be avoided. Coral, volcanic rock, stingrays and other poisonous animals that hide away in the sand unseen can not only ruin a trip but can in some instances cause life-threatening injuries. Higher ankle coverage and extra tough soles will protect you if you happen to put a foot in the wrong place. When worn with a pair of wet wading socks they are comfortable and will act as a stone guard keeping unwanted sand and shell from getting into your boots. There are slip-on and lace-up versions on the market but the important thing is that they have a heavy-duty, puncture-proof sole.
Sunglasses
Whether in UK coastal waters, walking the flats, or out afloat in the deep, sunglasses not only serve as eye protection but also aid in fish spotting and are therefore a must. Frame shapes are all subject to personal preference, but lens colour can be very important depending on your fishing situation. For a UK coastal angler, a copper or amber coloured lens would be the best all-rounder. When on the flats, a green mirror or blue mirror lens is the go-to depending on the intensity of the sunlight. For bluewater fishing it is recommended to have a mirrored blue coloured lens.

Other items you may want to have
Bag/sling or pack: When wading the flats or beaches, a waist pack, backpack or sling pack is ideal for carrying all the items you need, including a good supply of drinking water. It is very easy to get carried away in the heat of the moment when chasing fish, or when action is thick and fast, and forgetting to stay hydrated can ruin your day. A bag with a water bottle or hydration pack is perfect. There are several types of bags on the market, but the ones that are completely waterproof will serve you best if you get caught in the rain or even take an accidental swim, keeping everything inside your bag safe and protected.
Saltwater pliers: Wire cutters or heavy-duty snips are a must with thicker materials and options are out there for specialist saltwater pliers that will do it all and remain resistant to corrosion. Many of these come with a handy sheath that can be attached to a belt that allows them to always be at hand whether you are cutting material or unhooking a fish.
Sunblock: It is a given that when you head out into the tropical sun you should always have sunblock on. It is something that is so often neglected or forgotten by anglers but in this day and age, where we are only too aware of the consequences of the sun and its potential to cause damage, it is an absolute must. A high SPF factor that is both sweat and water resistant, together with a Buff or neck gaiter will greatly reduce your chance of getting sunburnt. In the UK it often is seen by anglers as being unnecessary but the sun reflecting on the water's surface can cause sunburn quite severely, particularly on days with a cold breeze where you may not be immediately feeling the heat.
Thanks for Reading
Whatever type of saltwater fly fishing you take up, my advice is buy the best gear you can afford and take good care of it after use. The more you look after your gear in the salt, the more it will look after you when you need it most!
Tight Lines
JT