From inside a small, unassuming factory in the Scottish Borders, Farlows socks are made – with love, care and attention to detail on every step of their fascinating journey.
The Best Shooting Socks
Calling upon the many decades of experience that workers in the factory have, the result is a truly special, high-quality, British-made shooting sock and we have developed a range of styles to suit all shooting situations, from eye-catching designs for formal estate shoots to subtle, muted earth colours for those who seek to blend in with the surrounding countryside.
The finished piece is designed not only with the finest materials and style in mind, but also for unrivalled comfort and functionality for the wearer. We take great pride in the fact that the Farlows shooting clothing range is UK-made, helping to support artisan producers using traditional production methods, leading to a low-mileage product which is British to the core.
The Craftsmanship
The workshop we use has been making socks, all finished by hand, for over twenty years now, but the cumulative experience of the workers stretches to well over a century - the same age as some of the traditional machinery which is still in use to this day.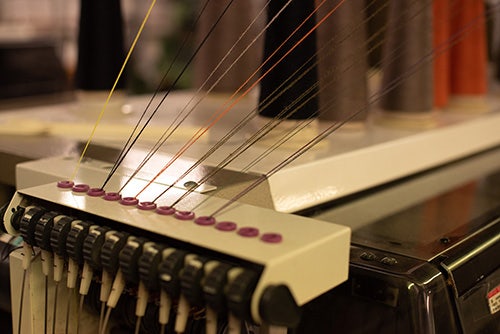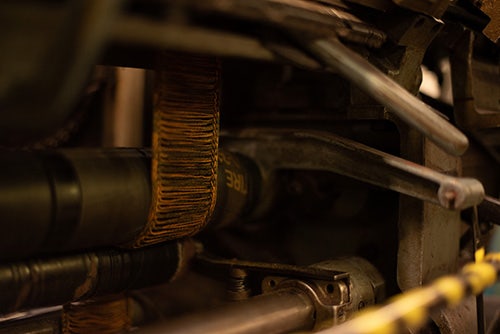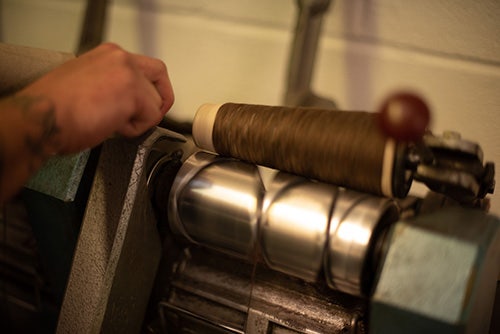 The workshop makes use of a range of manufacturing processes depending on which sock design is to be produced, using some of the latest machines to knit the main body of the sock, whilst our garter tassels are produced by a machine that has reached its century and is still going strong.
Every machine is used and relied upon every single day and must be constantly monitored, adjusted, fine-tuned and operated by a member of the team. This isn't a story of automation - this is traditional British manufacturing at its best - a process which pairs highly skilled people with complex machines in a partnership to create a truly premium product.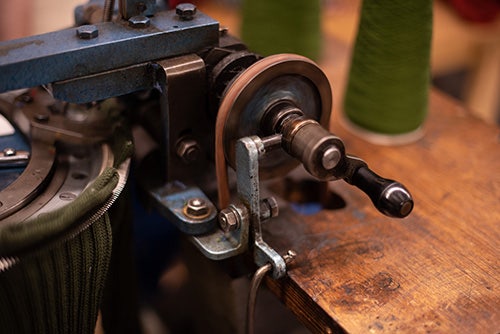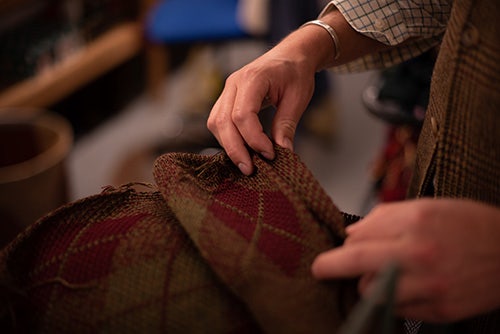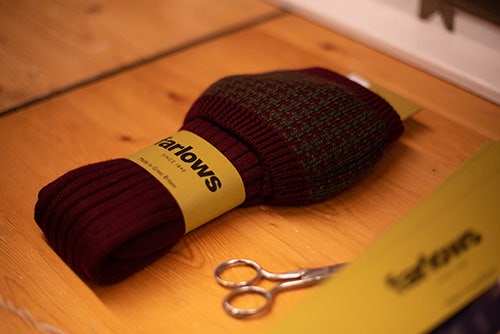 Each pair of socks goes through twelve pairs of hands before leaving the workshop doors and heading to Farlows. This process includes yarn selection, machine knitting, separating tops, turning base socks, toe linking, linking, bar tacking, hand sewing, washing, pressing, quality checking and packaging.
Sustainability and Durability
Sustainability is at the heart of our business and supporting local manufacturers is one of the best ways that we can reduce a product's carbon footprint. Durability is vital too and it's important that our socks are designed to last many years - fast fashion this is not! In addition, all of the wool used in Farlows socks carries the Confidence in Textiles label issued by the OEKO-TEX Association to confirm the human-ecological safety of the products across all stages of production. In addition, the wool bears an ICEA organic certification which guarantees the production of textile products in natural fibres to be from totally traceable organic farms which meet GOTS standards - the world's leading organic textile standard.
With a wonderful selection of colours and patterns to choose from, we're sure you'll be able to find your desired style in our collection. A special pair of socks is a great way to add a bit of flare and personality to your shooting outfit, so browse our extensive range today and see what takes your fancy.
---
Discover Some Of Our Latest Shooting Socks and Garters