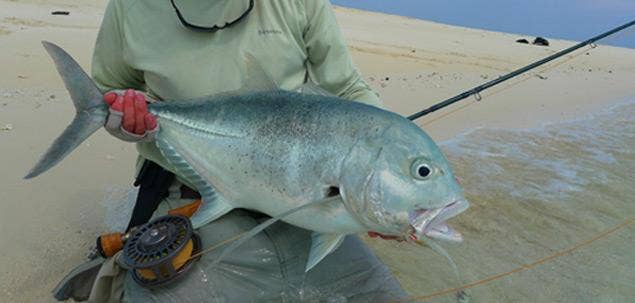 Maldives Fly Fishing Report
Dhonakhuli Island, Maldives Report - 7/15th March 2012
This is without doubt the most exciting new saltwater fly fishing destination around and even better it's within easy reach of the UK! Travel times were less than all of the Caribbean destinations I have been to recently and this was the perfect introduction to Indian Ocean fly fishing. There must be a lot of saltwater fishers looking for something new and I am sure this is it.
Whist there were bonefish around in good numbers my team were much more interested in adding species to their personal hit lists and from this point of view we certainly scored. Between the group I think we had at least thirty species but towards the end it got hard to keep count! I loved the trevally fishing off the beach and was pleased to land some stunning gold spot trevally and a single blue fin trevally on the first day. All of these punched well about their weight and were perfect to target on an 8wt with a small baitfish pattern. The first one I caught took me well into the backing twice - not bad for a 3lb fish.
The jewel in the Maldivian fishing crown has got to be the GT fishing on the flats. This was only a short walk or an even shorter buggy ride from the villas and offers just about everything needed to excite a fly fisher. On the best tides you could wade knee deep sight casting to a steady stream of GT's ranging in size from 20 to 80lbs. These fish were far from easy but certainly not impossible to hook up. I was pleased to land a good fish and loose another but would love the chance to have another crack at these awesome fish one day. As soon as these fish feel the hook all hell lets loose - you certainly don't need a tangle or a weak point in your tackle at this moment. If you are looking for an adrenaline rush look no further!
---
Discover Our Latest Saltwater Fishing Tackle and Gear

---
I like to chuck a popper around on a lure rod as well and I would recommend anyone visiting to take some suitable kit. I had two nice big blue fin trevally on poppers one into double figures and the other well on its way into high teens. I was also lucky enough to land a really hard fighting GT around the 30lb mark that took a medium sized popper on its third attempt and around 150yards of line on an unstoppable first run. There is great potential here to catch some very serious fish of a variety of species. One of the guys in our group fishing with me landed a big red bass and a beautiful jobfish on the same boat trip.
As with any new destination there is a lot of exploration to do and things to learn. There are a number of other islands within striking distance of the resort - many of these would never have been fly fished before and offer huge potential. There is also great scope for blue water fishing for tuna and sailfish - a week was nowhere near long enough to get the full potential of the place sorted out.
The resort is both stunning and luxurious with fantastic staff - nothing was too much trouble. We ate and drank all week in some style and inspite of the exercise I managed to gain a few pounds. The setting is completely idyllic and the resort is carefully laid out to make each villa feel secluded and private. This is probably the best fishing travel option around to take a non fishing partner to - they will find plenty to do while you fish. You can fish as much or as little as you like. The atmosphere is very relaxed - just as it should be. Right now I can't think of anywhere I would rather be.
If you would like more information on travel destinations please call Farlows Travel on +44(0)207 484 1006
Tight lines
Allan.