We're pleased to announce that the winner of the 2021 Charles Farlow Trophy is Martin Moyers with the capture of a stunning 30lb salmon from the Hampshire Avon on 5th April 2021. Martin landed the fish on a 1 1/4 inch Posh Tosh tube fly and the fish was then safely released to carry on its journey.
The trophy is presented to Martin by Jonathon Muir from Farlows and Nick Radclyffe from Foxdenton Estate.
---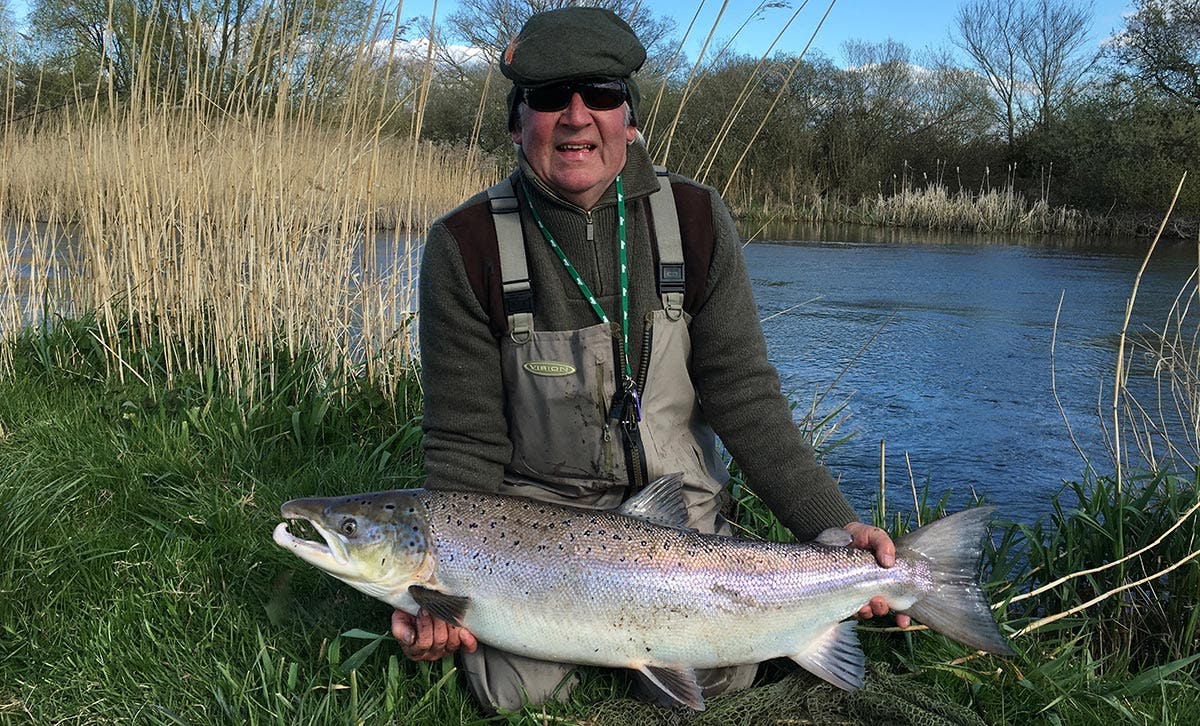 ---
The Captor's Story
By witness, Brock Van den Bogaerde
"It was a cool windy day on the Avon with good water colour as there had been no notable rain for several weeks. The location: a deep, wide pool with a strong flow of water. The take was gentle and the line slowly started to tighten up. Martin let it run and, at the right moment, raised the rod to take up the strain. The fish stayed deep and used the strong current to its advantage. Martin kept a good bend in his rod to tire it, but the fish made a series of powerful runs towards a bend in the river and the beat boundary, marked by a barbed wire fence and wild overgrown riverbank beyond."
"The fish was taking plenty of line and was well into the backing, but Martin held his nerve and kept up the pressure, eventually managing to encourage the fish to make its way back up into the pool. The fight lasted approximately 25 minutes. The fish appeared to be tiring and occasionally came to the surface giving us a good idea of its size. Martin continued to inch upstream to allow me to climb down on to the ledge with the net. The water was deep and powerful and, holding the net with one hand while holding a clump of grass on the edge of the bank with the other, made it all the more exciting. It was clear to both of us we were only going to land this fish tail-first into the net. The first attempt was aborted as the whole of the fish was slightly out of reach. I waited and up it came again and Martin patiently eased it downstream and into the net, the fish then slipping out of his sight. 'It's in the net!' I shouted. Martin appeared and I could see in an instant the look of a man that had just caught the fish of a lifetime."