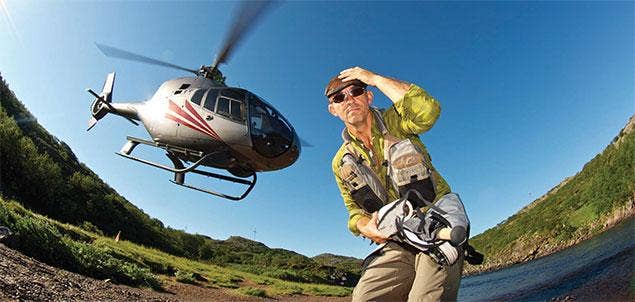 Expedition Fly Fishing - Top 10 Items Not to Leave Home Without!
Farlows' globetrotting fly fisher, Jonny Muir, looks at those essential items he would not leave home without…
Fly fishing has the ability to transport you to some of the most far-flung, untouched, and remote corners of the earth. In recent years, a new, thrill-seeking breed of fly fishers has pushed the boundaries of what is possible and transformed the 'gentle art' into something more akin to an adventure sport.

Whether your target is a 40lb wild Atlantic salmon from the windswept tundra of Russia's Kola Peninsula, a monster GT from the uninhabited coral atolls of the Indian Ocean, or the stunningly beautiful peacock bass of the Amazon basin, preparing correctly for a fly fishing expedition is crucial to success.

Whichever destination you're heading to, make sure these items are on your packing list. Don't leave home without them!
When jumping in and out of float planes, helicopters, and boats, it's imperative that you can transport all your fishing gear securely. Leave your hard suitcases at home and pack in bags that can be crushed, stuffed, and crammed. Nothing does it quite as well as a giant duffel bag, and the YETI Panga 75 Duffel Bag is among the very best. Ultra–durable and fully submersible, it won't let you down.
It wouldn't be much of a fishing expedition if you arrived with broken rods, so safely transporting them is essential. Look no further than the Sportube - this thing will withstand even the most clumsy baggage handlers. Adjust it to the length you require, lock it up, and head to the airport.
Jungle, tropical beach, or Arctic tundra - wherever you're going it's always best to assume that you'll encounter biting insects, so be prepared. Pack a bottle or two of Care Plus Anti Insect Repellent and keep it to hand because when the mosquito clouds descend on you, you'll need it fast!
Although you're probably going to be accompanied by professional fishing guides with first aid training, it's always a good idea to pack your own personal first aid kit too. Take the Lifesystems Waterproof First Aid Kit, you never know when you might need it.
You don't have to be in the blazing heat of the tropics to get badly sunburned. UV levels vary across the globe, influenced by latitude, altitude and the thickness of ozone layer overhead. Look for SPF50 for maximum protection and grab a bottle of Care Plus' sunscreen - as a bonus it also protects against the stings of jellyfish, corals and sea anemones.

You might not need it, but keep it handy in the event that you get lost in the dark or suffer a power cut. Remote fishing locations and reliable electricity supplies don't always go hand-in-hand! The Lifesystems Intensity 155 LED Head Torch offers 7 different lighting modes and a water-resistant design, all for just £19.99. Make sure to pack some spare batteries too!
This bag is a vital piece of kit and should be able to transport everything you need for your day out on the water securely: fishing tackle, smartphone, camera, spare clothing, sun and insect protection, food and drink. Fishpond's Thunderhead Submersible 28L Backpack will happily endure all the scratches and scrapes that come with remote fishing trips, and features a fully waterproof main zip.
Often overlooked, experience has taught me never to travel without these -  a simple abrasion-resistant finger sleeve that can transform your fishing enjoyment. Stripping fly line against bare fingers for any length of time can result in small cuts in your skin - manageable at first, but add sand and saltwater into the equation and these small line cuts can really drive you mad. Pack a Fulling Mill Stripping Guard and thank me later.
Don't even think about going on a fly fishing expedition without polarised sunglasses. So crucial are they, that at Farlows Travel we always advise our clients to travel with a spare set too. Not only will high quality polarised glasses protect your eyes from the sun, but they'll allow your vision to cut through the surface glare of the water enabling you to spot fish and wade over previously unseen submerged obstacles safely. You can't do better than Costa, choose a lens tint depending on the weather and location you'll be fishing in - yellow/amber for Pacific salmon fishing in Alaska or sea trout fishing in Tierra del Fuego, and green/blue mirror for the bonefish flats of Cuba or the coral reefs of the Seychelles.
Imagine travelling halfway across the world to start fishing and then discovering you've sprung a leak in your waders. Miles from the nearest town or fishing tackle shop, you might have to endure soaking wet feet for the rest of your trip - not nice! That is, unless you remembered to pack an emergency wader repair kit like the Simms Aquasure Kit. You'll hopefully not need it, but in the event that you tear your waders on a prickly shrub, or a wayward cast leaves your fly stuck in your bottom, you'll be glad to have it!