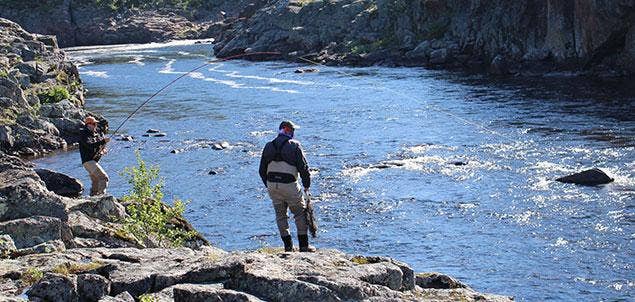 That Was the Year that Was 2018…
Some of the Farlows fishing team share their most memorable catches of the 2018 season.
Nick Hart – Fishing Manager
What's my fish of the year? That's easy, my first ever barbel,  even better that the catch christened a brand new
Sage X 5 weight
although I must admit I had not set out to catch this fish, one which has eluded me for over 30 years!
After yet another late train journey home from London it had been my plan to rise at cock crow and head north west to the River Wye in Hereford, a venue which I had visited to teach casting but one I had never actually fished myself. However, a busy week at work and a late night took its toll, the spirit was willing but the flesh weak, so I opted for a lie-in and a mid-afternoon journey. The traffic left much to be desired but I soldiered on and arrived in blistering heat on a perfectly cloudless summer's day.
With an army of rods to hand I set forth, ready to surprise a salmon (some chance!), cause peril amongst the pike or, if all else failed, the new number five would come in handy to flick a dry or two at the resident trout. A few hours later I was in heaven with several trout to a couple of pounds caught and released.
While all of this had been taking place, a fish had occasionally been showing itself some fifty yards downstream. Stopping to take on board some water I watched as a substantial disturbance signalled the presence of a considerable trout, partaking in a supper of sedge. I got into position and spent a fruitless half an hour covering the unseen fish below but as is so often the case the fish either decided it was full, or that my presentation wasn't good enough.
Spotting the odd flash of a fishy flank in this lie I opted to grab the switch rod and swing a salmon fly, just in case. Nothing. So, it was back to the 5 weight, but this time I was going down 'n' dirty with 3 BIG nymphs and a yarn indicator. Perhaps the flashing flanks were feeding on the caddis larvae below? A few casts in and the yarn went under. I struck, some resistance and then, nothing!  My three nymphs had all disappeared.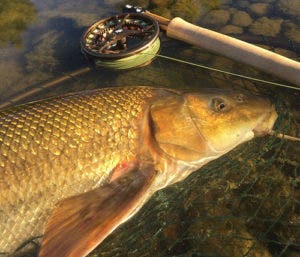 Convinced that I was fishing over reasonable depth and that this was not a snag I replaced the set up with the same flies but a heavier leader. A few more casts, wading deep and fishing tight to the bank, and the yarn slipped below once again. What happened next will never fade from my memory.
The strike met with a resistance so solid that this time I really did think that I was snagged, until several seconds later the line began to move, not quickly, but with purpose and a weight that really began to test the X. I don't think the fish ever ran further than 10 yards up or downstream, although there were many heart-in-mouth moments when a tangle of roots and brambles became the leviathan's refuge of choice!
Shaking, I was wondering what an earth I had hooked as I had not seen the fish since the battle commenced and it took a full fifteen minutes to finally extract the warrior from its lair. Pectorals flared and huge shoulders bristling, my first sight of the fish met with a massive "GET IN!" as I realised that the source, of what had been the most exciting moment of my 2018 so far, was a stunning River Wye barbel… undoubtedly my fish of the year. I cannot wait to do it all again in 2019!
Tom Clinton – Retail Manager
My trout of the year came to the net on a mild June morning during one of my solo missions to the River Wandle in South London.
I had approached a spot I like to call 'Chub Corner', so named because of a shoal of thirty or forty fish that reside below a wide patch of
Ranunculus
.  Just behind this shoal of chub lay a trout in a particularly tricky location, a fish that I had watched for weeks, a wily old thing with a huge paddle of a tail and a penchant for hoovering caddis cases as they drifted past.
Ordinarily this trout would sit just behind the swaying tip of the
Ranunculus,
almost as if it knew that it was safe so long as it remained below the emerging white flowers. On this day, I had stomped past it knowing it was unlikely to spook from its safe haven. However, as I passed it I observed a deft flick of its tail and tracked it through the crystal clear water. As it came to a halt directly below the aforementioned flora, I thought to myself, 'that's that then, no chance for that fish, it knows I'm here and it's taken even better refuge below the weed bed.'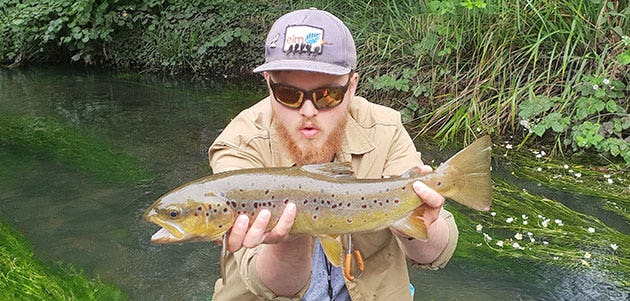 Somewhat dejected, I set about casting a small
peeping caddis jig
at the resident shoal of chub, hoping for a consolation take. As I rolled a cast out into the open water behind the
Ranunculus
, the leader snagged on the weed closest to the surface and the nymph fell in a vertical trajectory through the water just on the other side of the patch of green. I watched open-mouthed as something pulled the leader down, further submerging the fronds of weed.
Knowing that it wasn't the weight of the fly dragging the weed under, I set the hook.  'BIG chub' I thought to myself but it wasn't until about fifteen seconds later that the fish in question rolled over the top of the weed and I caught a glimpse of its flanks - I believe the Stranglers said it best in their most famous classic - 'golden brown, texture like sun.'  Nigh on five pounds, it was not going down without a fight.
Rod bent double like a horseshoe, expletives filling the air and nervous knees knocking together like a sub-par Elvis impersonator, I gradually gained the upper hand. Once I knew I had the advantage, I scrambled to remove my shoes and socks and hastily rolled up my trousers.  Stubbornly ignoring the warnings bouncing around in my mind regarding the number of knives, needles and shards of glass we remove on a monthly basis during the river clean ups, I slipped into the icy water, and scrabbled for the handle of my net. Using the progressive bend of the glass rod to guide the fish upstream of me, I readied the net and as the trout's head came over the rim, it bucked and the barbless caddis nymph pinged out of its lip…
Reflexes coming into play and with the fish teetering on the brink of escape, I performed what I can only describe as the perfect fencer's lunge to ensure this wasn't going to be one that got away. After a few minutes of in-the-net adoration, some photographs taken by a friendly passing cyclist and an explosive release whereby the most perfect tail I have ever seen gave me a soaking, I hoisted myself back up onto the bank and let out a sigh of relief. Personal best Wandle brownie - smashed.  I could have stopped fishing for the year then and remained ecstatic!
Sam Edmonds – Sales Advisor
My most memorable fish this year was a longnose gar, caught on a yellow Clouser Minnow while fishing on the Ottawa River on the border of Ontario and Quebec in Canada. My main aim for the trip was to try and catch a muskie, but when I found out longnose gar were in the area, I had to have a day fishing for them and with my dad and multi-species guide Rob Jackson, who is a Longnose Gar expert, we had a great time stalking them in the shallow weedy bays, firstly on shallow diving crankbaits, then flies. They're such an unusual looking fish and they put up a great fight on a 9wt rod!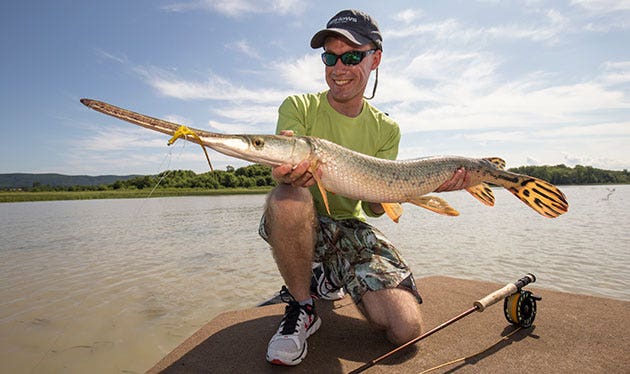 We managed to catch smallmouth bass, walleye and a few other species on the trip too, but unfortunately we were a bit unlucky with the muskie due to record-breaking rainfall that coloured up the Ottawa River and reduced visibility to less than a couple of inches. At least it gives me a good excuse to return to Canada and try for them again!
Ashton Pohl – Sales Advisor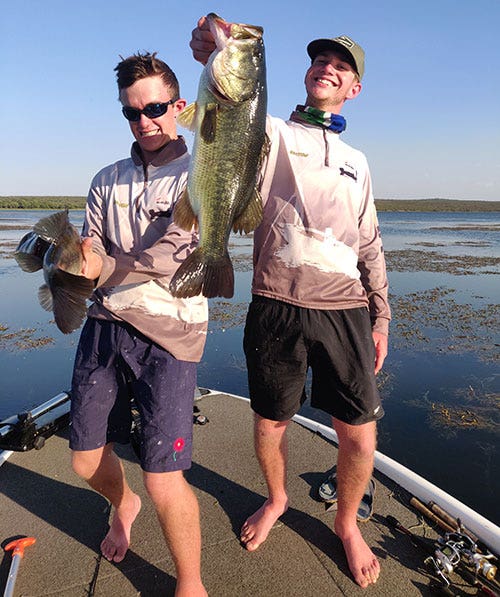 Taking first place on my list would have to be this beauty of a largemouth bass. It was caught just a couple of weeks ago while I was slaving away under the South African sun, lure fishing over thick grass patches with a hollow body frog.
What made this catch so special was watching a massive wake storm towards my stationary frog and, as I started working it back towards the boat,  the fish absolutely crushed the frog and became completely airborne.
After setting the hook, I then battled the fish through the grass and to the boat. Before we got a chance to get the fish in the net, my boat partner's frog also exploded, only this time snapping his rod on the hookset. We managed to get both fish into the boat and sharing that experience with close friends is what made this catch the best of the year!
Jonathon Muir – Travel & Marketing Assistant
I was fortunate enough to have been given the opportunity to visit Kharlovka Camp at the Atlantic Salmon Reserve in July this year with a group of our clients. Atlantic salmon are without doubt my favourite species to fish for and fishing for them in Russia's Kola Peninsula region has been a lifelong ambition. In the midst of an incredibly difficult salmon season at home, I hoped that my Russian adventure would yield a few silver tourists.
To cut a long story short, despite the arrival of the heatwave that was scorching Europe (even up in the Arctic Circle!) I managed to tally up 21 salmon for my six days of fishing, with many others lost and pulled.
One fish in particular sticks in my mind…
It was day three and my fishing partner, our guide and myself were dropped off by helicopter at the famous Kharlovka Falls Pool. The pool was alive with fish waiting to ascend the falls but swinging flies down and across wasn't doing much to tempt them. I opted for a change of tactics and, from an elevated position on the side of the gorge, cast a hitch fly directly upstream and pulled the fly back down towards me with long, steady pulls – just fast enough to outpace the river's flow. The reaction was instant and I saw a fish rise up from the deep and eye-up my fly before it descended back down to its lie.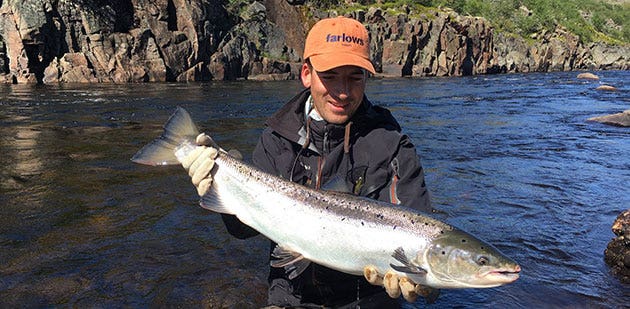 I waited a moment and cast my fly again, this time pulling slightly faster. I saw the same fish rise up, open its mouth and suck in my fly. Fish on! The reel went screaming and the fish made a run for it upstream. I rock-hopped and ran as fast as I could to stay in contact with the fish, eventually bringing a spanking-fresh 18-pounder to the net. Seeing a salmon take my fly from above was the most spectacular sight I'd ever seen in my fishing career and firmly places this fish in the top spot – my most memorable fish of the year! I went on to land another five fish and lost two more in the same pool using the same technique. What a place!
Mark Windsor - Sales Advisor
I made a recent trip to Ascension Bay, Mexico where we were targeting bonefish, permit tarpon, snook, jack crevalle and barracuda. Ascension Bay offers a tremendous variety of different species to target and is a great location for both those new to saltwater fly fishing and to more experienced anglers.
We were plagued all week with a strong northerly wind that chilled the air and coloured the water, making it milky. As a result, the fishing was challenging as the fish were unsettled and spooked, even to a well presented fly. Finding clear water and fish became a real hunting exercise but thanks to good guides who knew the area, we found some clear water in and around some mangroves - and snook love mangroves!
The snook were sometimes in ones and twos, at other times in a small school, but most of them were moving at speed as they were twitchy because of the weather and it was with some delight that we found a snook hiding deep in the mangroves not moving. After several casts I slid one right under the hanging mangroves and 'BANG' the snook just smashed the fly, not the biggest one but well-earned under tough conditions and a real highlight of my fishing year.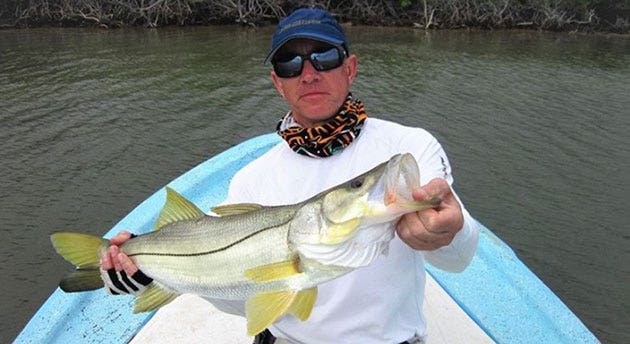 I can't say it enough: If you decide to go
saltwater fly fishing
, practice casting and then practice again and again – you never know how many opportunities will come your way and you have to be able to take each and every one.
Roddy Hall - Manager, Farlows Travel
2018 was a year of memorable fishing trips, shared with great people in amazing places. Although the quarry themselves are just one of the necessary ingredients there are always one or two fish that for some reason stand out. For me the fish was one that I actually did not land. However the culture of catch and release and treating fish with care means we often do not bring a caught fish onto the bank or into the boat anyway, so a lost fish is often not so different in memory, the take, the fight and the adrenaline.
My fish was a tarpon, in Ascension Bay, Mexico, fishing from Punta Allen Fishing Club. We chased a school of large migratory tarpon in fairly rough water with a challenging wind. The guide positioned the boat well and I managed (with luck) to get the cast right in front of the fast moving school, and after two or three long strips everything went solid - and then crazy. A large, 60lb plus, tarpon went airborne, ran, went airborne again and I felt completely out of control of the situation.
After several minutes control was regained, or so I thought. The fish sat a few feet down in the water a couple of rod lengths from the boat, planning its next move. I wondered what it would be, I had pressure on the fish but it seemed content to do very little. Then suddenly it rose up through the water, jumped, and while more or less eye-to-eye with me the fly popped out. Although I hooked others that afternoon, they were the on and off experience that tarpon so often are. However, I will not forgot that fish in a hurry and it is the reason I will be looking forward to fish for tarpon again in 2019.
I did manage a few nice sea trout in Argentina though, including this 17-pounder!