Ultra light lure fishing really has taken the UK by storm in the last 18 months. All over the nation anglers of all disciplines have taken to using very short, very lightweight rods, light braids and small soft plastic lures to catch perch, pike, chub and trout. The sheer amount of options in terms of venues for LRF (Light Rock Fishing) makes the format fantastically accessible, with most of the UK within easy reach of a canal, lake or river in which one can catch predatory fish for little cost.
It's fair to say that there are very few venues where you won't find a few perch and over the years the sergeant has been my major target when fishing LRF style. Perch are free biting and hard fighting and catching one of these shoal fish is usually a good indicator of more success to come.
Another factor in the rise of LRF is that the angler doesn't need to put aside a day or buy any fresh bait - a rod, reel and a small pack with assorted hooks, lures and accessories is as much as you need. Simple to keep in a car or easy to have to hand at home, LRF really lends itself to that "an hour after work" fishing lifestyle.
The kit required for light lure fishing couldn't be more simple or accessible. A simple kit list looks something like this:
Rod
A rod of between 6' and 7'6" to cast no more than 10g. The
Savage Gear LRF rod
is specifically designed for these techniques and makes for a brilliant entry level light spinning rod. Balanced, light in the hand and with a hi-vis tip the LRF range of rods really are perfect for getting in to LRF.
Reel
A nice light reel is essential for LRF, there is no point at all buying a super light rod and then putting a big, heavy reel on it! The
Okuma Safina Noir Reel
25 size is a great entry level option while the
Okuma Artics RTX Reel
is a truly brilliant reel that's suitable for fresh or saltwater. Remember you'll be using light braid and fine fluorocarbon so a smooth drag is a must.
Braid/Hooklink
A good soft braid is essential for both casting and bite detection. Farlows carry Savage Gear Finesse braid right down to 7lb breaking strain and this is ideal for light spinning. A good fluorocarbon hooklink can be the difference between getting takes or not, and the harder it is the more chance the angler has of landing a rogue pike if one takes hold.
Seaguar in 6.6lb
is my own personal preference.
Lures
The really fun part of LRF as there are so many soft plastics to choose from! A great starting point is the brilliant
Savage Gear Drop Shot Kit
which contains everything the angler needs to rig up the deadly drop-shot technique, go out and catch some fish! See how to use your drop shot kit here in this video:
Another favourite of mine is the
Savage Gear Soft 4-play lure
in 9.5cm. We sell these lures ready rigged, but I tend to remove the wire framed rigging and side hook them on a 5g jighead. Side hooking these lures gives them a fantastic action and I can't count how many perch have fallen to this method of rigging them. Big thanks to Ant Glascoe Jr for showing me how to rig sideways!
The
Savage Perch Lure Kit
and the
Grub Kit
are a great easy option and are deadly when jigged slowly along the bottom of canals and lakes!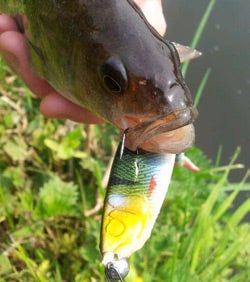 Any time you're fishing areas where there are plenty of pike a wire trace should be used. We have in stock at Farlows the amazing Wolfram traces which are as fine as monofilament but are tooth-proof. Sometimes it's hard to avoid hooking a big pike that for some reason takes a liking to a 2" plastic worm, but where there is the chance always use a wire trace.
Always carry some forceps in case of a pike strike or a deep hooked perch, some wire cutters and plenty of spare hooks and jig heads, it is quite easy to lose end tackle jigging soft plastic baits along the bottom of the canal!
I've been lucky enough to live near two prolific canals. Back in the midlands I lived within five minutes of the Trent and Mersey and now in London my flat backs on to the Grand Union. The perch hot-spots appear to be the same on both canals, man made structure. Canals can be long and featureless places but areas near locks, inlets and outlets, under and around boats and marinas and bridges all seem to be red hot areas to find perch. When sneaking in an hour after work I head straight towards these types of areas.
I can break down my own LRF fishing in to two techniques - jigging and drop shot fishing. Jigging is the most simple technique and is great for searching water. Essentially the angler just ties a weighted soft plastic lure on the end of the trace, casts it and bounces it slowly back along the bottom of the water. Jigging covers a lot more water in a lot less time than drop shot fishing but I find it isn't quite as effective. Drop shot fishing (detailed in the above video) is a great method once you have found the fish, but not great for searching out areas. Often I will fish an area with a jig then once I have found the perch I'll switch over to a drop shot rig.
This really is a fun, exciting and accessible way of catching a few fish in very little time. The light kit makes even the smallest fish feel like a monster and hooking a really big perch becomes an epic battle! If you have a canal near you then you too could get in some bonus fishing this season!
The
new and expanded lure section
at Farlows has everything an angler needs to kit themselves out for LRF fishing from a choice of great rods to a huge selection of light lures, jig heads and soft plastics. For more information please feel to call in to the store, pick up the phone or drop us an email.