Tusting Bags are made from the finest leathers or extremely hard wearing canvas materials.
Their outstanding heritage is combined with the very finest leather products available.
TUSTING is a family firm based in the heart of the English countryside, with its roots deep in the English leather and shoe trade. The fifth generation of the family is now at the helm, following a long line of Tustings who have been tanning, grading and trading the world's finest leathers for over 130 years.
This deep and expert knowledge is the secret ingredient that guarantees the selection of the perfect leather for each exquisite piece made in their workshop. In the hands of their talented team of Craftsmen and Women these flawless materials become wonderful products, which combine truly original character with unmistakable quality. Indeed, it is the products themselves that communicate their own value and quality. More than fifteen years after the first briefcases were produced, many are still in everyday use. They look wonderful, having matured beautifully and acquired the mellow patina and distinctive personality of a classic piece of furniture.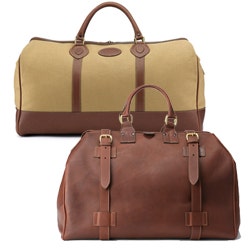 Tusting long heritage has given them an ultimate understanding of the processes involved in the treatment and production of all types of leather. They enhance the beauty of the leather by finishing them with waxes and dyes. This improves their textures and brings out the subtleties of the natural scars of the hides. Their products also have the highest quality fittings and zips.
Tusting Bags are held in very high regard because of the craftsmanship, care and understanding that goes into producing every single bag. They are universally loved for the rich, warm quality of the leather, exceptionally durable fittings and for the utter practicality of their timeless, classic designs.
To see our full range of Tusting Bags please Click Here