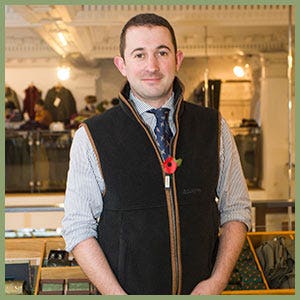 Will Hogan
Sales Advisor
Will was born and raised in the Cotswolds and the Highlands of Scotland where shooting quickly became the passion of his life, fostered from an early age by his father, an accomplished gunsmith.
Will has a deep love for nature and the outdoors and after attending agricultural college studying countryside management, this love led him to a career as a gamekeeper where, for over a decade, he worked across the UK on both private and commercial shoots. This career also enabled him to experience gamekeeping in New Zealand, where he helped to develop a driven shoot in the southern hemisphere. Will joined the Farlows team in April 2015.
His enthusiasm for the sport of shooting is infectious and he has a vast experience of all aspects of the sport, from the rearing of the birds, through to hosting a shoot and the etiquette expected; all of this accompanied by full awareness of firearms and gun safety.
A keen game and clay shot Will also regularly goes deer stalking and loves nothing more than imparting his passion for the sport, and for the countryside, to customers both in-store and online.
Contact Will by email at: william.hogan@farlows.co.uk