THE GREAT SALMON FLY TIE-OFF
FARLOWS PLATINUM JUBILEE COMPETITION
Here at Farlows we have a long and illustrious salmon fly pedigree. A definitive book which catalogues many of our famous patterns, 'Farlows Salmon Flies: An Illustrated Catalogue of Farlows' Pattern Salmon Flies 1870-1964', was published in 2017 to celebrate this important part of our history.
As many notable members of the Royal Family were or are fly fishers (The Queen Mother, Prince Charles and even Her Majesty The Queen), we thought we'd celebrate by launching a competition on our social media channels for people to create, tie and name a new salmon fly in commemoration of Her Majesty The Queen's Platinum Jubilee.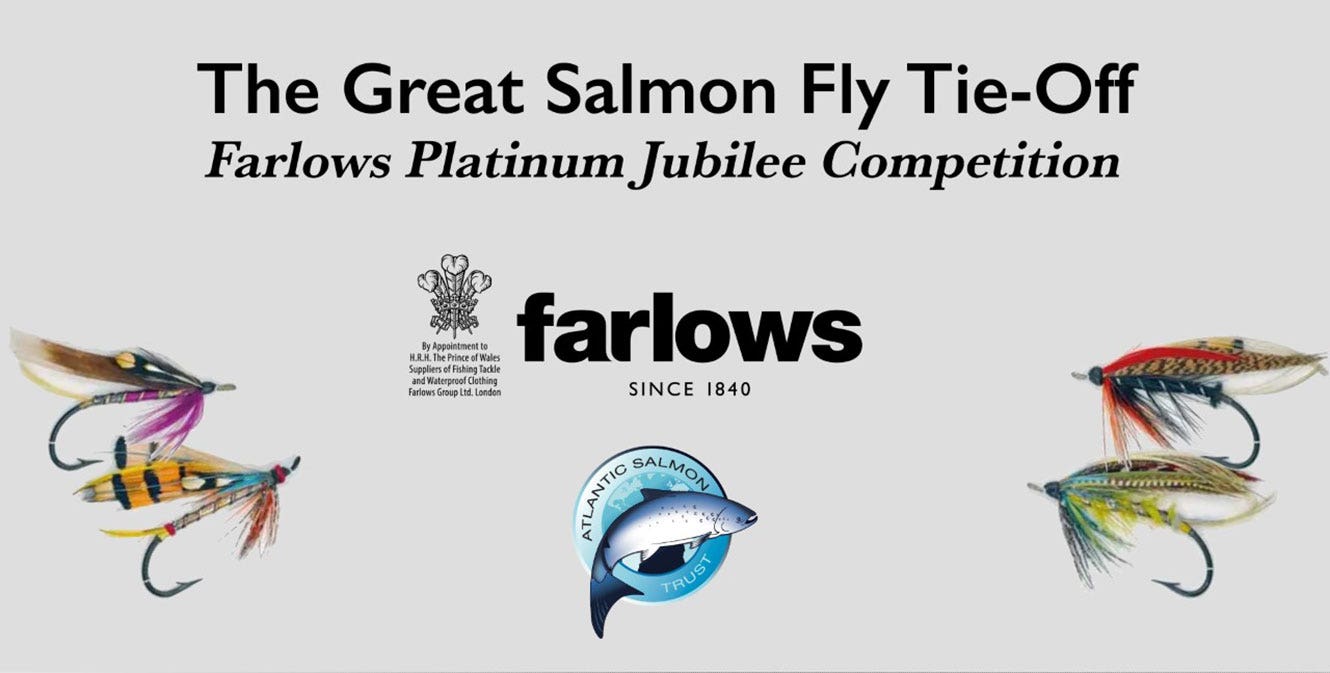 The only design rules are that it must incorporate red, white and blue in some way, and be tied on a single hook. Once you've tied your pattern, simply post a picture of it with its name on our relevant Facebook or Instagram channels.
On Facebook, find our pinned post here and simply reply with your photo and fly name in the comments section.
For Instagram, follow @farlowsuk and DM us your photo and fly name. You can also post the photo to your own Instagram page, tagging @farlowsuk and posting with the hashtag #farlowsjubileesalmonfly
You can also email your entries in to info@farlows.co.uk
Our competition will run until Sunday 8th May. The Farlows team will then pick the top 10 entrants, who will be asked to send in their creations in the post. The winning fly will be judged by Alastair Collett, Official Fly Tyer of the Flyfisher's Club, in person at our store in Pall Mall, London.
Farlows will then arrange for 100 copies of the winning fly pattern to be produced by one of our specialist suppliers and sold in Farlows. 100% of the net sales revenue generated will be donated to The Atlantic Salmon Trust, to help fund their mission to halt the dramatic decline in wild Atlantic salmon stocks and safeguard the future of this iconic species.
---
Terms &. Conditions
All salmon fly designs must incorporate an element of red, white and blue and be tied on a single hook.

Photos must be submitted either on the Farlows Facebook page or the Farlows Instagram page (details above), or via email info@farlows.co.uk, together with the name of the fly.

Participants are allowed to enter more than one fly but must submit each fly separately.

By submitting your image, you are giving Farlows permission to use it, in its original or an edited form, in future marketing material, on our website and our social media pages.

The competition closes on Sunday 8 May and no entries after this date will be considered.

The top 10 entrants will be selected by employees of the Farlows Group on Wed 11 May 2022.

Those subsequently contacted by Farlows are required to send their fly by post to Farlows, 9 Pall Mall, London, SW1Y 5NP to arrive no later than Wed 18 May. Farlows will not be responsible for the non-arrival of any flies submitted or for postage costs.

The winning fly from the top 10 entrants will be judged instore by an independent expert w/c 23 May. The judge's decision is final and no correspondence will be entered into on this matter.

The winner agrees to have their fly pattern manufactured commercially by a Farlows supplier and sold by Farlows, with 100% net sales revenue generated donated to The Atlantic Salmon Trust.

The winner also agrees to Farlows and The Atlantic Salmon Trust using their fly, its name and all associated imagery in any marketing material.

Farlows Ltd will store your data securely, for purposes of competition administration only. You will not be contacted by us for any other purpose unless you have expressly requested that we do so and we will not share your data with any third party. You may request your data be deleted at any time.

Farlows reserves the right not to grant the prize to anyone who has breached our terms & conditions, gained an unfair advantage or won by fraudulent means.