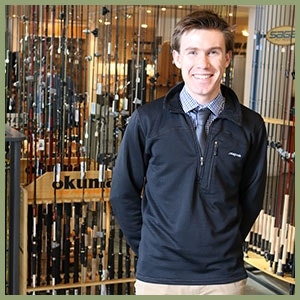 Sam Edmonds
Sales Advisor
Our newest team member is Hertfordshire-based Sam Edmonds, who joined the business in 2018, bringing with him a wealth of fly and lure fishing experience gleaned from numerous fishing adventures both home and abroad.
Sam was taught to fish by his father and his early memories are of catching bullheads and stone loach in his local River Beane before he graduated to more general coarse and carp fishing. It was, however, the thrill of fishing light and being mobile that really appealed and it was not long before Sam discovered what remains his passion to this day – lure and fly fishing.
In the UK, Sam loves to target big perch on lures and has also spends time fly fishing for both trout and predators on reservoirs such as Grafham, Rutland and Pitsford. His foreign travels have seen him fish 18 different countries, including: USA, Mexico, Costa Rica, Belize and Australia. Highlights include his biggest fish to date, a fly-caught sailfish weighing 130lb, and a Sri Lankan GT of 20kg that hit a popper.
Roosterfish, tarpon, permit, bonefish and a variety of tuna species have all fallen to Sam's rods but that is only part of the story as his aim is to catch as many fish as possible on lure and fly. To date he has a grand total of 218 different species to his name with 161 on lures and 74 on the fly. The 'to do' list features species such as golden dorado, tigerfish, muskie, arapaima and milkfish!
Recognising his mastery of lure fishing, Fox International recently signed Sam as a consultant and he assists with the design and development of lures from the Fox and Salmo ranges and regularly features in lure fishing features and films.
Contact Sam by email at: sam.edmonds@farlows.co.uk