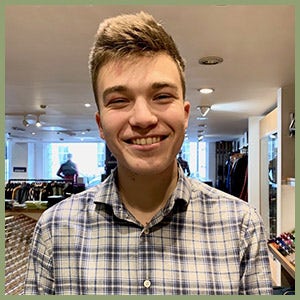 Joe Beddoe
Sales Advisor
Joining Farlows straight after his A-Levels Joe, at 18, is the newest and youngest member of the Farlows team but don't let his youth blind you to the depth and breadth of his angling experience, which is considerable!
Growing up in Essex, Joe started his angling adventures with the coarse species and delighted in catching a variety of fish before he graduated to sea fishing, with cod and bass particular targets. It was, however a holiday to Ireland that resulted in him being well and truly bitten by the fly fishing bug after a lesson with a local ghillie resulted in him catching a number of small rainbow trout.
From that beginning Joe now prefers to target all fish on the fly and he has an impressive record with UK trout, including some great sea trout from the Welsh River Dee. He hasn?t forgotten his coarse fishing roots though and still loves to fish for pike and perch - albeit now on the fly..
Joe has made several overseas fishing trips and his list includes Florida, where he kayak fished for bonefish, Slovenia, Austria, Antigua and the Turks and Caicos Islands. A forthcoming trip to the Cook Islands will see him chasing GTs and double figure bonefish
Joe's angling ambitions include putting right the historic loss of a permit and getting to grips with his first salmon.