The easy gift solution!
If you just cannot choose a gift for the person who has everything, our gift vouchers are the ideal gift solution. They help take away the stress of getting it wrong!
Vouchers are available in paper form with a card that can be redeemed in store. Our vouchers are valid for 12 months from the date of issue. Or you can purchase an Electronic Gift Voucher.
These gift vouchers are only redeemable online, they are not redeemable in any of our stores or by mail order.
When buying electronic gift vouchers, you will receive a voucher code via email which you can send to the recipient or write on a gift card (not included ).The recipient can then use this code to buy from www.farlows.co.uk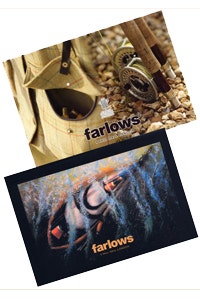 How to use our online vouchers :
1. Sign-In or Register if required to do so.

2. Once in the Store Credit section, to redeem your Online E Voucher enter the unique voucher code and press Claim.

3. Your credit will be applied to your order when you reach the payment page on our website.

4. If you spend less than your voucher value, we'll save the remaining balance for you.

5. If you spend more than your voucher value, you will be asked to pay the balance with a credit/debit card.