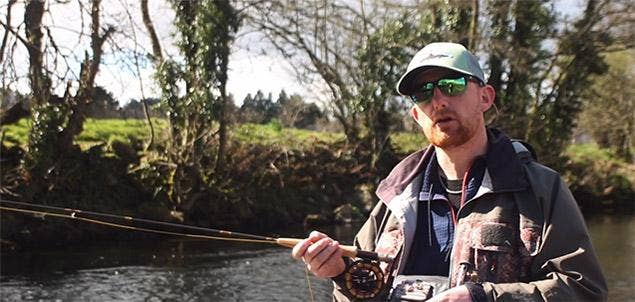 Nick's Beginner's Guide to River Fly Fishing
Join Farlows Fishing Manager, Nick Hart, on an early season session on his beloved River Exe for a comprehensive beginner's guide to fly fishing on flowing waters.
Nick's top twelve tackle list for river fishing

1. Greys GR60 Single Handed Fly Rod
This is a great fly rod to get you started without breaking the bank. With its middle to tip action it's ideal for delicate river presentation. The 8' #4, 8'6 #5 and 9' #5 are all great options for your first foray into river fly fishing.
2. Greys GTS300 Fly Reel
You needn't overcomplicate things with high-tech reels when it comes to river fishing for trout. The Greys GTS300 is inexpensive, durable and the 4/5/6 model should be ideal for beginners.
3. Cortland 444 Sylk Mustard Floating Fly Line
This line is designed for river fishing. It's smooth, supple and capable of making delicate casts with small flies. In addition, it's a dull mustard colour, which should help you not to spook the fish!
4.
RIO Powerflex Copolymer Tippet
Rio Powerflex Copolymer Tippet is a fantastic all-round leader material that is suited to both dry fly and nymph fishing. Spools of 3.4lb and 5lb breaking strain are ideal for most situations, but you can go up to the 6.4lb to help turn over big, bushy flies or drop down to the 2.4lb for ultra-spooky wild trout.
5. RIO Powerflex Trout Leaders (3 Pack)
Tapered leaders help carry the energy from your cast through to the fly, helping to turn it over and get it fishing straight away. The RIO Powerflex Trout Leaders work perfectly with the Powerflex Tippet.
6. Riverge Leader Rings
Tippet rings are an easy way to attach tippet to a tapered leader. Great for those who aren't yet totally confident in their tippet-to-tippet knots or wanting to make your leaders last as long as possible.

7. Gink Floatant
Simply a must-have for dry fly fishing. Apply a small amount onto your fingers and gently rub into your dry fly to help it stay buoyant.
8. Loon Snake River Mud Sinkant
Another must-have for dry fly fishing. Apply it to your leader to reduce flash and help it cut through the surface film, leaving only your dry fly bobbing on the surface.
9. Fulling Mill Grab A Pack Klink N Dink Fly Set
A great selection of general-purpose weighted nymphs along with klinkhammers tied with tippet rings to aid in rigging up for the 'New Zealand style'.
10. Fulling Mill Must Have Klinkhammer Fly Set
Here's another useful selection of klinkhammers in a range of colours, from black to brown to olive green with highly visible 'posts' to help you keep track of your fly at distance.
11. Vision Ikon Stockingfoot Chest Waders
These great value waders have consistently excellent reviews, praised for their durability and comfort. Take advantage of our wader/boot combo deal and save £80 when you buy them together.
12. Patagonia Vest Front Sling
Sling packs are a fantastic modern alternative to the traditional fishing vest, with the added ability to carry food, drink and other personal items. This one from Patagonia has a great pocket layout and is light and comfortable enough to wear all day long.