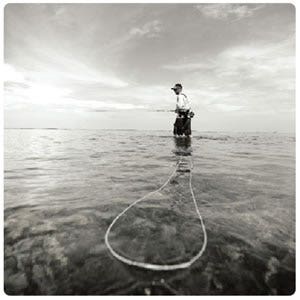 Simms Fishing Products was started in 1980 by John Simms, a well-known and respected fishing guide and outfitter in Jackson, WY. A creative guy and talented artist, John wanted to enhance the fishing experience by developing better waders and accessories. Simms was the second company in the world to introduce neoprene waders in the mid-eighties, which is when the company really started to take shape. At that time, Simms was purchased by a division of Life-Link International in Jackson, WY, and the brand continued to progress.
In 1993, K.C. Walsh, a passionate angler and entrepreneur, acquired Simms and relocated the business to Bozeman, MT. Walsh had grown up in a fly fishing family and developed a passion for angling at a young age, mostly fishing the Eastern Sierra of California. It was his life-long dream to live in Montana.
The same year that Walsh acquired the company, Simms introduced breathable waders in a pioneering effort with W.L. Gore & Associates (makers of GORE-TEX® fabric) that changed the face of fishing waders and opened up new possibilities for the sport.
Although Simms has grown and evolved over the years, their vision remains the same - to build the highest quality products to keep our customers dry, comfortable and protected from the elements in any condition.
SIMMS WADERS
At Simms they consider every possible demand put on the waders. That means designing legs that move as an extension of yours and building in an ease of use that allows you to layer up or down under the waders without inpacting your range of motion. Simms have removed seams from hig wear areas to avoid abrasion and done away with fabric bunching by offering the widest range of sizes to ensure every body shape a superior fit. Looking for Simms Stockingfoot Waders Simms waders are built to perform and last.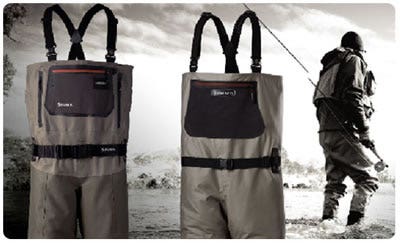 Simms G4 Pro Stockingfoot Waders are Simms highest performing wader for the most demanding and technical fishing. Adjustable suspenders, zippered micro-fleece lined pockets, thermolaminated, zippered chest pocket with retractor docking station, a combination of 3-layer and 5-layer GORE-TEX® fabrics.
Simms G3 Guide Stockingfoot Waders are Simm's most popular wader, these no-nonsense waders stand up to the toughest conditions and keep you dry. Made of GORE-TEX® Pro Shell fabrics with a patented front/back leg seam for enhanced articulation, durability and comfort.
Simms Freestone Stockingfoot Waders are built with Simms QuadraLam™ Technology with Toray® fabric, these very affordable waders stand up to challenging conditions with total comfort and performance.
Simms G4Z Stockingfoot Waders are the benchmark wader for comfort, durability, performance and convenience.
SIMMS WADING BOOTS
Simms is committed to offering the best selection of fishing footwear while maintaining durability. Simms have integrated cleanstream design technology into all of their footwear to make it easier for you to inspect, clean and dry your equipment after every day on the water. The materials and designs have less exposed stitching and a minimal amount of ridges.
Simms G4 Guide Boots are the hardest wading boots that Simms have ever made. The tightly woven, abrasion resistant Scholeller mesh panels, minimal exposed stitching and bellowed tongue help to minimize the spread of ANS, while the molded toe and heel counters prevent toe box collapse and fit like they were made for you.
Simms Freestone Wading Boots are great performance at a great price, & the new updated version takes this a step further.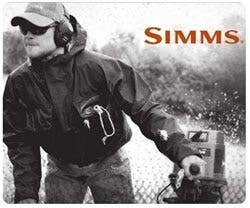 SIMMS CLOTHING
Simms Technical Outerwear is designed to keep you dry, comfortable and casting whether it's raining, the wind is blowing or the snow is starting to fall. Featuring advanced technologies and incredibly functional design, Simms outerwear is essential gear that will help you fish longer and more effectively.
Simms G4 Pro Wading Jacket is a technical, very packable jacket with GORE-TEX® Pro Shell fabric including 100% nylon face fabric. Its the only rain jacket in the Simms line to include pit zips - offering additional ventilation.
Simms Layering by using technologically advanced fabrics, Simms has developed underwear and fleece layering products that are ideally suited for fishing, offering excellent warmth and wicking properties. The Polartec® and Visaendurance® fabric technologies pull the sweat off your skin and promote rapid evaporation to prevent heat loss, while Polartec® Thermal Pro® fabric insulates, breathes, dries and looks great as a standalone outer layer.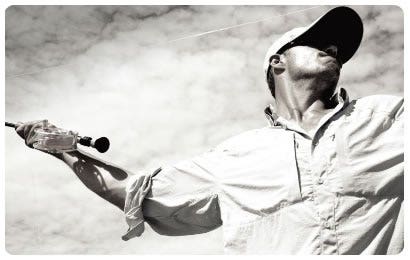 Simms Tech Sportswear is all about protection and comfort, even in the Simms shirts and SIMMS FLY VESTS
Simms Vests are organized so you can keep your eye on the water and effortlessly find what you need with very little body movement. The Simms G3 Guide Vest is one of Simms most technical highest capacity vest and has 22 pockets so you won't have to decide what to take or leave behind. Simms Freestone Vest gives you the best of Simms functionality and performance at a great price with 11 pockets.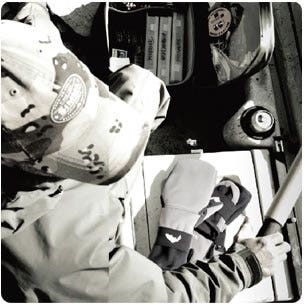 SIMMS BAGS & PACKS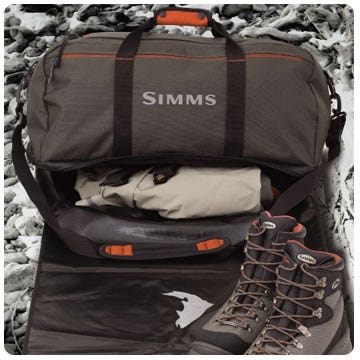 Simms hassle-free bags and packs are all about comfort, organization and mobility. Simms Headwaters system's sleek design avoids unnecessary snags, and for durability, Simms have strategically positioned a combination of nylon ballistic fabrics geared to take years of punishment. Simms Dry Creek packs are used to keep your treasures dry.
Use the Simms Headwaters Day Pack for easy access, or wear it alone for a light easy-to-reach gear kit. Simms Headwaters Chest/Hip Pack is built to withstand the rigors of fresh or saltwater fishing. Simms Headwaters Waist Pack is designed to carry a lot of gear and fit great when packed full, wear it on the boat, the river or as a carry-on while traveling.
The Simms Headwater Tackle Bag will get all your tackle there safely. This intelligently organised bag utilizes tough as nails denier ballistic nylon fabric in all the right places. Reels, tools and lines can live in eight organizer pockets inside and the four external zippered pockets fit medium C&F fly boxes with room to spare. A hidden full-bag rain fly stores behind the map pocket, and there's a waterproof bucket bottom on the main compartment.
Simms Dry Creek Flats Pack is built to protect your necessities from saltwater corrosion, this straight forward design wears on your waist or as a sling pack. Simms Dry Creek Duffel Bags are waterproof and gives you the flexibility needed to fit everything you need. The wide-mouth roll top closure makes it easy to stow add shaped items while the thermal welded round tight corners helps to protect your favourite reels, tools and fly boxes.
SIMMS ACCESSORIES
To keep you standing over tough stream crossing is the Simms Wading Staff and for that extra grip on your wading boots use the Simms Hard Bite Boot Studs. The Simms Back Magic Wading Belt fits like it was made for you, while giving you the support you need without the residual sweat. From belts to wading socks and guards, these accessories make the difference when it comes to fishing comfort and safety.