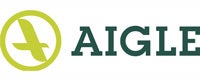 Aigle was born in France in 1853. Aigle offer essential, contemporary products for men, women and children. Their efforts focus on the use of innovative design, materials and production techniques in the development of durable, functional, fashionable clothing, shoes and boots.
To choose Aigle, is to fulfil ones need to experience the freedom of nature, and to discover all the pleasures and sensations it has to offer.
They also recognise the responsibility to protect the environment by committing to minimize the ecological impact, both through their behaviour and through the design and development of their products. They are changing all of their packaging, from shoe boxes to bags, to unbleached recycled paper and card, and assuring that all other printed material they generate uses paper from sustainable, managed forests. They are continuing our use, and research into, recycled polyester fibers and fabrics: they use less energy to manufacture, and therefore produce less CO2. At Aigle, they are slowly but surely converting our cotton products to organic
Aigle History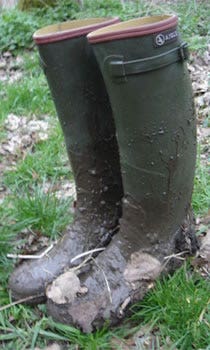 1850 - Charles Goodyear invented a vulcanisation process that made latex irreversibly elastic and waterproof. A patent was also bought to make shoes, boots and protective clothing. The Flexible Rubber Company was set up which produced these items on a large scale.
1920 - A L'Aigle went industrial and offered the Parisennes chic raincoats, city boots and shoes all in rubber.
1950 - Aigle developed its ranges and started making the rubber soled canvas shoes. The shoe workshop manufactured 30,000pairs a day.
1960 - The first patent rubber boot were worn with the first mini skirts.
1973 - Aigle invented the first riding boot.
1989 - Launch of the first textile collection.
1990 - Opening of the first shop in Paris.
1995 - Aigle relaunched the concept of travel garments that were chic and technical.
1996 - The Parcours boot was launched. They were the first to team the comfort of hiking shoe soles with the advantages and features of traditional country boots. They are the best selling rubber boot in Europe.
2000 - Aigle now have 100 shops around the world.
2002 - Aigle now have 150 years of experience of outdoor high tec clothing.
2005 - Aigle now has a new logo and a truly modern ethereal image. To choose Aigle, is to fulfil ones need to experience the freedom of nature, and to discover all the pleasures and sensations it has to offer.
If you need a practical boot with a neoprene lining and insole to keep your feet warm, the Aigle Parcours Iso Open Boot is the one for you. Aigle's special techniques, rare ingredients and know-how guarantees comfort and quality.
Aigle continue to manufacture their Aigle rubber boots in France, using natural rubber resin obtained from the rubber tree instead of petro-chemical based rubber.
The Aigle Benyl Wellington is all rounder wellington for the ladies. They are lightweight and durable and made with the experience of Aigle.
Caring for Your Aigle Boots
Rubber boots should be washed after every use with clean water and stored upright in a clean dry place, away from sources of direct heat including direct sunlight. Boots should be sprayed regularly with Aigle SWIPOL in order to protect and preserve the suppleness of the rubber.
Boot lining should be washed with clean water only. The use of soap is not recommended.
View our full range of Aigle »