Fly Fishing Lessons & Day Courses
Farlows of Pall Mall have three fantastic locations to assist individuals or small groups to learn and improve their fly fishing skills. Whether you want to learn to cast a salmon rod, catch your first trout or simply brush up on your skills before the next trip – Farlows can help!
Fly Fishing Lessons
Syon Park offers a great venue for those who want to learn how to cast. We can also offer instruction whilst fishing the lake so you can perfect your skills.
The River Thames at Putney is perfect for those who are learning how to use a salmon rod prior to a trip. A massive benefit here is the moving water, similar to what you'll experience with future trips.
Sportfish at Haywards Farm provides a fantastic one-stop location for all disciplines of fly fishing, with a fully stocked trout lake on hand & casting platforms. Whilst visiting this location you can also take advantage of our sister companies tackle shop. This location also offers a number of stillwater day courses throughout the year, perfect for those who are learning to fish for trout - find out more »
Pricing
One to one fly casting lessons £50 per hour
Group (2-4 people) fly casting lessons £85 per hour
One to one 1/2 day fly casting lessons £125
Group (2-4 people) 1/2 day fly casting lessons £225
One to one under 16's lessons £20 per hour
You can also purchase online a single tuition voucher or a group tuition voucher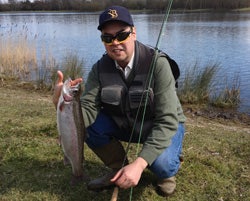 One Day Courses
One-Day Stillwater Course at Haywards Farm Fishery – Price: £149 per person
Our one day stillwater trout fly fishing course is tailored for those of you who are new to fly fishing or would like to improve their current skills. This is a very practical day for you to spend with a Farlows or Sportfish instructor who will take you through the following: Fly casting, Stillwater fly tackle selection, Tackling up, Fishing knots, Fly fishing techniques, Basic entomology and how to play a trout once you have hooked it.
Dates available: One-to-one Wednesday, Thursday, Friday and Saturday dates are available by appointment until 28th February 2017.
March 2017 - 11th and 25th. April 2017 - 8th and 22nd
Further 2017 dates will be added in due course, please check back.
View more details & book a course »
Beginner's Stillwater Boat Fishing Course – Price: £149 per person
If you have never boat fished before and just don't know where to start, then this introductory course is the perfect introduction.
Course duration: 10am – 2pm on Wednesdays only
View more details & book a course »
To book or if you would like further information please call 0118 930 3860 or email [email protected]