About Farlows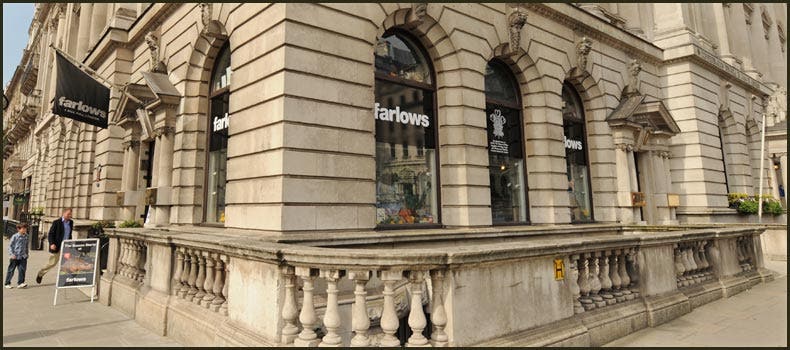 The country enthusiast department store of choice, Farlows has been helping people enjoy rural pursuits for over 170 years.
A Mecca for fly fishing enthusiasts for more than a century, Farlows royal warrant is testament to a reputation of distinction. But it's not just a fishing heritage that keeps customers returning. Whatever your quarry or destination, Farlows has the gear and guidance to ensure you cast, catch, aim and shoot better. Whether it's the latest fly-fishing kit, traditional shooting attire, performance footwear or essential lifestyle accessories, a successful country encounter always starts at Farlows.
Christmas Store Opening Hours

Join us in-store on Thursday 5th & Sunday 8th/15th/22nd December for wine, sherry & mince pies as you browse our Christmas collection!

Week beginning 2nd December - Mon, Tues, Wed, & Fri - 9am-7pm.
Thurs - 9am-8pm
Sat - 10am-6pm
Sun - 11am-4pm
Week beginning 9th December - Mon, Tues, & Fri - 9am - 7pm.
Wed - 9am - 6pm
Thurs - 9am - 8pm
Sat - 10am - 6pm
Sun -11am - 4pm
Week Beginning 16th December - Mon, Tues, Wed, Frid - 9am - 7pm
Thurs - 9am - 8pm
Sat - 10am - 6pm
Sun - 11am - 4pm
Monday December 23rd - 9am - 6pm
Tuesday December 24th - 9am - 2pm
Wednesday December 25th CLOSED
Thursday December 26th CLOSED
Friday December 27th - 9am - 6pm
Saturday December 28th - 10am - 6pm
Sunday December 29th Closed
Monday December 30th - 9am - 6pm
Tuesday December 31st - 9am - 2pm
Wednesday January 1st - CLOSED
Normal hours will resume 2nd January 2014

General Store Opening Hours
Mon, Tues, Wed & Fri - 9am-6pm
Thurs - 9am - 7pm
Sat - 10am - 6pm
Sun - Closed
9 Pall Mall
Farlows Pall Mall flagship store is the perfect place to prepare for a day in the field. Just minutes from bustling Piccadilly and a stone's throw from the gentleman's preserve of Jermyn Street, the shopping at Farlows is world-renowned.
Firstly there's the space. Over 6500 square foot devoted to all aspects of the countryside set over two floors of a majestic listed building. Then there's the carefully selected merchandise; more than 7000 products from only the best labels grace the shop floor, and stock mirrors seasonal changes and sporting disciplines.
Lastly, more than a century spent perfecting our art means Farlows knowledge is second to none. Our experienced staff are celebrated for their near-encyclopedic knowledge of all things fishing, shooting and generally 'outdoorsy'. Whether you're shopping for yourself or in need of gift solutions, the team at Farlows always has the answer.
Find Our Store


Contact Details

Tel: 0207 484 1000
Email: info@farlows.co.uk
Post:
Farlows Ltd
9 Pall Mall
London
SW1Y 5NP