Norway - A guide to Salmon Fishing
Foreign
Norway – A guide to Salmon Fishing
By Max Sardi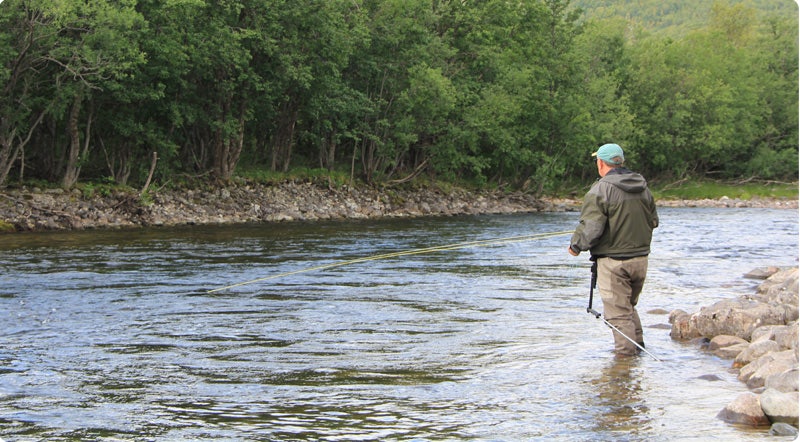 Norway is a heavenly place for the salmon fisherman with around 400 rivers to fish, including some rivers known internationally for both the size of the salmon they produce and the beauty of the surrounding scenery. In fact, the numbers of salmon running these rivers is a very significant part of the worldwide stock of Atlantic salmon. This important statistic has led to an increasing trend towards catch and release angling and stricter regulation of commercial exploitation of stocks.
The season on most Norwegian rivers is very short compared to the rest of the Europe. It normally runs from 1st June to August 31st to match the short summer, there are some exceptions to this however.
When to Go
Often the first weeks of the season can produce the biggest fish given the right conditions, but high water can be a problem due to snow melt. Runs of medium sized fish will appear at the end of June and into July followed by grilse. Large fish can still be caught through to the end of the season but with smaller fish around the average size will decrease. In the southern half of Norway the best weeks are the first and second weeks of July but the further north you travel the later the prime weeks become.
The Experience
Norwegian salmon fishing is a fantastic experience. Being so far north, fishing days can be long with almost 24 hours of daylight in midsummer. It has a well deserved reputation as a BIG fish country and every year lucky anglers beat their personal record by catching fish of 30lb's plus with some real monsters hooked and lost..! In the old days 30/40lb fish were relatively common and fishery records from yesteryear evidence this. The Alta river still produces a few fish over 50lb in weight in most years and is probably the best salmon fly-fishing river in the world to give you a chance of a leviathan. There are other rivers capable of this too that should not be ignored – a good example is the Lakselva. This river is relatively easy to access with tickets being sold directly to the public before the season opens. In 2011 the Gaula was the most productive river in Norway with nearly 5000 salmon recorded for a total weight of 30376 kg.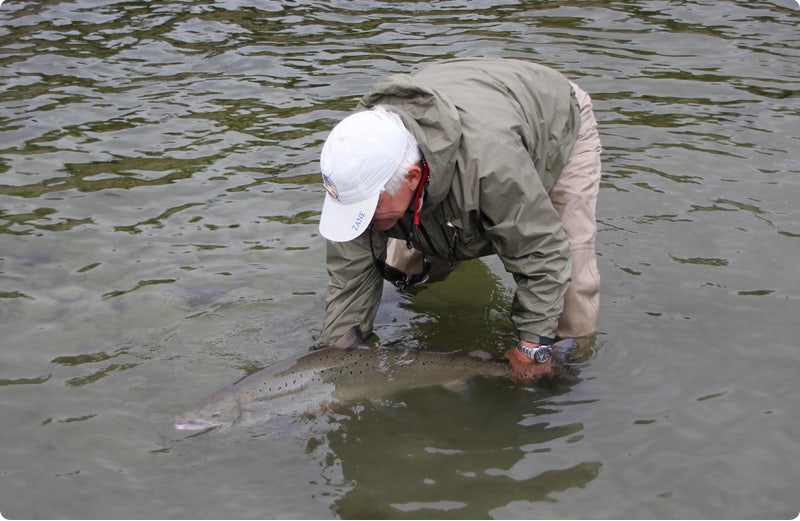 Tackle
The tackle required for Norway needs to be up the standard and quality of the fishing, 14" to 15" rods should cover most rivers and I recommend the Sage TCX, Speyworks SLP, Guideline Reaction, G.Loomis NRX and Hardy Zenith.
Shooting-heads fly lines are the most popular way to tackle the larger Norwegian rivers. They are easy to cast good distances even with big flies. They are also very versatile making quick changes in line density very easy. I recommend those from Guideline and Rio.
A quality fly reel is really important for Norway's big fish rivers. Fighting a huge salmon in a powerful flow demands the best available. Choose from Abel Super12W, Tibor Spey or Gulfstream, Sage 6000, Nautilus NV, Lamson Litespeed or the Einarsson Invictus. The reel should be loaded with at least 300yards of 30-50lb backing.
Depending on water height you will need a range of flies – large tubes are popular when the water is high or for fishing deep pools. In lower water smaller flies are important so as ever it pays to take a range of patterns and sizes. The greater the range of tactics at your disposal the more fish you will hook.
Wading is generally easy, you will need chest waders are a must with either felt or rubber soles. To wade safely you should always carry a wading stick, Simms produce a foldable stick that you can carry on your belt - ideal for travel alternatively the Sharpes Spey is also very good but in one piece. A collar lifejacket could save your life – falling in to a fast flowing river is always a dangerous business.
Seaguar leader is ideal and should be no lower than 15-19lb breaking strain up to 25-30lb.
You will need to arrange for the disinfection of your tackle before you fish for bio security reasons. You will be issued with a certificate that you must carry whilst you fish. This is done once you reach the river you will fish.
For more help with Salmon fishing in Norway please contact me at Farlows on 0207 484 1000 or by email max.sardi@farlows.co.uk