Sign up to our newsletter
COVID-19 CORONAVIRUS UPDATES
Farlows continues to monitor Government and Public Health England advice given the nature of the current coronavirus (COVID-19) outbreak and our Pall Mall store is currently closed to ensure the wellbeing of our staff and customers and we are working remotely to ensure we continue to offer our outstanding customer service.
ONLINE ORDERING - OPEN
We are working remotely to ensure we continue to offer our outstanding customer service and all our products are still available to purchase online, or by telephone on 01544 322 311, and we have stringent procedures in place to ensure our team is able to process and despatch orders safely. Our team is also available to discuss any product–related queries you may have to assist with your purchases.
Please be aware that because of these precautions our normal shipping times may be subject to delay and we regret that we are not able offer next day delivery at this time. We are currently seeing around a 48-72hr delay in order processing and delivery times compared to normal.
For up to the minute information on COVID–19 we recommend that you access resources provided by the Government www.gov.uk/coronavirus and the NHS www.nhs.uk/coronavirus.
This is a great time to service all your kit and to get fly tying and load up those boxes ready for when you are back on the water or, if you've not tried it before, why not give fly tying it a go?
ORDER DELIVERY
In order to protect both delivery staff and customers as much as possible, our couriers have policies in place to ensure safe delivery for everyone. Please refer to their latest updates below. Also, please be aware that normal shipping times may be subject to delays as the situation evolves. We cannot offer next day delivery at this time.
If you are an oversees customer, please note that all parcels may be subject to additional delays. This is due to the fact that all parcels are being collected and stored at central depots until there is enough volume of shipments going to the designated country to make it viable. We apologise for this additional delay and thank you for understanding during these difficult times.
Royal Mail: www.royalmail.com/coronavirus
DPD: www.dpd.co.uk/covid-19-bulletins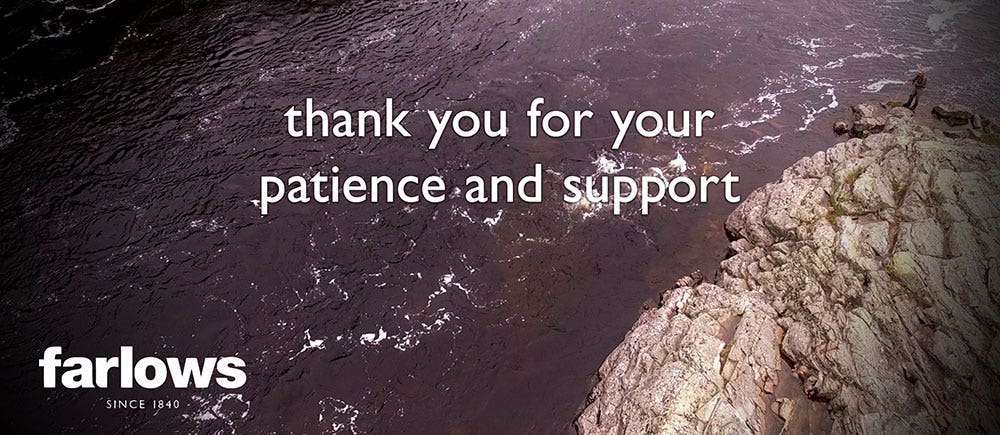 FISHING
Most fishers are now enjoying a safe and socially-distanced return to lake and river banks. We urge all fishers heading out to do so safely and responsibly and to abide by all current Government guidelines on social distancing and travelling. Fishers should abide by all local regulations and demonstrate that we are ambassadors for our sport, still playing a part in the nationwide battle against coronavirus.
Last Updated 28/05/2020