 The country store in the heart of London, Farlows has supplied the requirements of anglers, shooters and country enthusiasts since 1840. Now in their 180th year Farlows still espouse the heritage and tradition of their founder, Charles Farlow and their Royal Warrant, originally granted in 1982 and renewed in 2013, is a testament to this. Farlows successfully combines cutting-edge technology with traditional methods and service, with the emphasis being 'made in Britain.'

Farlows
Farlows has supplied the requirements of game fishers, shooters and country enthusiasts since 1840 and our business has always been defined by a relentless pursuit of excellence in the products we sell and the service we provide, coupled with a desire to push boundaries and to innovate. Farlows employs cutting-edge technology in conjunction with traditional values, with the emphasis upon sustainability and being 'made in Britain.'
Farlows still espouses the heritage and tradition of our founder, Charles Farlow, and our Royal Warrant, originally granted in 1982 and renewed in both 2013 and 2019, is a testament to this. Everything we do - and have ever done - aims to provide country sports enthusiasts and lovers of the countryside with the very finest products, advice and service.
Sustainability
Farlows believes that it has a responsibility for achieving the highest standards of environmental practice and for operating in a sustainable manner and it supports all appropriate initiatives to further these aims. We are fully committed to a continual assessment of the social and environmental impacts of all our operations and of the setting of objectives and targets to improve our performance.
Most recently, we have become signatories to HRH The Prince of Wales's Terra Carta, a campaign which provides a roadmap for businesses to move towards an ambitious and sustainable future and global value creation that puts nature, people and the planet at its heart.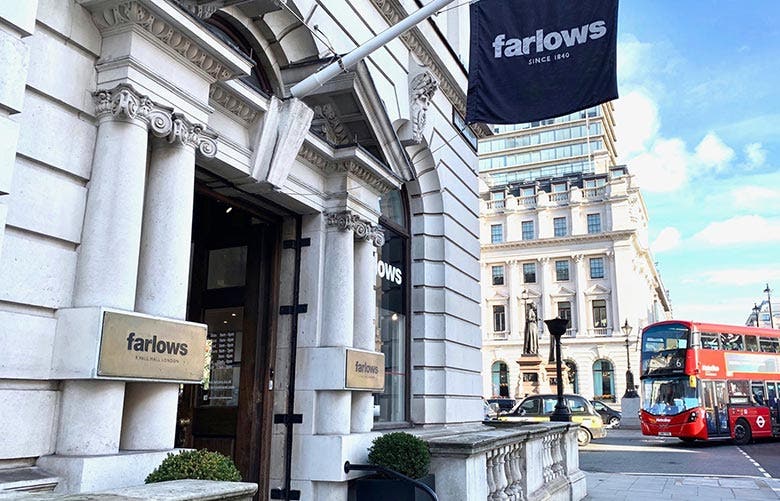 Pall Mall, London Store
At the heart of what makes Farlows successful is the team of passionate experts who share the same love of their sports as the customers they serve. Our customers value the incomparable knowledge and experience that is part of the pleasure of visiting our flagship London store, which is a piece of the British countryside in the bustling heart of London. You can take a virtual tour of our store online.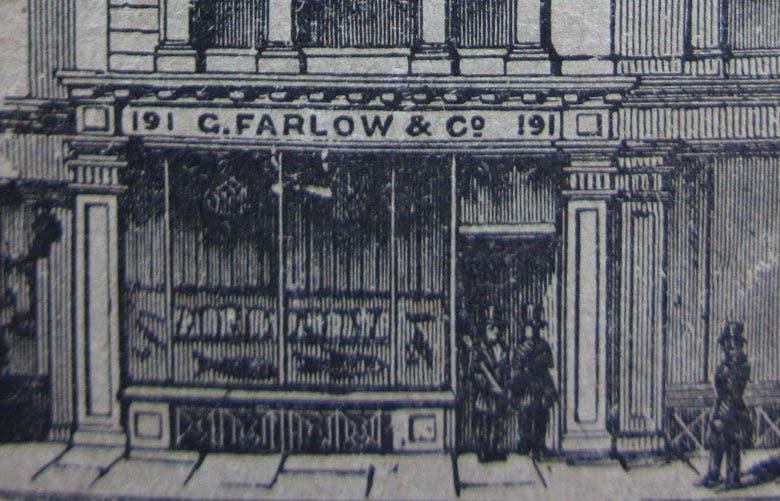 Farlows Heritage
Farlows was founded in Crooked Lane, London in 1840 by brothers Charles and John King Farlow and the Farlow family was at the heart of the business for 120 years, establishing the company as the foremost innovators in the world of fishing tackle. Despite numerous changes, the business has endured and evolved and continues to offer the same personal service and unrivalled technical expertise the founders originally promoted.
Charles Farlow Trophy
To promote the conservation of salmon through catch and release, Farlows created a trophy to be awarded annually to the captor of the largest fly-caught salmon safely released in an English or Welsh river.
Named after Charles Farlow, the trophy is a specially commissioned stained glass panel of an Atlantic salmon, created especially for the competition by renowned stained glass artist Sophie D'Souza.