Spring Lamb Cookery with a Moroccan Twist
With the easing of lockdown, Ian Welch is using the flavours of North Africa to deliver his garden guests the perfect sharing meal, a Moroccan lamb tagine.
The first easing of the current lockdown allows small groups of family and friends to meet and socialise outside, and with that comes one of life's great pleasures, the sharing of food. Although the British climate does not always lend itself to al fresco dining, now is a time when we can all embrace the end of winter and the signs of hope that spring (and a Government roadmap) brings, and eat outside.
Roast lamb is a traditional spring favourite but it does not necessarily lend itself to an informal garden gathering so, instead, I am opting to entertain my first garden guests with a Moroccan lamb tagine, a one pot dish that can either be cooked outside over coal, or prepared inside and easily delivered to your gathering.
Tagine
Tagine is both the name of the earthenware pot used to cook much Moroccan food, and of the dish actually cooked inside it. Designed to be used as a portable clay oven that nomads could easily transport they feature a wide, shallow base in which the ingredients are placed and a conical lid that seals to the base.
Placed over warm coals, the ingredients cook slowly, steam rises into the cone, condenses and slowly drips back onto the food, keeping it continually basted, flavoured and moist. After the initial preparation a tagine requires little effort and the end result, whether meat, fish or vegetables, is always meltingly tender.
Wandering through the ancient Moroccan medinas the smell of tagines cooking on charcoal braziers combined with the drumming of musicians, the hypnotic sound of snake charmers' pungis, the colours of the carpets, the chanting of Gnaoua singers and the call to prayer all combine with a background cacophony of both humans and animals to assault all your senses. It is mediaeval and it is magical.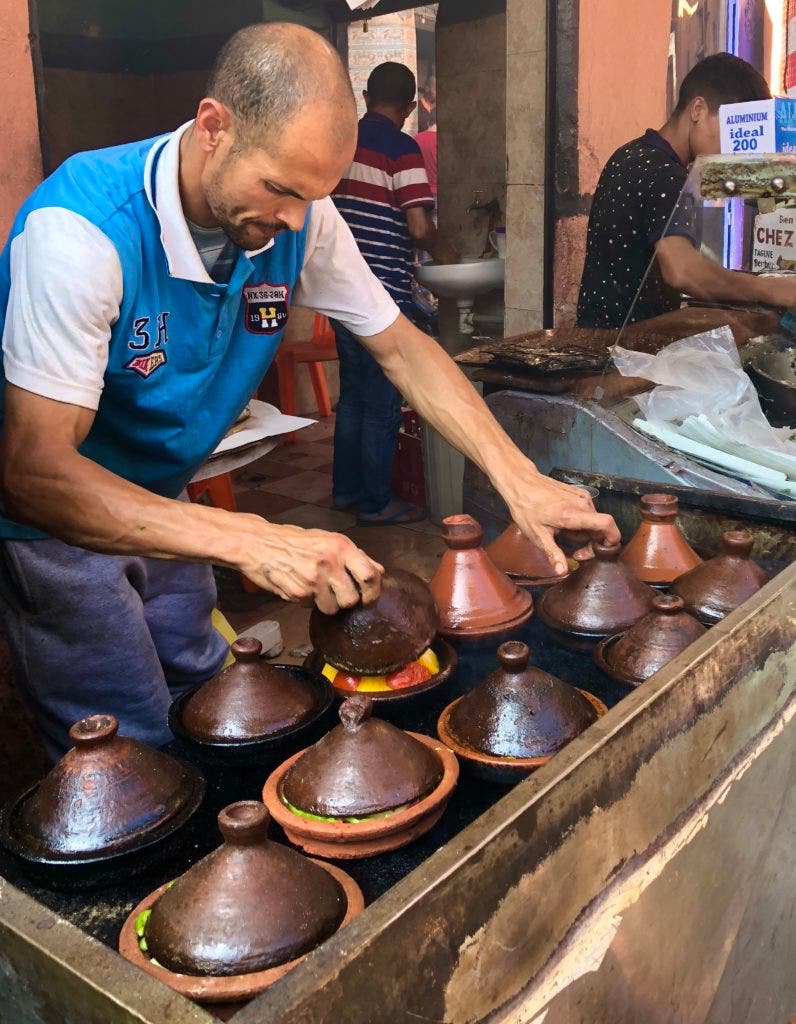 I have a selection of unglazed earthenware tagines sourced during many trips to Morocco, I love their simplicity and the fact that on many I can see the fingerprints of the potter in the baked clay. While the traditional finish undoubtedly imparts a distinctive flavour to the finished dish, a modern glazed one does the job just as well. I do recommend you invest in a tagine but if you don't, a casserole dish will do just fine. Similarly, you can use barbecue coals or a fire pit for your outside dining if you want to nod to tradition, but a tagine cooks equally as well in an oven, or on the stovetop.
There are four main tagine variations in Morocco, depending on the ingredients used in their preparation and they are all interchangeable whatever ingredients you are using. The one I am preparing here is a tagine mqualli, a variant which is cooked in olive oil and seasoned primarily with turmeric, ground ginger, cumin and saffron.
Bread and sharing
Contrary to popular belief, a tagine is, traditionally, never served with couscous! Bread is the cornerstone of the Moroccan diet, it is sacred, eaten with every meal and is a tagine's perfect partner. As an accompaniment to this particular tagine I made matlouh, an easy to prepare semolina–based, pan–fried bread that is common throughout the country, but use any crusty loaf of your choice.
Bread is your eating utensil too, Moroccans do not use cutlery and tagine is scooped up on chunks of warm bread, the crust acting as a scoop with the gravy soaking deliciously into the pillowy crumb beneath. Sharing food in Morocco is all about placing a large tagine on a low table with guests sitting around it on carpets or cushions, scooping out the contents with bread and fingers. Hands are always washed first, only the right hand is used to place food in the mouth and you only eat the portion of tagine directly in front of you - it is considered very bad manners to reach across – although the generosity of Moroccan hosts is such that they always push the choicest morsels to your side of the tagine.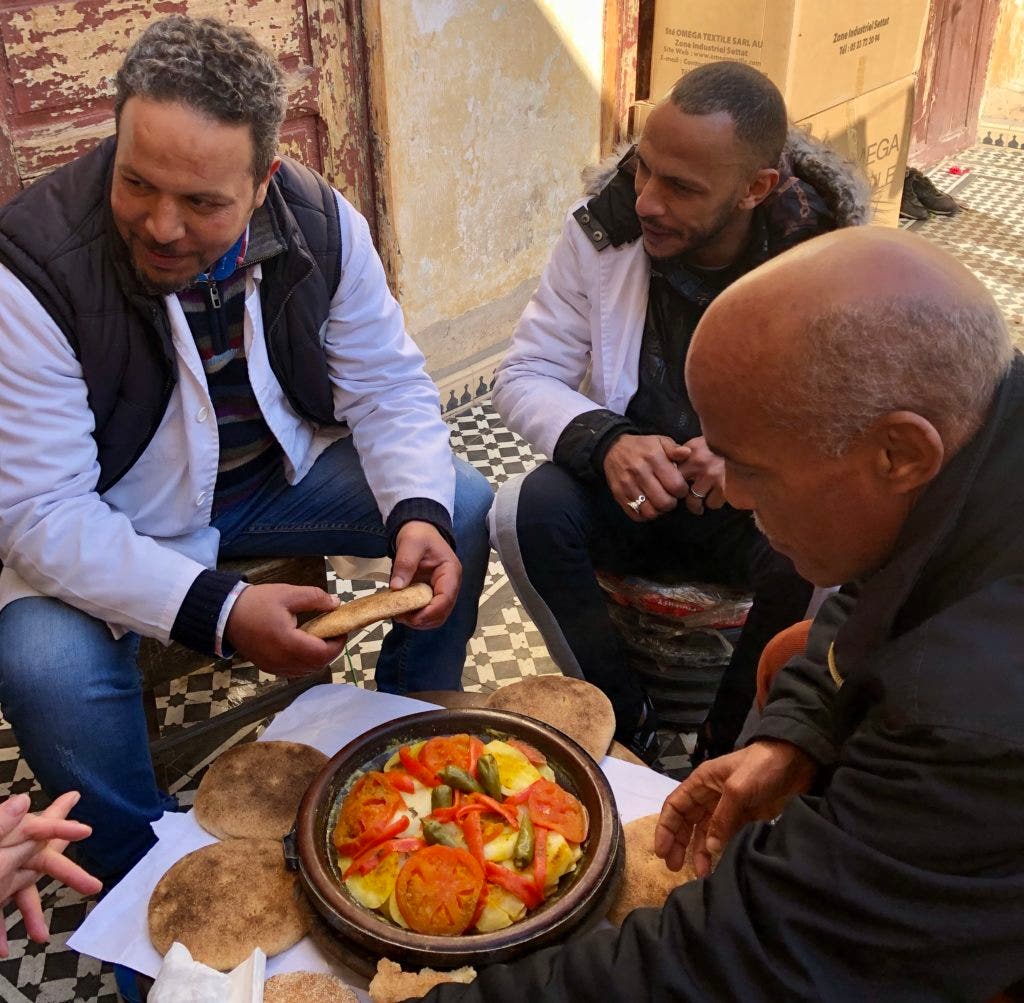 There is something very sensual about eating with your fingers, it gives a great connection to your food and eating from the same bowl gives a great rapport with your guests but, in these covid–aware days, it may be prudent to save these joys for your immediate household and allow guests their own bowl!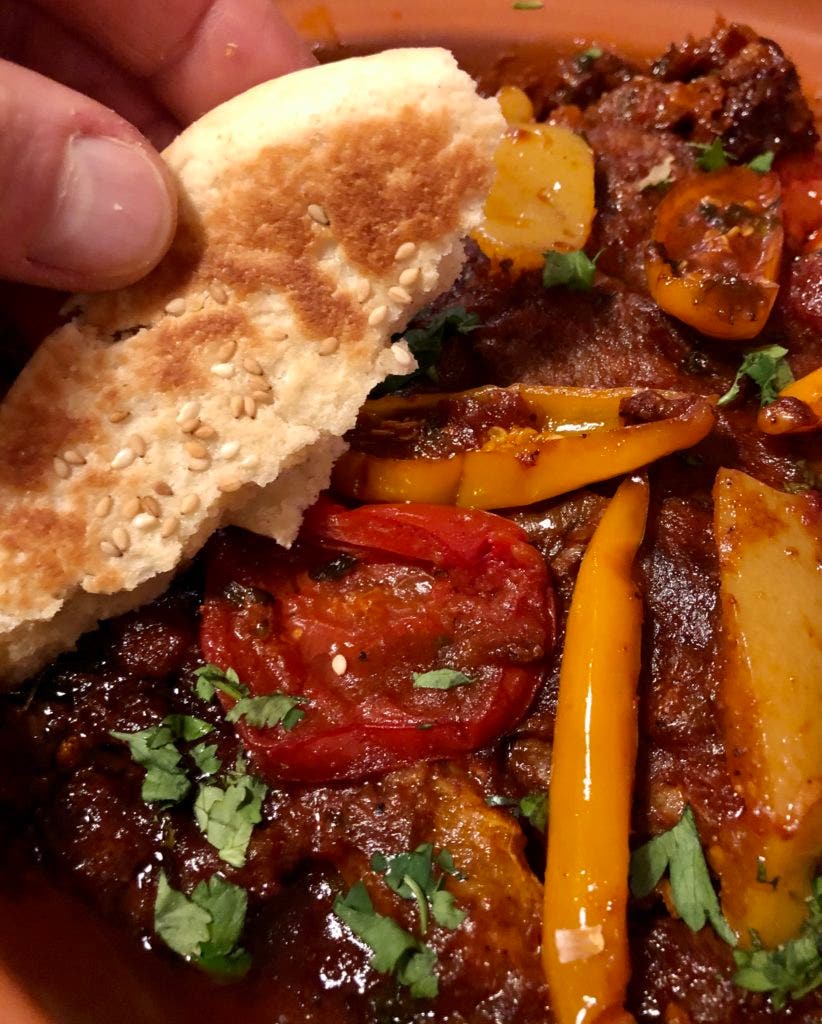 Preserved lemons and ras el hanout
Before we start to cook there are two ingredients in this recipe that warrant a little further explanation: preserved lemons and ras el hanout.
PRESERVED LEMONS
Preserved lemons have a unique taste that is fragrant and tart but cannot really be described as 'lemony'. Only the skin is eaten, not the pulp, they are delightfully soft, improve in taste as they mature, and are added to tagines, salads and couscous throughout Morocco.
There are available in most supermarkets these days, so you will have no problem sourcing them, but most lack the depth of flavour of those you buy in North African souks. If you want to explore Moroccan food further the good news is that they are easy to make at home by simply cutting lemons into quarters, stopping a centimetre away from the stem, filling the cuts with sea salt, pressing the lemons back into shape and then packing them into a sterilised jar with a tight fitting lid.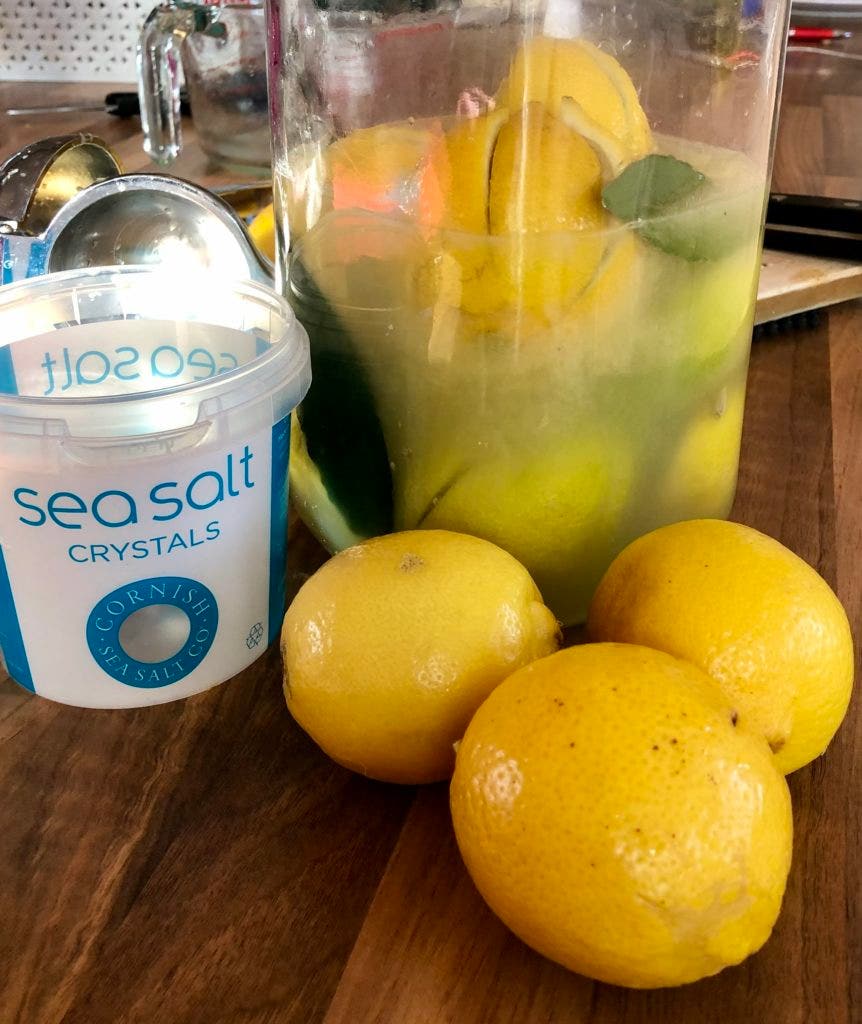 Top the jar up with fresh lemon juice to just cover the lemons, add a bay leaf or two and seal. Place the jar somewhere cool and dark, shake it occasionally to keep the salt and lemon juice mixed and they are ready to eat after a month. They mature beautifully and are at their best after several months when the lemon skins begin to brown.
RAS EL HANOUT
Literally translated as 'head of the shop' this is a heady Moroccan spice mix that, as the name suggests, is literally the finest blend of spices that a merchant has in his or her shop.
Commonly used in tagines, or to impart an instantly recognisable Moroccan flavour to any food, different spice dealers and families have their own secret blends and in the heart of the spice souks you can view the raw ingredients in the blend and be overpowered by the smell as it is milled for you.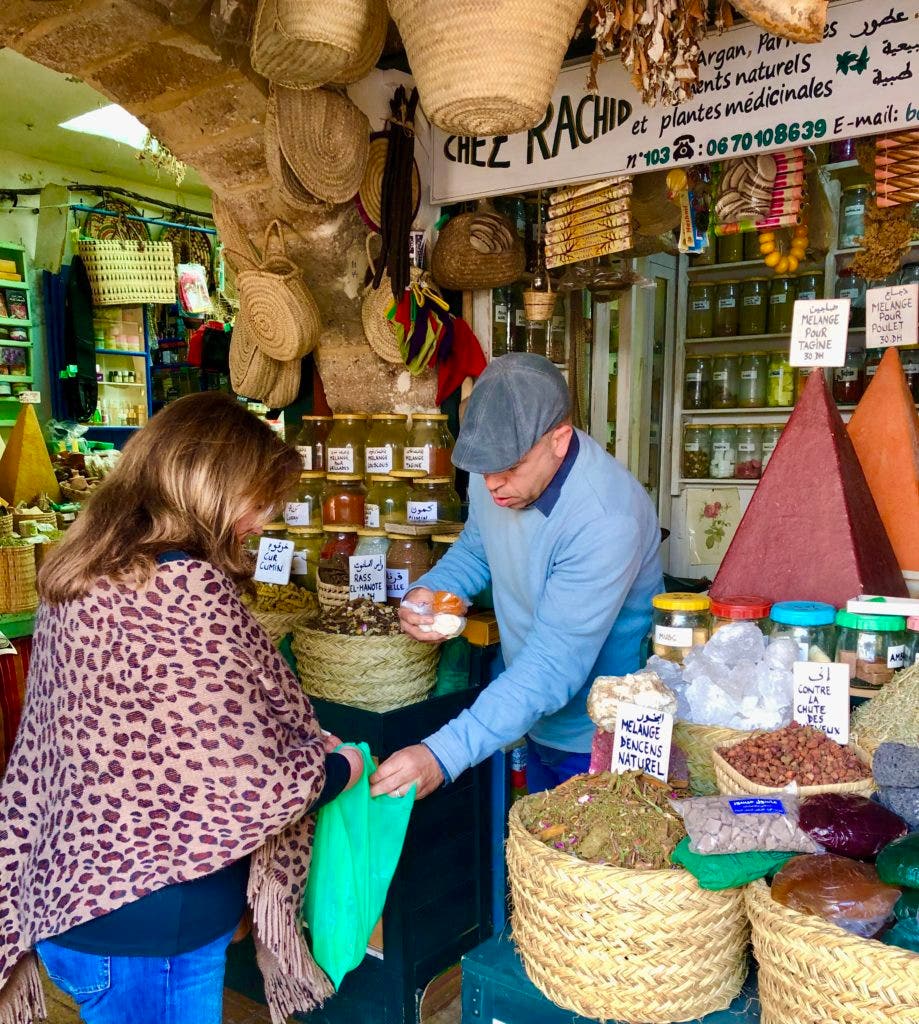 No two mixes are the same but expect a heady blend of: cumin, coriander, allspice, cloves, nutmeg, rose petals, mace, cinnamon, star anise, cardamom, turmeric, pepper, fennel, caraway and long pepper. As with preserved lemon, it is now widely available in supermarkets but the quality does vary – be guided by your senses, if you are transported to another world and overpowered by an exotic scent it's a good one. Better still, when we can travel again, visit a Moroccan spice souk!
Lamb Shoulder Tagine Recipe
I prepared this recipe with a 1kg shoulder of lamb for four garden guests, so do amend the weight slightly if you have your full quota of six (as permitted in England at the time of writing!). If you do this, the cooking time will need to be extended by another 15 minutes or so and you may need to add a little extra stock. Just top up the dish if it appears to be thickening too quickly when you check it.
It looks like a huge list of ingredients, but it is an easy recipe, and one that virtually cooks itself!
INGREDIENTS
For the lamb marinade
Ground cumin 2 tsp
Ras el hanout 2 tsp
Ground ginger 1 tsp
Ground turmeric 1 tsp
Saffron strands 1 large pinch
Olive oil 1 Tbs
Salt 2 tsp (or to taste)
Ground black pepper 1 tsp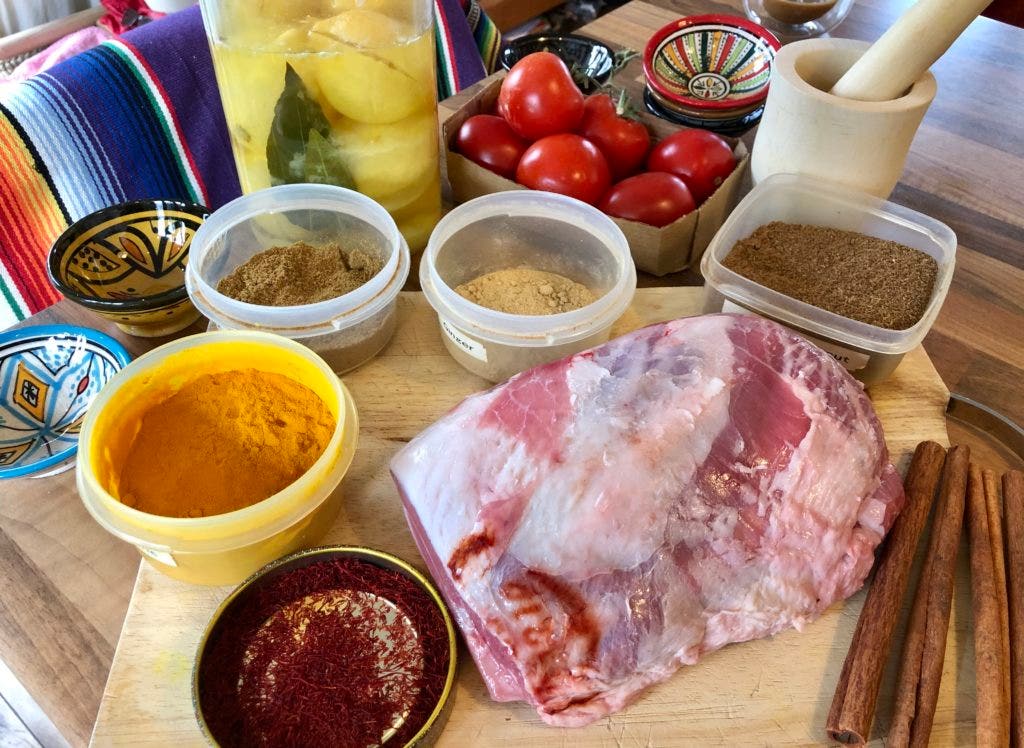 For the cooking sauce
Brown onions 2 halved, then sliced into half moons
Garlic 4 cloves, crushed and roughly chopped
Dried apricots 150g, 75g left whole, 75g cut in half
Preserved lemon Half, skin only, finely chopped
Chopped tomatoes 1 400g can
Tomato puree 1 Tbs
750ml stock I used vegetable – cubes are fine!
Cinnamon sticks 2
Saffron 1 pinch
Honey 2 Tbs
Ground ginger 1 tsp
Turmeric 1 tsp
Cumin seeds 2 tsp
Olive oil 2 Tbs
Parsley stalks A small handful, chopped
Coriander stalks A small handful, chopped
Salt and freshly ground black pepper to taste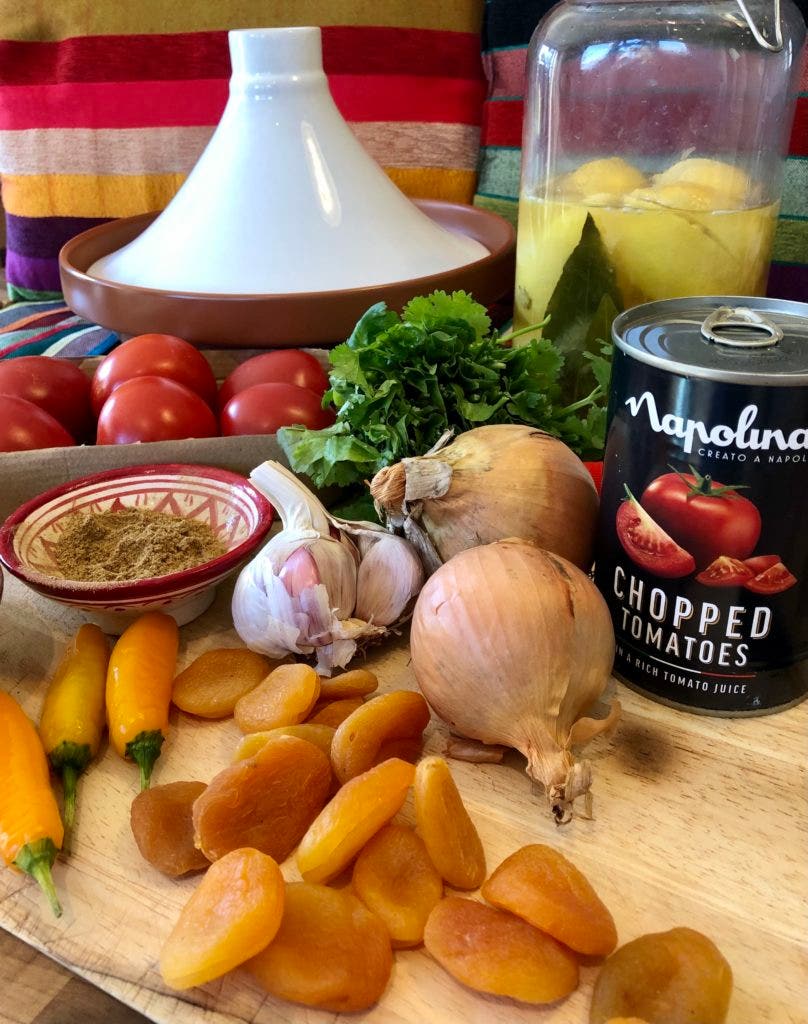 To finish
Tomato 1 large, thickly sliced
Chillies 3 halved (I used medium heat)
Preserved lemon Half, cut into 4 slices
Flat leaf parsley A small handful of chopped leaves
Coriander A small handful of chopped leaves
To accompany
Crusty bread and olives of your choice
METHOD
Rub the marinade ingredients into the shoulder of lamb, working it in well, and leave it in the fridge for at least four hours, preferably overnight.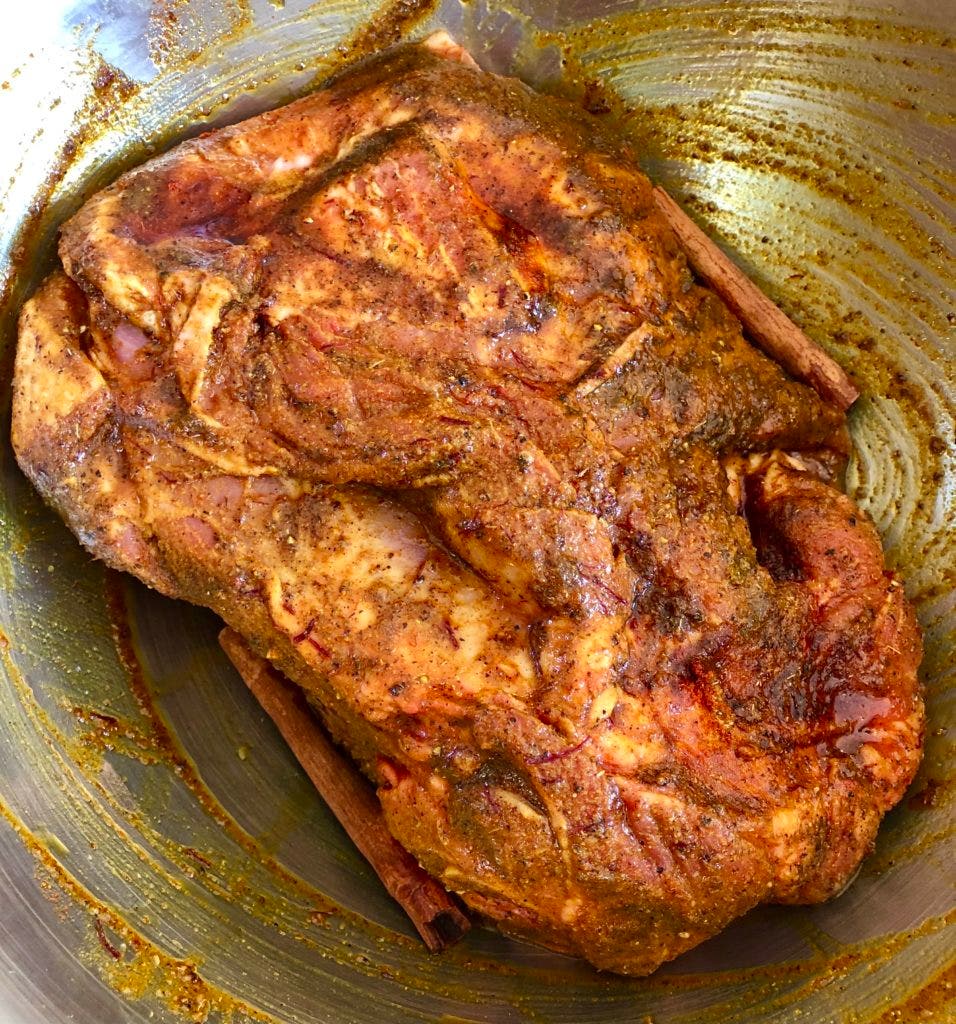 Preheat your oven to 180C or 160C fan.
In a tagine base (or casserole dish) soften the onions in the olive oil on a medium heat for five minutes, then add the chopped garlic and cook for a further minute.
Add the turmeric, ginger, cumin seeds and saffron and combine well.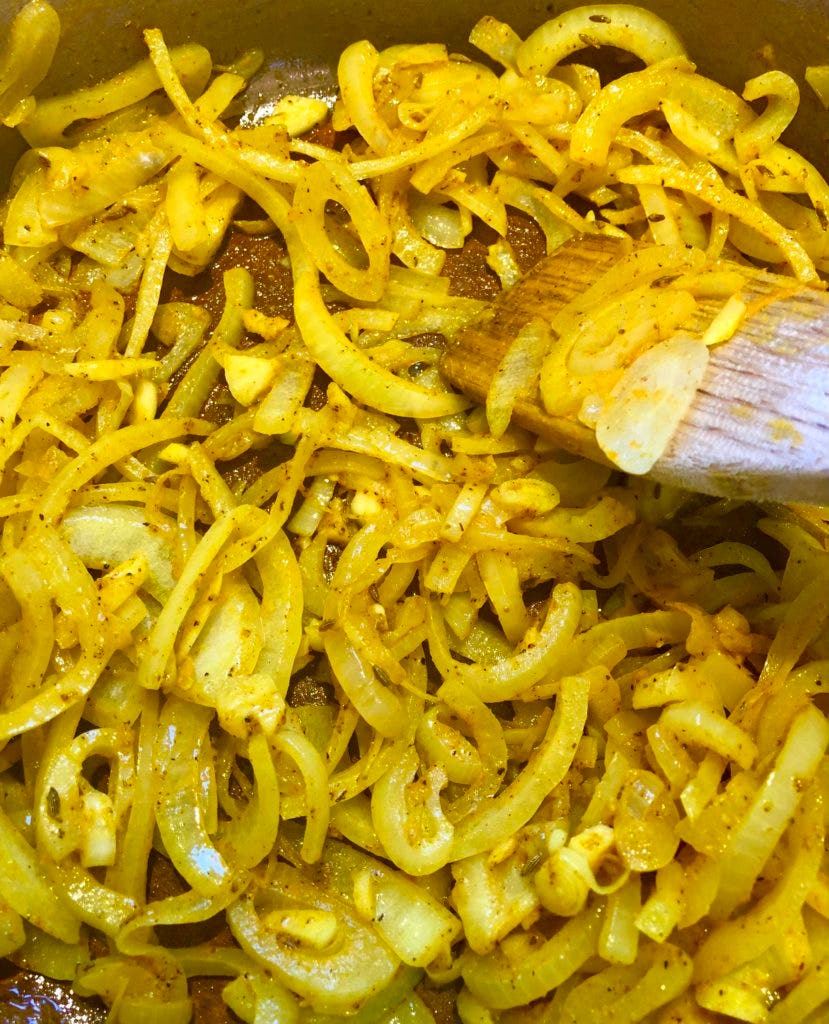 Add all the other sauce ingredients, mix thoroughly, then add the lamb shoulder and stir the sauce regularly as you bring it to a brisk simmer.
Put on the lid and place in the oven for 2.5 hours, basting and stirring occasionally throughout the time. Alternatively, nestle it into a deep bed of hot barbecue charcoal...
After 2.5 hours the lamb will be tender, moist and falling off the bone. Carefully stir through most of the fresh parsley and coriander, reserving some to serve, and top the meat with the sliced chillies, tomatoes and preserved lemons. Replace the lid and put back in the oven for a further 30 minutes.
After the final 30 minutes, remove the tagine from the oven, sprinkle with the reserved leaves and place on the garden table (or better still, Moroccan rugs on the ground!) and serve with bread and olives.
'Bsa7a' as they say in Morocco!