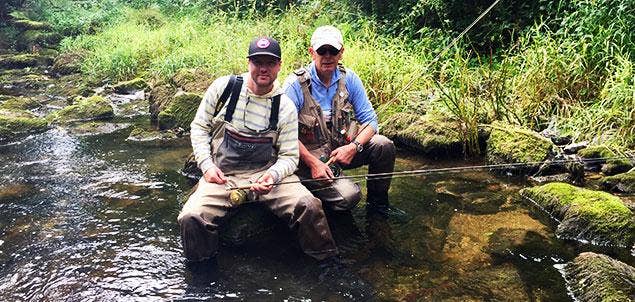 Top Ten Father's Day Gifts for Fishing Mad Dads
Most of the Farlows team had their father introduce them to fishing and they have put together this list of top gifts for fishing mad dads everywhere.

1.
J.P. Leather Fly Reel Case
A fitting home for a special reel, made from gorgeous Havana Brown saddle leather and discreetly embossed with the Farlows name. Choose the small size for most river trout reels (2/3/4/5wt), medium for larger trout fishing reels or small salmon reels (6/7/8wt), and large for the biggest salmon fishing and saltwater reels (9/10/11wt). If in doubt, measure the diameter of the reel and select the matching case size.
2.
Farlows Fishing Full Leather Register
Passing down fishing notes and catch records to family members is a lovely way to connect with the next generation of fly fishers, and the Farlows Full Leather Fishing Register ensures that these records are safely kept and beautifully presented. Buy one of these for your father, put pen to paper, and embark on recording your own family's fishing journey.
3.
Farlows Salmon Flies Book by Martin Lanigan-O'Keeffe
Salmon fly patterns have a fascinating history and this beautiful hardback book, documenting Farlows salmon flies from 1840-1970, will be perfectly at home on the bookshelf or coffee table of all true salmon fishing fanatics. At 360 pages, filled with beautiful colour photographs and descriptions, it will provide countless hours of reading and reference for fly dressers and collectors too.
4.
Pocket Guide To Fishing Knots Book
Compact and easy to fit into a pocket or tackle bag, every fly fisher should have a copy of this little book! With clear step-by-step drawings and information, there will never again be an excuse for any more dodgy knots and lost fish!
5.
Guideline Foldable Carbon Wading Staff
Safety on the water is paramount, particularly when we start to grow a little older and slightly less steady on our feet. Guideline's new Foldable Carbon Wading Staff is lightweight yet sturdy, and can be attached easily to any wading belt so it's never far from reach.
6.
Magnet-ique MagMicro Magnetic Fly Patch
Say hello to the new generation of fly patches with the Magnet-ique MagMicro! This handy little gadget can be fastened to a lanyard or zinger and is a great way to allow flies to dry out before going back into the fly box. With a strong magnet inside, your flies will be firmly secured and easy to extract when you need them again - no more tatty bits of foam and lost flies!
7.
Richard Wheatley Laser Engraved Leaping Brown Trout Fly Box
Some fly boxes are purely practical and some are a little more special. This box from Richard Wheatley definitely falls into the latter category. This box is perfect for trout flies of all types but would be especially suited to river nymphs, dry flies and traditional wets.
8.
Snowbee Superlight Fly Fishing Vest
This new fishing vest from Snowbee comes in at a fantastic price point at under £60, and makes a great gift for all river and stillwater trout fishers. With 4 main fly box pockets, 2 front zip pockets and an assortment of smaller pockets, this vest enables you to carry everything you need for a day on the water. It comes complete with fly patch, retractor, floatant holders, and a selection of D rings, including at the rear for carrying a net.
9.
Farlows Kirkbeck Netted Trout Canvas Bag
With a nod to fly fishing tradition, the Farlows Kirkbeck Netted Trout Canvas Bag is an elegant and classy tackle bag for the discerning chalksteam fisherman. Made in Cumbria from British waterproof cotton canvas and British leather trim, this is a truly home-grown piece of kit echoing Farlows' passion for supporting British artisan crafts and keeping it local.
10.
Stainless Steel Smoker with 2 Burners
They say that dads are the kings of the BBQ, so why not add fish-smoking to their skill set! This compact steel smoker makes hot-smoking your catch dead easy and the whole unit packs away neatly inside its own stand. Perfect for whole trout or trout fillets but the possibilities are almost endless. Why not try some homemade hot-smoked mackerel or pollock after your next trip to the beach?