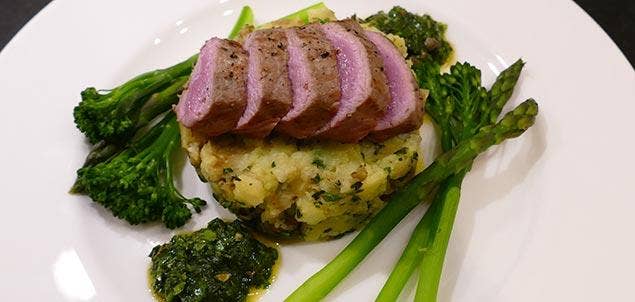 Looking Forward to Spring with Annie Assheton
It has been a tough winter and after a lot of inventive Brussels sprout cookery our celebrity cook, Annie Assheton, is looking forward to the arrival of the first spring ingredients.
After the weather of the last few weeks, with the freezing 'Beast from the East' swiftly followed by too many miserable, wet days, it is hard to imagine that spring is around the corner. But recently, as I waded through a muddy field to feed the horses, the sun made a valiant attempt to beat the clouds and it was remarkable how quickly my spirits lifted. To bolster that hint of optimism, spring lambs have also appeared in the fields behind our house and make it impossible to stay bowed down by the sogginess. With the hope of more brightness to come, I can at last envisage the appearance of those wonderful spring ingredients which are such glorious forerunners of the warmer months to come.
Annie's Spring Cookery Class
Whilst waiting for those ingredients to appear, however, there is no harm in applying a spring-like treatment to more classically winter fare. I have recently been on a bit of a mission to promote the Brussels sprout. They make regular appearances on our table throughout the colder months because they are my husband's favourite vegetable.  I love them too but got a teensy bit bored of the usual sprout, pancetta and chestnut combination so challenged myself to discover some alternative ways to deal with them, coming up with a new solution every week for the past few months. We even had them for breakfast last weekend, in a sprouty version of bubble and squeak, which I topped with crispy bacon and a poached egg – delicious, and with a much rounder flavour than the usual cabbage version.
My favourite recipe to emerge from the experimentation was more suited to spring and is a 'sprout slaw', involving finely shredded raw sprouts mixed with grated carrot, finely chopped apple, celery and blanched almonds. I finish it with a pomegranate molasses and tangerine juice dressing, dried cranberries and lots of chopped parsley. It's obviously not something to make with fridge-weary specimens, but for young, fresh sprouts it's perfect.  Of course, any type of orange is fine for the dressing, and pomegranate molasses isn't essential if you don't have any to hand; a lemon juice and balsamic version would be lovely too. The finely chopped almonds, however, I do recommend including. Make sure you buy whole almonds and chop them by hand, the texture from the variable shapes and sizes is exactly what you want here.
Having used all my powers of invention on revitalising the sprout, I am looking forward to the new season ingredients. The variety and freshness of spring produce offers a wonderful choice of flavours and textures which need nothing more than careful cooking and very little adornment.  Having walked determinedly past Peruvian asparagus for most of the year, I love to make the most of British varieties while available. Local asparagus will soon be paddling in their tray of water in my village shop and since they are only around for a short time I find it easy to justify the price tag. I do use them as a vegetable accompaniment, in the main recipe below for example, but mostly I like to simply steam the trimmed spears until just tender, anoint them with butter, salt and pepper and share them (grudgingly) whilst I'm pottering around the kitchen finishing off supper.
If I'm going to do something a bit more substantial with asparagus and turn them into a main event, my favourite is to serve them with a poached egg and hollandaise sauce. Somehow those three elements work together perfectly, with a combination of textures and flavours that is hard to improve upon. The trick with poaching eggs is to use very fresh ones.  You can add vinegar (but no salt) to the water and give it a whisk before adding the egg but you don't stand much chance if it isn't fresh.  I find three minutes the perfect poaching time. Hollandaise can be troublesome, especially if you're impatient and rush it, but just remember that if a curdling catastrophe occurs just whisk the whole thing into a new egg yolk and it will miraculously come together again. A cheat's tip: a splash of cream added near the beginning makes the whole thing very much more stable!  I like to add plenty of lemon juice since the rest of the dish is rich and strongly flavoured. This is wonderful as a starter or light lunch, with some sourdough or crusty bread.
Another ingredient which one can really only enjoy in spring is wild garlic. I am lucky enough to have a glut of this glorious plant near my house but it is on a popular dog walking route so I'm careful to pick the leaves growing further away from the main path and I do wash them carefully!  During late March, April and early May my fridge emits a constant whiff of fresh garlic, no bad thing in my opinion, and I love using this seasonal ingredient that involves absolutely no food miles. I use wild garlic in similar ways to spinach or rocket: wilting it through pasta or risotto, making it into soup, as a stuffing for chicken or fish, blitzing it into pesto with hazelnuts, whizzing it into mayonnaise, or cooking it with spinach to add another layer of flavour. The leaves are at their best before the flowers come out but the flowers are so pretty I always look forward to their emergence and use them to dress plates with both elegance and fragrance.
Having mentioned risotto, I can't write about spring ingredients without mentioning Risotto Primavera. This Italian classic is a wonderful way of showcasing fresh spring vegetables whilst retaining an element of comfort which we need during those April showers and still chilly evenings. There's nothing more soothing than a really good risotto, made with a light homemade chicken stock and jewelled with podded broad beans, peas and asparagus.  I know there are recipes out there for 'no stir' versions, which sound temptingly low maintenance but, for my money, if you're going to make a risotto you might as well do it properly.  It's the constant stirring that releases the starch that gives that lovely creamy texture, without which it feels more like rice in a sauce. My perfect version will have some of those wild garlic leaves stirred through at the last minute, along with a generous grating of parmesan and a large knob of butter. Apparently a very thorough beating at this final stage will take your creation to new levels of textural perfection but, most importantly, don't forget to check for seasoning.
My main recipe this time brings us to that spring classic, lamb. In fact, you could use the rest of the dish to accompany other meats or perhaps some of the wonderful fish that is just coming into season now. Sea trout will soon be at its best and well seasoned, pan fried and basted with butter, it would go wonderfully with these flavours and I have also done this with sea bass to great effect. If you are serving fish instead of meat, use lemon juice in the salsa verde instead of red wine vinegar, and if you can't get hold of wild garlic leaves use mint instead and include half a clove of garlic. For me, lamb is such a classic spring ingredient I couldn't leave it out and this a main course I developed soon after my time on MasterChef, on what I think was my very first ever professional job; a large family dinner party to celebrate a 70
th
birthday. It has been one of my favourites ever since, consistently delivering wonderful flavour combinations whilst being suitably impressive for a special occasion but practical to put together for a crowd or even just for two.
Lamb Fillet with Crushed New Potatoes and Salsa Verde, Served with Spring Vegetables
Serves 2, but can easily be scaled up for a crowd
Large bunch of basil, parsley and wild garlic leaves 1 tbsp capers in salt, rinsed 3 anchovy fillets 1 tsp Dijon mustard 1 tbsp red wine vinegar 75ml Rapeseed oil plus extra 450g new potatoes 1 lamb fillet Asparagus and tenderstem broccoli
For the salsa verde, you could use a food processor, but you get a better texture if you make it by hand. Finely chop the herbs first, then keep chopping as you add the capers and anchovy to the mix, combining it all as you go.  Move it all to a bowl and add the Dijon mustard and red wine vinegar stirring well to mix. Finally, stir in the rapeseed oil quite vigorously, adding more if needed until you are happy with the texture - it should be thick but with a good coating of dressing. Check for seasoning and adjust with salt (unlikely because of the capers), pepper, mustard and vinegar. Keep in the fridge but do try to make this on the day you use it, the fresher the better.
Cut the new potatoes into evenly-sized pieces and boil them until just tender. Sit the colander over the hot pan for a few minutes so the potatoes steam dry, then put them back into the pan and mash them roughly with the back of a fork. Take a tablespoon of the salsa verde and loosen it with a little more rapeseed oil then stir it through the potatoes so they're all lightly coated and can absorb the fragrant oil as they cool. Leave to one side and when you're ready to serve you can just warm them through on the hob, stirring now and then.
The vegetables can also be prepared in advance. At this time of year they will be such prime specimens that I like to give them a bit of special attention to ensure they are shown off to best advantage. Both the asparagus and tenderstem broccoli will benefit from being carefully trimmed so they not only look suitably elegant, but also cook evenly.  Use your fingers to snap each asparagus spear into two and discard the woody end.  I then peel the bottom half with a potato peeler, creating a more consistent size, so the tips won't be overcooked by the time the other end is tender. I then line them up and cut them all to the same length - just for neatness on the plate - but some might find that a step too far! The broccoli receives the same treatment, the only difference being that I cut the thicker ends off with a knife rather than snapping them, and I tend to nick off the extra mini heads that are often found protruding from the stalk.
To prepare the lamb, trim off any excess fat or sinew and rub it thoroughly all over with rapeseed or sunflower oil. You'll find that if you oil the meat rather than the pan there will be much less smoke and spitting fat involved. Put a frying pan over a high heat and when it's properly hot season the lamb all over with salt and pepper and sear it for about a minute on all sides, or until it is really well browned. If you are preparing this in advance, which works brilliantly, then just allow the lamb to cool and put it in the fridge until you're ready to finish it off.  At that point, put it into the oven at 180°C for 5-8 minutes, depending on the size of the fillet and how you like it cooked. Please do err on the side of caution here; this cut is too lean to stand being cooked all the way through without going rather dry and tough - my starting point would be 5 minutes. Allow the lamb to rest for another 5-8 minutes (matching your cooking time) before slicing and serving on top of a mound of the reheated new potatoes.  For smarter occasions I use a chef's ring to create a perfect round of potatoes.
While the lamb is cooking, finish the vegetables by plunging them into a big pan of boiling water with plenty of salt. 2 minutes should be ample if they're quite skinny, 3 minutes if they're a bit chunkier. Drain very thoroughly and arrange neatly around your lamb and potatoes.
Finish the dish with a few blobs of the salsa verde and put the rest into a jug for the table.