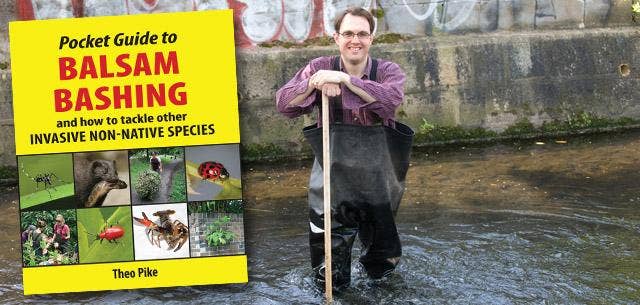 Pocket Guide to Balsam Bashing: Book Signing at Farlows on 8th May 2014
Join us in-store at Farlows on the 8th May 2014 where author Theo Pike will be holding a book signing for his new publication "Pocket Guide to Balsam Bashing".
Book Info
In recent years, we've all become more familiar with the idea of invasive species. Plants and animals as varied as giant hogweed, the mink and oak processionary moths regularly make headlines because of the health, environmental and economic problems they cause. Invasive deer contribute to more than 74,000 traffic accidents in the UK every year, while Japanese knotweed added £70m to the bill for staging the London Olympics, and could soon stop you getting a mortgage on your house.
These invasive species destroy crops and forestry, dump silt into rivers, sabotage drains and
electrical infrastructure, cut off access to beautiful places, and drive native rare and iconic species to extinction.
And they cost us all a lot of money – at least £1.8bn to the UK economy each year. How can you help stop this expensive, dangerous (and ultimately boring) slide towards global blandification?
Grab yourself a copy, read on and then roll up your sleeves!
About Theo
Theo Pike is an environmental, angling and marketing writer. As Chair of Trustees of the Wandle Trust he has been instrumental in restoring this south London river to its historic status as a world-famous chalkstream – a partnership project involving invasive non-native species management on a full river catchment scale.
As a result of his experience in urban river restoration, Theo has advised many groups on mobilising local support, motivating volunteers, best practice for river restoration and invasive species management, and promoting positive links between angling and conservation. He was awarded the Wild Trout Trust's Bernard Venables Award for services to wild trout conservation in 2008, and internationally honoured as a Sage Conservation Hero in 2009.
Theo's best-selling first book, Trout in Dirty Places, was published by Merlin Unwin Books in 2012. He lives, with his wife Sally, in south London.