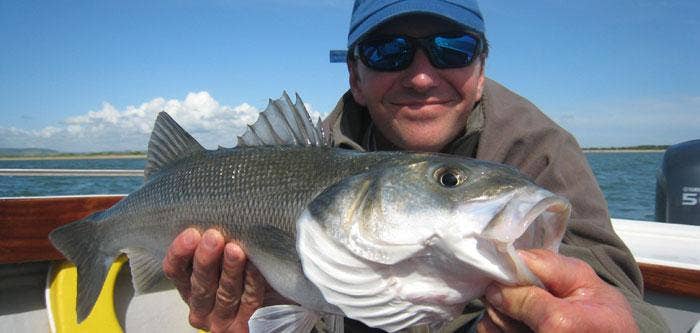 Farlows Chichester Harbour Guided Seabass Fishing Trips
Ever wanted to know how, when and where to get started in saltwater fishing in the UK? Our aim this summer is to guide and introduce people to saltwater fishing as one of the most exciting sports in the world and our main target species in the UK are the European Sea Bass. Saltwater Fly fishing or Lure fishing is an amazing way to explore the many species to be caught along the beautiful coastline in the UK.
The fishing starts with a short boat ride from Itchenor Harbour to the first mark of the day. From here the fishing will be a combination of wading and fishing of the boat depending on tides and weather of course.
During your fishing session you will fish in a variety of situations and water depths. On the shore line you will wade in a comfortable depth. All the techniques you learn on the day will give you a really good overview on saltwater fishing around the world. Anglers of all abilities are welcome, whether you are familiar with saltwater fishing or new to this type of sport angling.
Fly Fishing
We  recommend purchasing the following Fly-Fishing Saltwater equipment:
Lure Fishing
We recommend purchasing the following Lure Fishing equipment:
Please do not hesitate to stop by the Farlows store where we can assist you with all the tackle requirement and necessities' for saltwater fishing locally or abroad.
Terms & Conditions With purchasing any dates with Farlows LTD, you adhere to terms and conditions of Saltydogfishing.
General 1. Before booking, please satisfy yourself that you have been given adequate guidance as to the suitability of the fishing trip you are attending. If in any doubt please contact us. 2. The minimum age for all of the fishing trips is 18. Minors have to be accompanied by a parent/guardian. 3. Some information you give us will be electronically processed and used for administrative purposes in compliance with the Data Protection Act 1984. 4. Whilst on board the decision of the Professional Skipper is final. Payments 5. Full payment is required to confirm a booking. Cancellations 6.The payment is not returnable in the event of cancellation 7. If we are unable to carry out the fishing trip an alternative date and our liability will cease forthwith. Insurance 8. Salty Dog Game Fishing does not accept any liability whatsoever in respect of personal injury, loss or damage to affects howsoever caused, whilst attending any fishing trip. 9. We strongly recommend you take out Travel Insurance to cover loss of gear, medical expenses, cancellation etc. Physical Fitness – medical 10. As our fishing trips do have a physical element, you should have an adequate level of fitness. If you have a medical condition, e.g. epilepsy, heart condition, giddy spells, asthma, diabetes etc, you are strongly advised to check with your doctor before booking. Should you suffer from any condition you should disclose this information to us, this will not disqualify you from participation.