Day Chalkstream Rods on the Broadlands Estate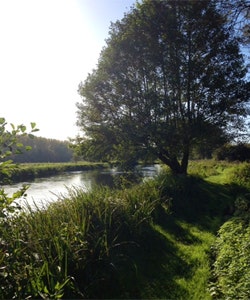 Farlows are delighted to be able to offer this chalkstream fishing on a day let basis.
We have secured three shared rods per beat, every fortnight during the season on a Sunday.
The entire beat can be purchased for exclusive private fishing at the price of the three rods; this will only be possible if the beat is available. We also have the availability of this rod during the Mayfly season.
Guided fishing can be provided as well as Corporate Fishing days with tuition/guiding & BBQ style lunch by the River Test.
Please enquiry by calling the Farlows store on 0207 484 1000 or email fishing@farlows.co.uk
Sunday 7th April 2013 Grove £140 Per Rod SOLD OUT
Sunday 21st April 2013 Moorcourt £160.00 Per Rod SOLD OUT
Sunday 5th May 2013 Longbridge £230.00 Per Rod SOLD OUT
Sunday 19th May 2013 Grove £230.00 Per Rod SOLD OUT
Sunday 2nd June 2013 Moorcourt £230.00 Per Rod - SOLD OUT
Sunday 16th June 2013 Longbridge £230.00 Per Rod - SOLD OUT
Sunday 30th June 2013 Grove £190.00 Per Rod Book Now
Sunday 14th July 2013 Moorcourt £190.00 Per Rod Book Now
Sunday 28th July 2013 Longbridge £180.00 Per Rod Book Now
Sunday 11th August 2013 Grove £180.00 Per Rod Book Now
Sunday 25th August 2013 Moorcourt £160.00 Per Rod Book Now
Sunday 8th Sept 2013 Longbridge £160.00 Per Rod Book Now
Sunday 22nd Sept 2013 Grove £160.00 Per Rod Book Now
Sunday 6th October 2013 Moorcourt £140.00 Per Rod Book Now
You can purchase these using our new booking system below - select the date required to find out more!
One of the most famous names in fly fishing, the Broadlands Estate on the River Test.
The fishing on this private estate is one of the longest continuous stretches of prime chalk stream fishing still in a single ownership. Taking in the main River Test, the carriers and the River Blackwater this represents nearly 10 miles of river bank, contained within one estate and not crossed by a single public road and is justifiably renowed for the quality of the trout and salmon fishing.
In the 1970's Broadlands in Hampshire, was rarely out of the headlines as royalty, diplomats and celebrities made their way to the home of Earl Mountbatten of Burma to stay in the beautiful Broadlands House, walk the Capability Brown grounds and fish for salmon and trout on the River Test.The fishing hut still boasts a picture of a teenage Prince Charles holding a salmon caught on one of his many visits to stay with his favorite uncle, Lord Louis.
Chalk Stream Fishing have recently taken a long lease on the fishing's but have kept with tradition, retaining the layout of the fishing with three salmon beats and three trout beats on the main river and further fishing on approximately one and half miles of carrier stream. However, within the traditional framework CSF are breathing new life into the Broadlands fishery with a browns only stocking policy, schemes to encourage wild trout, salmon spawning and, of course, updated creature comforts for the visiting anglers. This new era has been initiated in close collaboration with Lord and Lady Brabourne, the owners of Broadlands and is in keeping with their commitment to a 'mixed wild and supported Fishery' Close to the hearts of all involved is greater access to these wonderful fishing beats that have mostly been restricted to invitation only, or by long standing syndicate membership in the recent past.
BROADLANDS LOCATION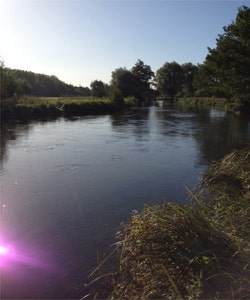 Broadlands is on the A3090 Romsey bypass, ½ mile from Romsey town centre. The M27 motorway runs 3 mies from Broadlands providing excellent motorway and trunk road links in all directions. Central London is only 2 hours from Broadlands via the M27 and M3 motorways. Drivers should leave the M27 motorway at Junction 3 if approaching from the North and East, or Junction 2 if approaching from the West, then follow the signs to Broadlands.
Broadlands Romsey Hampshire SO51 9ZD TROUT
Set in more than 4500 acres of private rural country estate, the Broadlands Trout Fishery offers some of the most enjoyable brown trout fishing to be found on the lower reaches of this world famous Hampshire chalk stream. The Fishery has in excess of four miles of Main River and carrier stream offering a diversity of fishing for both the seasoned rod and beginner to experience……
The fishery has three, mainly double bank, trout beats which the season rods fish in rotation along with two further beats on the carrier stream which are also fished on a rotation basis. We stock only native brown trout into our waters where both the dry fly and nymph can be used throughout the year.
The main river fishing is both diverse and challenging with everything from streamy shallows and tempting runs to deep holes where the larger specimens are often lying in wait. The carrier is much more of a stalking river and ideal for the light line enthusiast who revels in the challenge of sneaking up on his chosen prey. The main river and carrier both hold a head of wild trout and are stocked on a regular basis, both offer a brace of fish per day with catch and release fishing thereafter.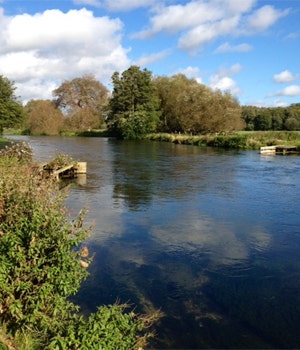 Recommended Equipment
Our beat on the river Test can be comfortably fished with a 9′ #5 or a #6 weight rod, especially during the Mayfly season as to turn over bigger flies. Leaders are usually tapered and 9' long.
Please drop in by our Farlows store for a selection of flies and accessories for your grand day out, where friendly and knowledgably staff will assist you.
Terms and Conditions
The procedure for booking our river beat for the day is as follows:
1. Personally come by the store: 9 Pall Mall, London, SW1 5NP
2. Via Telephone: 0207- 484 1000
3. Email: max.sardi@farlows.co.uk
Payment
Payment for our fly-fishing trip is required prior to the day booked, by valid credit card, cash or cheque.
Fishing
Fishing is only permitted between dawn and dusk.
Only dry fly and upstream nymphing to be used from April to October.
Maximum hook size of fly and nymph – No 10.
All fish taken must be recorded in the fishing log located at the Longbridge Fishing Hut at the completion of each fishing day.
Limit of 2 fish per rod/per day.
Catch and release fishing is allowed after the limit is reached with barbless hooks only Size limit 14" min, all wild trout to be released.
One person only to fish per rod.
Permission from the Head Keeper is required to fish for sea-trout and salmon with barbless fly only.
All salmon must be returned.
No responsibility can be accepted by CSF or Broadlands Estate for fishing tackle left in the Fishing Hut or parked vehicles.
Angler's fish entirely at their own risk and neither CSF nor Broadlands Estate can be held responsible for any accident or injury howsoever caused.
No wading is permitted and anglers should wear buoyancy aids at all times if fishing from the wooden platforms and/or groynes.
Designated car parks must be used at all times and a fisheries parking permit must be displayed in any vehicle(s) whilst on Estate property.
Under no circumstances may the right to fish be sublet or sold to other persons.
Environment Agency Rod License
The responsibility for obtaining this (non-migratory trout) license is the liability of each individual fisherman. These can be bought for a day, month, or annually, and can be obtained at any Post Office, or directly from the Environmental Agency website. Important: It is a legal requirement to be in possession of a valid EA license before you commence fishing.
Dogs
We would request that you do not bring your animals for the day, as this can create difficult situations on the riverbank.
The Non-Fisherman
If members of your family do not fish, they are certain to find the area charming and fun to explore. The area offers excellent sightseeing the Norman Abbey at Romsey, and great houses such as Wilton and Broadlands.